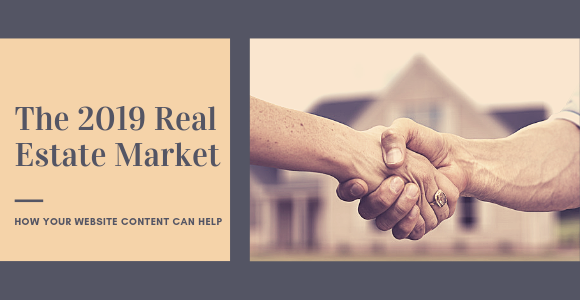 The real estate market – it is constantly changing and it is affected by a lot of different factors. Due to past trends and those contributing factors, it can oftentimes give predictions about the upcoming changes (though it is not guaranteed to be this way). Despite these changes, as a realtor, your goal is to stay on top of the game and take action sooner rather than later in order to succeed in this business. We rang in the new year – 2019 – and now, you, along with your website content writers, can plan ahead. Here is what can be expected.
An Increase in Mortgage Rates
When compared to the 2018 historic lows
An increase in mortgage rates most often means that there will be fewer qualified buyers who can purchase properties. On the seller side, they will have a tough time trying to justify the high sales prices that they are listing. This can cause homes to stay on the market for longer. Which means less commission in your pocket. These situations, of course, depend on where you are in the country, the average cost of a home, the job that you have, and many other factors.
Millennials Taking Over
More and more will purchase properties
As a millennial myself and knowing firsthand about the real estate industry, I can see how our generation taking over can be true. While renting doesn't necessarily bind you down to one property long-term, you are essentially throwing money away. The younger generations are starting to realize this more and more these days.
Our generation is a great target for businesses since we are starting to become conscious of "adulting" and what it means to be successful. Many are seeing an upside to purchasing homes when compared to renting them. They end up paying less money and investing in something that is theirs as opposed to throwing their money away. They are a great target market, and your website content writers can help by developing blogs and more to get your name out there for them to see.
A Predicted Drop in Home Sales
Buyer's vs. Seller's Market
The supply and demand of real estate. To put it simply: A buyer's market means that there is more supply than demand – more homes that are listed for sale than actual buyers who are looking. A seller's market is the opposite, more demand than supply – more buyers than there are homes listed for sale. Each area may vary as to what kind of market it is at the moment, and it may change more often than you think.
Home sales from April to September dropped in 2018, according to the statistics from the Nation Association of Realtors, which may continue as we move into 2019. Many homeowners and their realtors keep an eye on the market and use recent sales to decide when the best time is to list their property. Listing a property sooner than later can help them get top dollar from their home due to the rising interest rates and the potential slowdown in price increases. SEO website content writers can help you, as a realtor, with the optimization of your site in order to score those potential clients.
Rising Rent Costs
This may cause people to continue renting
For most apartment buildings – depending on your area – the rent may go up each year, regardless of what is going on in the real estate market. While some costs may go up more than others, it is presumed that this will be the case nationwide as more homes are being built. Rental companies use these strategies and increase their rates to get you to stay.
You may be thinking: why would I stay if my rent is increasing? Well, that's the trick – with an increase in rent costs, it makes it difficult for you to save your money for a down payment on a home, leaving you with no other choice but to sign (or resign) a lease.
Amazon HQ
A spike in rent costs and new building construction
Amazon had a list of 20 cities to pick from for their second headquarters location, and they have confirmed that they will split it between Long Island City, NY and Northern Virginia. With the second Amazon HQ moving to the east coast, it will open up thousands of jobs for people and cause many to relocate to the area – not just for Amazon, but also for other companies who will follow in their footsteps in the future. Due to this, rent costs will most likely increase. While the construction of the HQs will take time and won't be finished in 2019, these rent increases will slowly start to be seen as time moves forward.
Competition for housing in the area will also spike, leading to an increase in property costs and the construction of new housing buildings – rental properties, condominiums, single-family homes, and more – most of which will probably be located close to metro areas (another price booster due to the accessibility).
Change Can Be Beneficial
But it is never permanent
Changes will continue to happen throughout 2019 with the real estate market, and nothing is certain. Staying on top of them is important for you as a realtor in order to know where to find your clients and how to help your current ones. Using website content writers for blogs and other posts can keep those current as well as potential clients informed of these changes – also showing them that you know what is going on, making you a much more trustworthy choice for an agent.
With all kinds of change, the key is to find the benefits of it and to know that it is never permanent. Use change to your advantage as much as you can.
What do you think about the real estate changes coming up? How are you using it to stay ahead? Let me know in the comments!