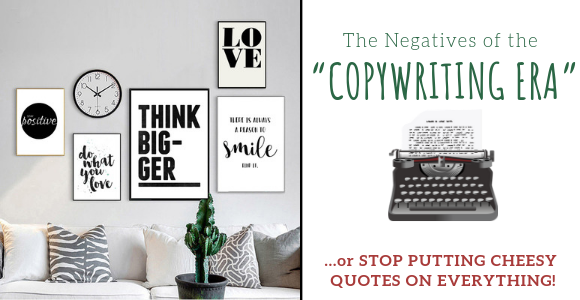 I have had the idea of writing this blog for a long time, and here it is. I wanted to stay away from the "content is king" cliche but here it is as well… The point is, we live in a world where content is everything. Copywriting services are at their peak, and the world finally understands the power of words. Paying somebody to come up with a slogan of 2 words is now widely accepted.
Is this a good thing?
If you are a copywriter, probably yes. However, in today's blog, I want to talk about the negatives of this modern, copywriting trend.
Putting a 3-word cheesy quote on furniture is not copywriting!
I was looking for furniture in some middle-class furniture outlets (I'm just a copywriter, after all, I can't afford all the fancy stuff). I kept seeing small coffee tables with vinyl sticker quotes such as "Eat dessert first – life is short". Or just a decorative wall picture saying "I fell in love with the city" over the Eiffel Tower…
Why is this bad?
We all know the famous company logos. I'm talking "I'm lovin' it", "Just do it", "Think different", etc… These slogans are worth millions of dollars, and creative copywriting teams have worked on producing simplistic and minimalistic copies.
This is what actual copywriting stands for. This is the right implementation of the famous "less is more" slogan. There were times when people didn't understand the importance of investing in just a-few-word slogans. Times have changed, however, and people are slowly getting used to such slogans.
Nowadays, people are so used to seeing slogans everywhere – Social Media posts, cheap commercials, and… furniture.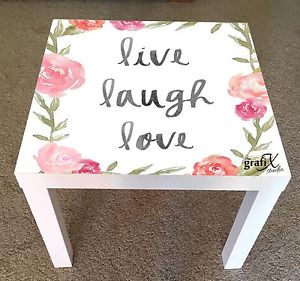 The Cheesy Slogans Are Everywhere
I understand branding, this is a completely different thing. Take "Gentlemen's Hardware" for example. I love their designs and their products are full of slogans, some may even be cheesy, but in a good way.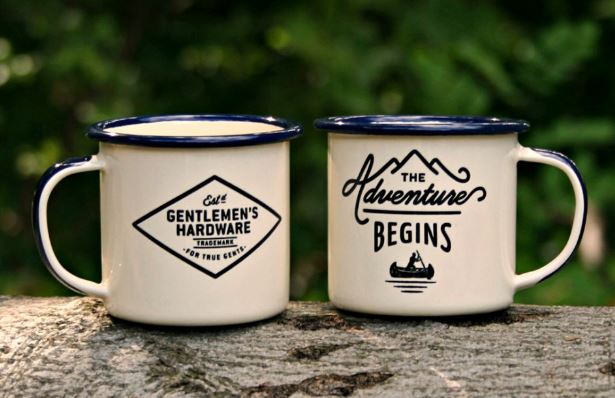 Why is the one bad and the other one just… lovely?
Because it's not out of place. Look at those enamel cups, they are made for road tripping, for nature lovers who love enjoying their espresso in the wild. Of course, they can be used only for decoration purposes and amazing Instagram posts.
However, a random quote on a vinyl sticker doesn't really give the same feeling. It's just out of place…
There's nothing creative in putting random quotes on whiskey glasses:
It doesn't look good, it doesn't make any sense, and the glass would be 10-times better looking without the "copy".
So why would someone put the effort of stamping a glass?
I honestly don't know. My theory is that this is the consequence of the modern world. A world where everybody claims to be a copywriter, a world of simple DIY projects, a world where imitating and poorly recreating good ideas is trendy.
A world where people "understand" the need for quality copywriting services, yet fail to come up with an actual creative copy.
Can we change this?
Yes, we can! How? Just keep on producing better quality content, more creative slogans, make them popular, let people see the difference. One more thing,
Talk about the bad ones!
In my opinion, people are not fully aware of what's happening. People don't pay attention to the actual text, people are just looking for what's trendy and if random quotes are trendy, they will buy the product that has them and ignore all the nonsense.
Well, I want to put an end to this and make people understand the difference between a quality copy and the not-making-any-sense-quote on that glass. Speaking of quality copies, we, at 411Writers, are known for our SEO copywriting services and would love to contribute if you need content that actually makes sense!