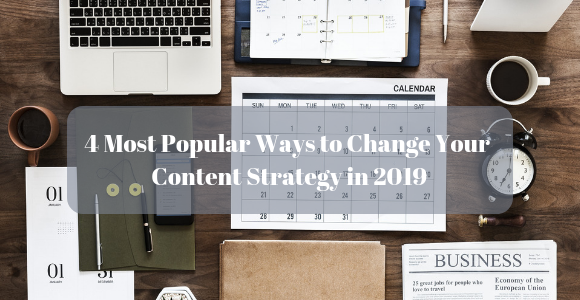 Change is always good and a little bit of it can sometimes go a long way. When it comes down to change, many people decide that they want to make that switch in the beginning of the new year – a fresh start, a clean slate, new goals, and potentially a new look. What you may be wondering is what kind of changes will be good – more so, beneficial – for your website in 2019. Whether you are relying on an SEO copywriting service for your content or you are creating it all on your own, you will definitely find the following tips helpful.
1. Longer Content
Mainly for your blogs, but it can be anything on your website
One of the trends that sparked a lot of interest in 2018 was utilizing long-form content on a much more regular basis. It definitely has its pluses and minuses, but in 2019 it is predicted that it will continue to be a hit for most readers. When considering which one to use: long-form vs. short-form content, the deciding factor generally comes from your audience. Which one will they be more interested in reading? Which one will get the message across better?
Longer content gives you the opportunity to elaborate on your topics, it can cause your readers to stay on your page for an extended period of time (which can help your SEO strategy), and it can even be more engaging for your audience. If you are not already using longer content on your website, you might want to brainstorm some ways on how to incorporate it because this trend isn't going anywhere anytime soon!
2. LinkedIn and other Social Media
Actively posting and utilizing various platforms
Social media is one powerful source that can help your business and your brand. The most popular platforms include Facebook, Twitter, and Instagram, but these are not the only ones that you should be thinking about. Don't get me wrong, creating an account and being active on these networks is important and it should definitely be something that you utilize for your business!
Let's talk about LinkedIn and how you, as a writer, or the SEO copywriting service that you are using, can dive deep within this platform. Many people believe that LinkedIn is for large and already developed or well-known businesses. This is a common misconception that can simply steer you away from utilizing this platform. The main goal for LinkedIn (and for your small or large business) is to network with other people and businesses.
You have to think about it this way: all of these "large" and "well-known" businesses started off as small startups. According to recent information, there are over 500 million people using LinkedIn in more than 200 countries! This means that you and your business have the opportunity to network and connect with 500 million people! Now, I am not saying that you will be able to reach and connect with all of them – not that you need to in order to be successful – but the opportunity is surely there.
3. Video Content
Turning your blog into a video
Sometimes, a written blog may not be enough for your audience. In 2019, it won't hurt to explore video blogging (vlogging) or in other words – turning your blogs into a video. It provides a more personal experience for your target audience. Maybe putting together videos to post as often as your regular blogs isn't your thing. If that is the case, utilizing Facebook or Instagram Live can be! You can set up times with your follower base and clients to go live or simply get on and do it!
Keep in mind when recording or shooting these videos that your main goal is to keep them interesting, engaging, and fun for your audience. The key is not to sound like you are selling something, but instead, to connect with your potential/current clients. In a forecast done by Cisco, they have reported that in 2019, video traffic will constitute more than 80% of all kinds of Internet traffic. Given this information, it might not be a bad idea to consider trying out the video, after all.
4. An Evaluation Period
A personal evaluation of your 2018 website content strategy
Last, but not least: don't forget to get together with your SEO copywriting service and evaluate the strategies that you used throughout 2018. Find out what worked, what didn't, and what should be tweaked to perform stronger. This can provide you with tons of useful information for 2019!
Just because it is a new year, it doesn't mean that you should be scurrying to make some drastic changes. Some tweaks here and there, along with some updating of your current strategies (if they are working for you) will do just fine. What you don't want to do is leave is fall into a rhythm or the "same old tune" that can get boring. Write longer blogs, develop better landing pages, utilize social media or maybe get your website content writers to create that YouTube description for you. Give your audience what they want to see from you and your business in 2019!