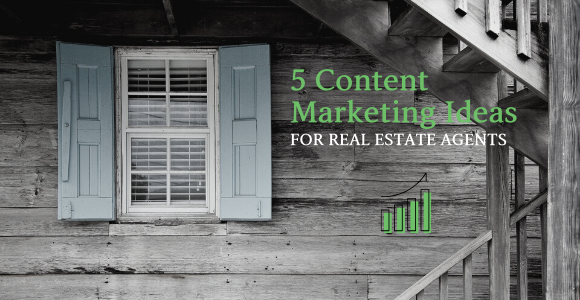 Real estate is all around us. There are homes for sale all around us, people looking to buy or sell, and even invest. Whether it is a buyer's or seller's market, real estate agents may still struggle to find clients or leads.
The real estate industry can be tough because, no matter your role, you are working for yourself. You are in charge of lead generation, and it can be a difficult task. Many agents have a hard time getting people to share their content, like, or comment on it, and they forget about their goals.
In an eager fight to put your website on top with SEO, SEM, content writing services, and leads, it can be easy to forget that value can bring a positive return.
So, the question here is, how can you make sure that you are setting up your content properly and send it out the right way?
Here are some content marketing for real estate ideas you can take advantage of, as an agent, and succeed in the real estate industry.
1. Statistics and Market Data
This is helpful for current and potential clients
Information about the current real estate market is practically always available. This data can be extremely helpful for your current and future potential clients, especially for those that are new to the home buying or selling process.
Not only can this information help them understand the market, but it can also make them see that you are a real estate agent who is both knowledgeable and stays up to date with current market trends.
As an agent, you will have to look for leads but also make sure that you can provide those leads with value. By using up-to-date market trends and statistics from the area you are targeting, you can get attention to your website, along with your social media accounts.
2. Real Estate Listings
Show people what's out there
If you don't market your real estate listings, not many people will know they are out there. You can rely on content writing services and other promotional marketing tactics to help get more attention to them. It also shows your sellers that you know how to market things and that you are doing your best to get their property sold and off the market.
Not only should you be drawing attention to your current real estate listings but also your real estate marketing efforts as a whole.
You can highlight unique things about the listings, focus on interesting aspects of the properties. Don't forget to use appealing images.
3. Community Information and Schools
What most families are interested in
Many families are looking to choose properties based on the community where the property is located and the surrounding schools.
For instance, you can highlight local community parks or town centers nearby, which is interesting information for everyone, but it can also be actionable for potential homebuyers.
4. Local Eateries and Entertainment
Many people want to have fun
One thing that most people can agree on is that they are always interested in finding great, new, and fun local dining spots and entertainment.
Finding these spots within the area that you are focusing on in real estate is ideal as you can use it to your advantage within your marketing tactics. You can use content writing services and your social media platforms to post blogs and other media to get the maximum amount of exposure.
5. Highlighting Listings in Your Blogs
Rank better and faster on Google
If you have your own site as a real estate agent, which you should strongly consider if you don't already, you should be posting blogs regularly. Not only does doing this add content to your website, but it can also rank your website higher on Google.
In your blogs, you can highlight your current listings, and it can help search engines rank the listings faster and in a better position. This can result in more business and potential leads. To maximize the possible benefits of having an active blog, you might want to consider getting writing assistance so everything is well written and delivered. In the eyes of the client, this is also a way for you to show your real estate marketing skills and efforts.
Be Informative While Thinking Outside the Box
It's what will intrigue potential clients and leads
Often, potential homebuyers and sellers are looking for agents that can provide them with value and still have a creative aspect to their work. That is where marketing comes in. Utilizing the right marketing practices and providing potential clients with the information they need before they realize they need it is crucial.
Take advantage of content writing services and the other marketing tactics listed above to put your business on top of the real estate industry.
{
"@context": "https://schema.org",
"@type": "BlogPosting",
"mainEntityOfPage": {
"@type": "WebPage",
"@id": "https://411writers.com/blog/5-content-marketing-ideas-for-real-estate-agents/"
},
"headline": "5 Content Marketing Ideas for Real Estate Agents",
"description": "Check out top content marketing ideas you can take advantage of, as a real estate agent, and succeed in the real estate industry.",
"image": "https://411writers.com/wp-content/uploads/2020/02/content-marketing-ideas-real-estate.png",
"author": {
"@type": "Organization",
"name": "411Writers",
"url": "https://411writers.com/"
},
"publisher": {
"@type": "Organization",
"name": "411Writers",
"logo": {
"@type": "ImageObject",
"url": "https://411writers.com/wp-content/uploads/2020/02/main-logo-svg.svg"
}
},
"datePublished": "2020-05-03"
}