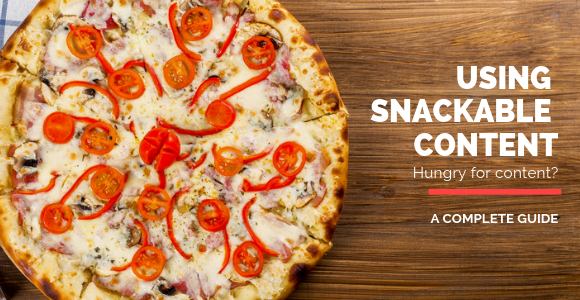 Snacks, if you didn't already know, are foods that are generally eaten in small portions between meals. It is something to keep us busy, full, and it makes us feel good. Let's be real, who doesn't love a good snack? This is also kind of what the media does for us. Think of it this way: when you are in a waiting room, standing in line somewhere, or maybe sitting by yourself – what do you usually do? You pick up your phone, which is full of media. Now, you may be asking what content writing services have to do with snacks and media…keep reading to find out!
What Is Snackable Content?
To be quite honest, there is no specific definition of snackable content except for the fact that it is content that is consumed in smaller quantities – this, however, does not require the length of the article, blog, post, etc. to be short. It is designed in a simpler fashion and is meant for the audience to read as well as understand the point being made in a shorter period of time – perfect for those with shorter attention spans.
What Makes Content 'Snackable'?
Quick, simple, and designed for easy consumption.
There are a few factors that come into play when you are developing this kind of content. You want your readers to see it, scan it, like, retweet, or potentially comment on it, and continue with their day – this all should happen within the timespan of just a few minutes. Content writing service can help you utilize some of the most important factors that are needed to do this. Some of the crucial things to consider for snackable content include the following:
Story:

make it interesting, creative, relatable, and easy to consume.

Headline:

this is one of the most important – the attention grabber.

Visuals or Infographics:

these make content easier to process and can help with the overall message.

Flexibility:

having both the mobile and desktop experience for readers because a lot of them enjoy reading snackable content on the go.
When using snackable content, it is important to think about quality, not quantity. I touched on something similar a little bit ago: whether you should be using long or short-form content for your website. The truth is, both can be snackable. It really depends on your audience and the topic you are referring to. You want your readers to be able to easily digest your content so that they can keep it moving. Many businesses refer to content writing services for this because of their way with words.
Different Types of Snackable Content
These are also ways you can engage with your readers.
If someone told you that you had to get your message across with a 140 character limit, would you be able to do it? How about in a video where you only had 10 seconds? This may seem tough, but there are a lot of people that do it on a regular basis, therefore, creating a form of snackable content. Social media platforms like Twitter, the mobile app Snapchat, and the stories feature on Instagram as well as Facebook are perfect examples of this.
One of the kings of snackable content – in a marketing and actually edible way – is Buzzfeed Tasty. They use social media often to show off their new recipes, blogs, and other posts by creating 30-60 second videos of what you will find on their website. Check out this post on their Instagram page just in time for the Black Friday deals and Holiday specials they were offering on their new merchandise – a 20-piece knife set – which is perfect for recreating those Tasty recipes.
Having visual media is key because it can be straight to the point. Content writing services are often used to develop the larger chunk of information on websites, which is what you can use to then create custom visuals that will link to these places. Some other ways that snackable content can be used is through:
Quizzes or Polls:

Buzzfeed has a lot of these too! For instance: how your snack preference can determine if you are left or right-brained. They are entertaining, interactive, engaging, and provide value.

Survey Results and Graphs:

these are informative and easy to understand.

GIFs:

It is an image that moves and only takes a couple of seconds to consume.

Memes:

These are pictures with captions that are often meant to be funny but can still get messages across in amusing ways.
In Conclusion
Relying on content writing services is crucial for the (oftentimes) longer and bulkier parts of your website including blogs as well as the other pages – you can't forget snacks. They can drive your audience to your landing pages, leading to more traffic, leads, and customer buzz. If you have experience snacking – with content – tell me how you use it or like to consume it in the comments!
Follow(function(d, s, id) {var js, fjs = d.getElementsByTagName(s)[0];if (d.getElementById(id)) return;js = d.createElement(s);js.id = id;js.src = "https://www.bloglovin.com/widget/js/loader.js?v=1";fjs.parentNode.insertBefore(js, fjs);}(document, "script", "bloglovin-sdk"))