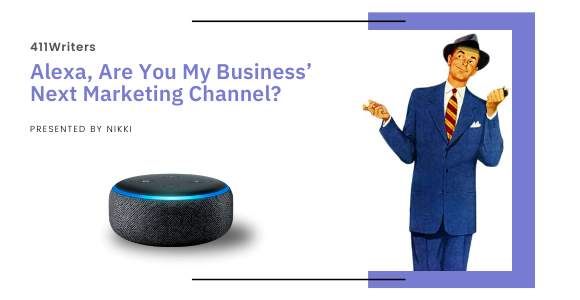 Amazon's voice service and virtual assistant, Alexa, is used in many homes nowadays through devices like the Amazon Echo. It is like having your very own virtual and personal helper around the house.
"Alexa, turn down the lights."
"Alexa, play the latest hip-hop music."
"Alexa, tell me a joke."
These are all common commands that are asked of Alexa for her to do. Now, you may be thinking about what Alexa and content writing services or your business and it's marketing channel have in common. Let's move into that.


A New Platform for Businesses and Brands
That platform is your Alexa device
Some companies have already started utilizing these platforms by listening to what their customers and/or clients need and producing content – in audio form – that can improve existing and create new relationships.
These companies have noticed that voice-activated tools and platforms like Apple's Siri and Amazon's Alexa service are becoming more and more present in our lives. Now, the marketing trends for 2020 included a focus on what will be new in content. However, voice was not part of it. That's mainly because the trend hasn't blown up quite yet, even though it is gaining more attention.
The next question is – Why Choose Alexa?
Why Choose Alexa as Your Platform
It's all about "Skills"
Even though Alexa isn't the only device that has voice-interactive options, it does offer opportunities for content marketing that other devices don't.
These include:
Creating and using Alexa Skills
The ability to blend in with a user's life
You don't just have to pay attention to content writing services for your business to grow, but also what your consumers are interested in. Since more and more people are engaging with Alexa and other voice-activated devices, it means that businesses should be focusing on the Skills that they are interested in.
What are Alexa Skills? Great question. It's your ability as a brand or business to deliver information to your consumers while growing as a whole.
Brands and businesses can take advantage of Alexa Skills, which will allow users to use their voice to access specific information as well as carry out certain tasks. Let's say you have a smart home security system that is paired up with your Alexa device. You can ask Alexa to control the lighting.
Now, the connection to content marketing: the dynamic of question and answer interaction. Users can ask Alexa a question to which Alexa will answer. Think of it like searching that question on Google and getting the answer. Except, with an Alexa device, she does all of the work for you and gives you the answer verbally.
How Brands Are Using Alexa
Providing content through Alexa Skills
Ask Purina
As a dog lover, I am loving that Purina is taking advantage of this marketing channel. Other dog lovers out there are probably interested to know more about other dogs, breeds, which ones are more kid-friendly, which breeds are hypoallergenic, and more.
When you use Ask Purina Skills, you can get all of the specific information that you need to know. The information is thorough and detailed, which is ideal for user's because it shows that the company did their research when anticipating the questions that would be asked.
Tide Stain Remover
This Skill from Tide is perfect for those who need help getting rid of stains or those who don't know which products to use. Using your Alexa device, ask "Alexa, ask Tide how to remove coffee stains." and you will get a bunch of helpful information. From the kind of products to use and even step-by-step instructions.
Tide also has the option to send you the step-by-step instructions directly to your phone through text message. This is another clever marketing tactic.
Ask Stubb
Who doesn't love good Bar-B-Q sauce? To step up your grilling skills, you can take advantage of Alexa Skills by asking Stubb to give you tips on grilling or some recipes. All the recipes are from Stubb – the man himself. Hearing Stubb's voice makes the grilling experience more genuine. Here's an example of how you can use Ask Stubb.
Take on a New Marketing Channel
Develop your own Alexa Skills
To take advantage of Alexa Skills with your business or brand, keep the following strategies in mind:
Know Your Audience: Doing so, you will find what they need and it will give you the opportunity to offer them something valuable.
Personalize and Customize: Create a unique customer experience.
Be Consistent with Your Brand's Goals, Tone, and Voice: There should be consistency between the content on your website, social media accounts, and the skills your customers are listening to. Content writing services can come in handy here.
Don't Skip the Call to Action: You still want your listeners to convert, so have them follow you on social media or visit your website for more information.
Preparing for more interactive content is crucial. Getting one step ahead of your competitors by taking advantage of Alexa Skills, and content writing services can set your brand over the top.