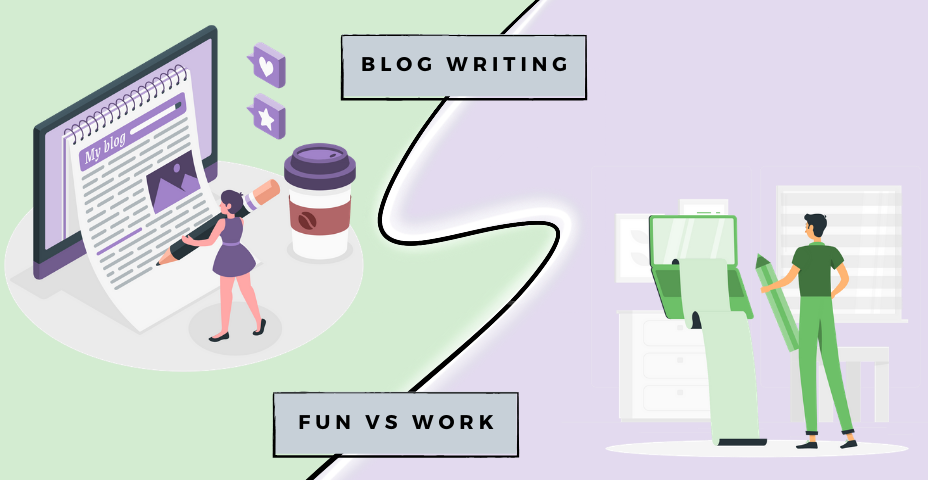 Being a writer was never part of my plan. I used to hate English classes at school and preferred art and math a lot more. But little did I know that one day, I will start my own blog and eventually turn writing in a career that I love.
Today, as a person who has been writing both for pleasure and clients, I want to share my thoughts and experiences with you. Maybe you don't really care, maybe you want to know what's blog writing about and why people want to be bloggers these days, or you are looking for someone who understands you.
Either way, I hope you will find whatever you are looking for in this swirl of emotions and words.
The Beauty of Blogging for Yourself
Or how beauty & fashion made me a writer

5 years ago, in a platform far, far away, I created a blog all about beauty, fashion, and lifestyle. My inspiration came from all the beauty and fashion bloggers, and other online personas that seemed to live such a fabulous life by just… writing and taking pictures?
Seemed so easy to be like them. But can you imagine my surprise when I realized that creating a space online doesn't make you a fabulous person immediately? I was the person for everything – planning the content, writing and editing the text, taking pictures, advertising on social media, linking, outreach…
I haven't even heard of SEO back then, not to mention SEO content writing, keywords, and all that jazz. I struggled for months to get traffic to my blog and was so jealous of all the girls who started around the same time as me and were already working with brands (but my flatlays are better, why am I not getting any emails from brands?!).
Being a competitive person and always wanting to do more stuff, I wanted my blogging for fun to turn into something more than a thing I sometimes do on weekends. I wanted to turn it into something that brings experiences, connects me with other people, and makes me develop and grow.
Time was flying by and I was still not seeing a clear direction with that blog of mine. I was not able to generate any profit to support myself and was getting less and less excited about taking pictures of lipsticks, which I thought was "my thing"…
During that time though, I was spending a lot of time writing and developing my own voice and style. Something I didn't even realize that I was doing!
So one day when a job ad for a writing position popped up it got me thinking… Could this be my next step? An opportunity to further develop something that I've grown to love?
I applied and got that job. And this is how…
Content Writing for Businesses Got Under My Skin
And It Taught Me Even More
At first, working for clients from all kinds of industries seemed scary. Very scary. I was supposed to morph into a different person for each and every article to be able to connect with the reader. A reader that would change all the time and be from different walks of life, with a different worldview and interests, etc. A reader I was supposed to engage and convert!
I was not sure I would be able to step into the shoes of different clients and present them in a unique way that will benefit them. Hours were passing and I was struggling with the introduction of the article, which would frustrate me and make things even worse.

Little did I know, improving your researching techniques and (surprise!) a lot of reading are able to completely change your sacrifice mindset and excite you about writing! I read so many different articles about various industries and wrote thousands of articles before I finally saw it.
There's no better way to fall in love with writing than just doing it. Everything that's part of it!
SEO Writing Can be Challenging but Exciting
Where Creativity and Technical Knowledge Collide
Many people I've met over the years have complained to me how striving to make their articles more SEO-friendly, killed their creativity. But I don't consider this to be the truth, personally. Actually, I believe it's the opposite.
Having a frame, guide, requirements… call it however you want, can be hard to digest as a writer. You can feel cornered like someone's cutting your wings by giving you a long list of what they think will make a good article. But having requirements set should not make you feel any less of a writer or a real professional.
These requirements are not there to be your enemy. They are not a direct judgment towards you and the work you do. They are your opportunity to be even more creative and find ways to write unique and engaging articles not despite them but with or even thanks to them.
I think this quote represents my thoughts on the subject very accurately:
"The thing that you think to be limiting you right now, could be the thing that will liberate you."
― Catherine Louise Birmingham

The Takeaways
If I Had to Give Advice…
Every good article needs to come to some sort of conclusion, right? Let me be good then. I'm giving you my key takeaways from my experience so far. Hope you find something helpful!
#1. Take up a hobby
As a millennial myself, I believe that hobbies can be more than just that. They can turn into a career you love and develop over time. Exactly the way it happened for me! So don't be afraid to take up a new hobby. Maybe the thing you were the least interested in at the beginning will be the thing you will end up loving most.
#2. Look for new challenges
The only way to learn new things, develop further the skills you already have, and find something new and exciting, is by finding new challenges. For me, this was blogging for clients. It taught me more than I thought it would about human psychology, writing, and professional life. And speaking of this…
#3. Always look at things from multiple angles
Don't consider your writing job to be just jamming the keyboard for 40 hours a week. It's so much more than that! This is an amazing opportunity to learn many things about life in general. Research can bring so many ideas to you and to be honest, even if you want to have boring days – you will very, very rarely have them! Experimenting with styles, reading new articles, and researching industries you have never written for will surely make your life more exciting.
#4. Don't let limits put you down
As I told you earlier, I've grown to see guidelines for writing content as an opportunity. And this applies to other areas of life for sure. You should take some time to think before you rush into action. You would not believe what you can come up with when you just give yourself the chance!
"The garden of the world has no limits, except in your mind."
― Rumi