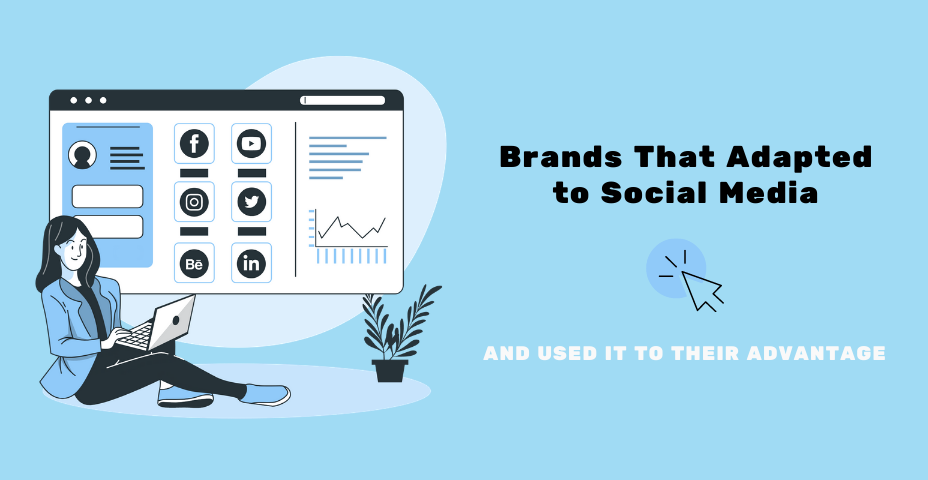 Social media marketing can be scary, overwhelming, and challenging. After all, there are so many different platforms and even more strategies and guidelines to follow.
Fortunately, you don't have to become an inventor and create a social media strategy for your company all by yourself. You can request assistance from talented and experienced content writers.
Check out what other brands are doing to tell their stories, expand their networks, and increase their popularity. I hope you get inspired by their work.

Pop-Tarts Does It Better Than Kellogg's
Knowing Your Target Group Is Important
Pop-Tarts is a world-famous brand that was introduced by the Kellogg Company in 1964. However, it uses social media more effectively than its parent company.
The brand's Twitter has a sarcastic voice that appeals to their younger, tech-savvy target group. Unlike Kellogg's, who uses a more professional language, Pop-Tarts hops on viral tweets and creates their own version that often sounds fresh and captivating.
Curiously enough, Kellogg's has slightly over 100,000 followers on Twitter, which is twice less than its subsidiary with more than 218,000. This only proves that the brand's strategy to create fun and sometimes questionable content is truly paying off.
Boohoo Keeps Thriving Due to Social Media
Not Even the COVID-19 Pandemic Stopped Its Sales
Fashion retailers were hit strongly by the COVID-19 pandemic, but Boohoo Group seems to be doing just fine. The UK-based company saw its sales grow up with 45% in the quarter to the end of May 2020.
It's clear that there are many factors involved in the brand's success, but it's also undeniable that Boohoo's social media strategy has contributed greatly to it. The company uses a combination of influencer endorsements and clever, cordial, and pop-culture-inspired content to engage with its customers and target groups.
Boohoo is also able to adapt its social media content to current trends for its benefit. A perfect example is the introduction of #BoohooInTheHouse – a hashtag that aims to promote social distancing and the stay at home lifestyle.
Cisco Knows What's Doing
There's Never Been a Better Time
When it comes to social media and digital marketing, business-to-consumer brands tend to take the forefront. But Cisco is a fine example of how any company can use social media to promote its products and gain new business.
In 2016, the company launched its "There's Never Been a Better Time" campaign. They promoted a more positive outlook for the future by inviting their customers to join a conversation about how to make the world a better place.
They highlighted stories that made IT infrastructure more relevant to our day-to-day needs, which automatically made their technology more tangible. The campaign was a massive success, as it was compelling and gave their audience what they wanted to see and hope for.
Reebok the Best Athletic Brand on Social Media
Winning the Social Media Olympics
Reebok has been around since the late 19th century. Although it didn't become as popular as other athletic brands such as Nike, Adidas (which acquired Reebok in 2005), and Puma, it certainly holds the pole position when it comes to social media marketing.
The brand has a strong and dependable digital marketing strategy that involves the usage of differential social media platforms such as Instagram, Facebook, YouTube, and LinkedIn.
Surprisingly for many, the company truly excels at using LinkedIn to its advantage. Around 40% of the platform's users log in daily looking for new content and Reebok understands that. It posts new things on a regular basis and often shares links to its blog, which pulls more potential customers in their way.
PlayStation The King of Twitter
Best-Selling Console = Most Followed Gaming Console
I am an avid PlayStation user, and even I didn't know that it's the most followed brand on Twitter, being just a little shy from 19 million followers.
In the period between 2014 and 2019, the gaming console added 12 million new followers to its account, which is a staggering increase of 376%. The main reason behind this growth is PlayStation's constant activity on social media.
The brand continuously posts a plethora of fan engaging content that includes new game trailers, streaming events, gaming footage, and more. In May, the company started the #PlayAtHome initiative – a hashtag that encourages its users to say home and play 'Uncharted: The Nathan Drake Collection' and 'Journey' games, both of which they could download for free.
National Geographic Explores the Virtual World Too
Second Only to Instagram
National Geographic has over 140 million Instagram followers and is the second most-followed brand on the platform, second to only Instagram.
The company uses visual storytelling to engage its audience and expand its network. National Geographic has given its photographers a certain level of creative control, which allows the brand to post both authentic and unique content.
It also uses social media to educate its followers and raise awareness of important global issues.
Creating fun, relatable, and engaging content isn't always as easy or as simple as it seems. As a business owner, it's your duty to find the necessary tools to attain your objectives. Apart from getting inspired by these brands, you should also start looking for professional content writing services for a more successful social media strategy.
"If you're not putting out relevant content in relevant places – you don't exist" – Gary Vaynerchuk