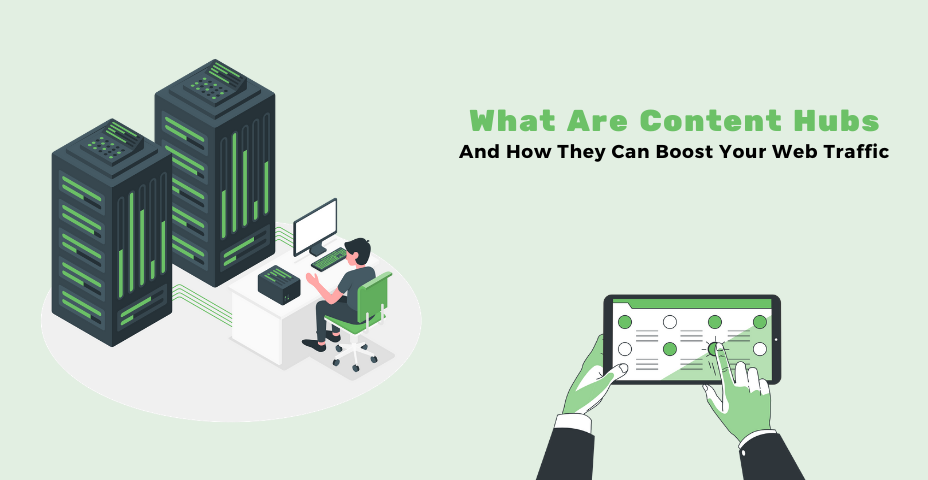 So, content hubs. It is the same as topic clusters, but with fancier words. To give you a spoiler, this is something not many of your competitors are doing so the sooner you apply it, the better. Spoiler #2: you will need better content marketing, strategizing, and possibly hiring blog writing services to pull this one off. Okay, enough intros, let's get to it.

What Are Content Hubs
I'll use topography to illustrate my point
Let's think topography here for a second. Imagine you have a square piece of land, and I got the same one. We each have 100 rocks. You decide to place your rocks next to each other with just a couple on top of one another. While I, try to stack them together.
The higher the pile, the more visible you are, the more traffic you get.
Your stones are like topics. When you don't make connections between them and don't unite them under a single strategy, you're bound to suffer low and inconsistent traffic. Like stones dispersed around your land. The solution is to take those topics and form piles with them. It helps to create order and interconnections which matters beyond keeping things in check, it matters in terms of better SEO and that's the key to getting a bigger piece of the attention pie.
The Definition of a Content Hub
It is a set of content pieces organized around a certain topic (usually a voluminous central page like a detailed guide). It can be a category on your blog or a section of web pages on your website.
The Way to Beat the Competition for Bigger Topics
The amazing thing about content hubs, aside from the reason we get tons of work as blog ghostwriters, is that they can help compete with the bigger fish. Sure, content hubs are a speedy way to win the traffic game in niche industries or for niche topics, but what happens when you want to get front and center on massively popular topics?
Well, you sweat a lot, you strategize a lot, and you build insanely good and thorough content hubs. Google and other search engines "judge" the credibility of a website primarily based on the quality of the content they put out, so here is your chance to really be competitive.
How to Create Your Own Content Hubs
No matter if you're already using blog writing services to maintain a good blog page on your website, there are things you need to do yourself. Here's a quick step-by-step rundown of how to create your first content hub:
#1 Choose a topic. It has to be valuable to your audience and relevant to your industry. Don't just start a topic cluster for homemade tomato pasta if you're in the app development business. Think about the problems your content will solve, the questions it can answer, and the likely phrases people will use to search for it. List all of these together with relevant keywords. If you're new to keyword research, you're in luck because our guru option has that part covered, wink wink.
#2 Research your competition. Once you have your topic, it's time to see who already dominates the search for it. You can use a number of tools, like Ahrefs, Moz, SemRush, you name it, and you can also ask Google about it by typing the keywords and phrases you've identified as most searched.
#3 Find influencers. No, I don't mean the Instagram-sponsored-post type of influencers. Or maybe I do. It really all depends on your niche and audience. Find the people who are relevant to your topic and are followed by your audience. Start making friends with them through the most basic way possible – follow them, comment on their content, share it, do your best to get their attention without being negatively pushy.
#4 Create and publish your central hub. This is the base of your topic cluster. It has to be well-written and well-optimized. If you're a travel blogger and chose to write about Norway, here's how a content hub might look like.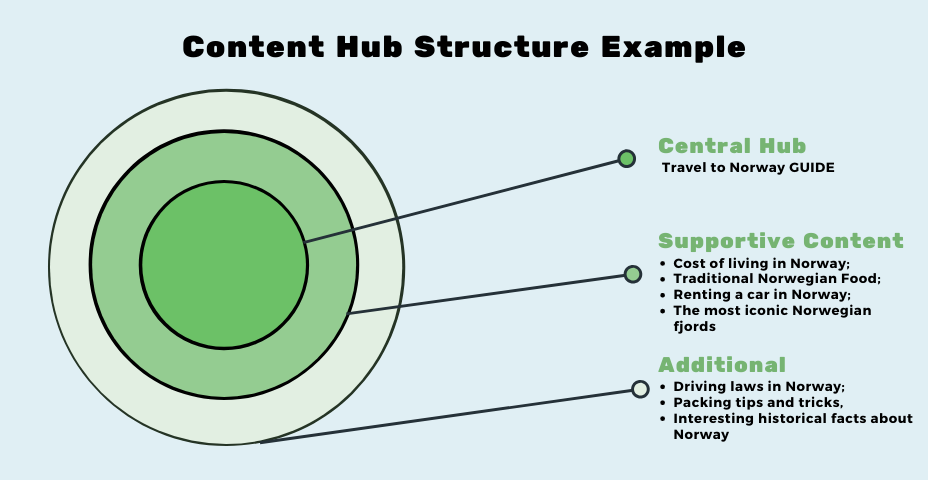 Since I love Norway and the quarantine put my travel plans there on hold, I will use it as an example. Mainly because I did loads of research and feel confident in the topic, which actually is lesson number one: start your first content hub with a topic or a field you know enough about. It has to be related to your line of work, but that doesn't always mean you have enough knowledge on the topic of it. You can be a great digital storyteller who knows a decent amount about SEO, but not enough about backlinks. In that case, don't go for a content hub on the topic of backlinks. It's a risk that can hurt both your credibility and the quality of the content you produce.
Back to the example. You can make a long and extensive guide on how to travel Norway covering all basic details like how to get there, their currency, nature, cuisine, etc. The more topics you touch on at this point, the more supportive content ideas you will get. Plan out those support topics in advance, so you don't cover them in detail in the central hub. Just give the essence and link to a separate blog that covers the topic (or plan where you will add a link later on).
The Central Hub is where your main topic and most competitive keywords will go. The Supportive Content is where you answer the main "How to," "What is," and other related questions to the topic. In Additional, you focus on providing extra info that supports the topic and covers more related questions.
#5 Create and publish your supportive content. Make sure each supportive page or blog targets a specific keyword or phrase so you don't end up with keyword cannibalization.
#6 Reach to the influencers and ask to collaborate with them. That can be a stretch, but it's worth the shot. Offer to interview them, include them in a research or a survey, ask them for quotes. You lose nothing by reaching out to them and if they say yes, you have a lot to gain.
#7 Guestpost. Unlike with influencers, this one isn't optional if you really want to succeed. There are many platforms that are open to guest posts and you can always make more industry friends who would be open to letting you post on their websites.
#8 Update your content regularly. You're far from done with your content hub. The most important thing is to update your pages as time goes by. Even evergreen topics have news, so don't be too lazy when it comes to maintenance.
Well, that concludes the basics of the essence and how-to's of content hubs. I hope you learned something new or were inspired to give them a try. Either way, let me know!
Till next time,
T.