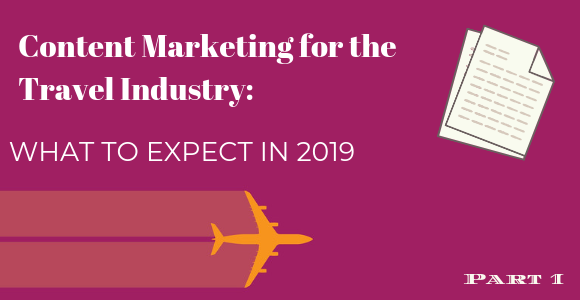 Operating in the travel industry means you need to always be ready to adapt to its dynamic nature. If you and your dream team of web content writers are looking for ways to give your business more personality or increase your sales, start with these 2019 trends that will impact the travel industry.
How We Left Things in 2018
A brief overview of the near past
Content creation continued to reach new horizons and change rapidly over the last year. We saw a lot of new ways for distribution and engagement gaining traction – especially social media, video, and influencer marketing. Brands kept challenging the limits of the well-trodden paths of reaching their customers and continued looking for new ways of doing it.
In the tourism industry, web content writers and agencies were no different in their approach. Digital visibility still relies on SEO but there are so many other things that influenced the marketing mix. Travelers had the chance to encounter artificial intelligence becoming integrated into their experience. Remember that robot hotel in Japan? Yeah, crazy, I know. We saw a lot of interesting things coming up so let's refocus our lens on what's likely to stay and come along as we cruise through 2019.
Trend #1: Collaboration & Social Media Uprising
Content builds communities
The possibilities for reach and engagement that social media presents marketers with are countless. People are getting more and more creative with them. That's why you will hear the term influencer marketing mentioned more often than ever. Combining efforts with influencers, other brands, and destinations management organizations on social media platforms benefits both sides. Grin has written a very good piece about how to choose and work with travel influencers that fit your brand.
A great example of this was the recent giveaway that New Horizon Escapes launched on their Instagram page. Тhey organize and sell fitness and wellness retreats that give people the chance to try out different activities in some of the world's most beautiful locations, such as Thailand, the Maldives, and more.
In January 2019, they decided to give away two spots for one of their escapes for free in return for a subscription to their Instagram account and a comment. Not only was the prize a good enough reason to sign up immediately, but they also partnered with the major fitness influencers that are also the lead trainers on these escapes. The word was spread on their Instagram accounts as well and they scored a great engagement and increased their follower's list in a matter of hours.
So, how 'Instagrammable' Is Your Destination?
This is the question you should be asking yourself if you are targeting millennials. A major factor for choosing their next vacation has become the 'instagrammability' of the place. In the spirit of the #10yearschallenge, just think about how a decade ago, Instagram wasn't even a factor because… it didn't exist. Now, we base our destination decision-making on it. Exactly, things move fast.
Of course, people are instantly attracted by visually-pleasing destinations. It's almost an instinctive reaction. But, in your efforts of showing off the beautiful sides of your destination, don't forget to stay honest. Which means, you shouldn't try to sugar-coat with a picture-perfect and fake image. Instead, use your channels to represent the best it has but in a way that keeps it real. When you put authenticity to the front, people are able to feel the difference.
Trend #2: Immersive storytelling
Content as an experience in itself
Travel and tourism are great industries as they give you a variety of content creation options. You can follow the line of practical content. Things that the potential traveler will have to consider like ground transportation, flights, accommodation, things to see and do. But that's just the tip of the iceberg when it comes to travel content. You can really take it up a notch and turn it all into a compelling story. Brands employ web content writers that know how to leverage this strategy.
We've all come across some really good destination promotional videos. Building a narrative there is easier for them. They still use visual stimuli but they often have big budgets and a diverse mix of elements to show off. When it comes to brands that are not tied to a specific destination and are selling one product or service, it might seem a bit more challenging. The good thing about stories is you can use so many mediums to convey yours. Videos, Facebook campaigns, blogs, you name it. It can be what you base the major part of your promotional efforts on.
I got so immersed in writing this article (trying out lame puns, I know), that it ended up being way too long for the attention span of the average reader. So, surprise! There would be a part 2. If you enjoyed learning about what's hot on the travel marketing scene, you should check it out.