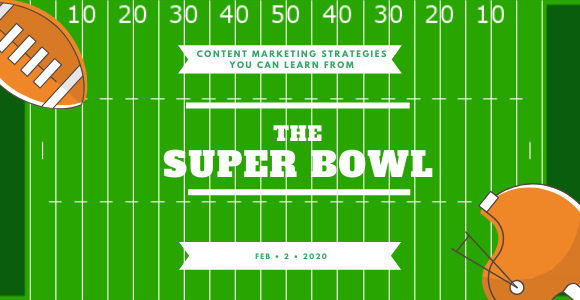 Super Bowl Sunday – it's one of the unofficial American national holidays, even for non-football fans. It is the most-watched sporting event in the WORLD, and do you know what that means? It is one of the biggest opportunities for advertisers to take advantage of the content writing services they've used by creating video commercials that can establish brand awareness by broadcasting in front of millions of fans.
Some of the most reputable companies get commercial spots during the Super Bowl. Many of them spend months preparing their advertisements and commercials to ensure they are perfect, appealing, funny, and creative. This is because many viewers watch the Super Bowl just for the ads!


Based on the National Retail Foundation (NRF), 23% of those that watch the Super Bowl believe that the commercials are the most important part.
This large window of opportunity to reach millions of people with just a 30-second commercial comes at a hefty price. Chances are you don't have an extra $5 million laying around for a Super Bowl commercial. Instead, take advantage of the content marketing strategies below to see what you can learn from the Super Bowl.
Humor Your Audience
It can easily get someone's attention
When people think about the Super Bowl, they often think about funny commercials. As a business or brand, you want to impress your viewers, or at the very least, humor them with something funny. Take advantage of content writing services to come up with an ad that will appeal to your audience. Something boring can always stand out by being funny.
Focus on Creativity
Get those creative juices flowing
For companies that are looking to get a 30-second commercial spot during the Super Bowl, the main goal is to be creative. Their commercials are tested, reviewed, scrutinized, ranked, and more to be (positively) remembered in the end. Even if you are not working toward developing content for a Super Bowl commercial for your business, being creative with your content should still be your goal. It is essential to stand out with your content and set a standard for being creative.
Have a Clear Message
Don't get lost in the sauce
Good content is nothing without a clear message. Many Super Bowl commercials are more confusing than funny, memorable, or creative. The time slot that companies have for their ads in the Super Bowl (average 30-seconds) is similar to what you have with your content before the reader stops reading. Have a clear and concise message.
Know Who You're Targeting
Appealing to your audience is most important
How do you expect to appeal to your audience if you don't know who they are? In some cases, you can appeal to them by accident, but it's a risky path to take. Know your audience before you move forward with content writing services so that you can properly engage, humor, and educate them.
Super Bowl LIV Ads That Worked
Some of the best Super Bowl ads from 2020
The Kansas City Chiefs were crowned Super Bowl LIV champs last night beating the San Francisco 49ers 31-20. Shakira and J-Lo shut things down during their amazing Latino Gang halftime performance. But, what about the Super Bowl ads that played between these events? Here are some of the best Super Bowl LIV ads and why they worked:
#1. Microsoft "Be the One: Katie Sowers"
Katie Sowers is not only the offensive assistant coach for the San Francisco 49ers. She is also the first female and openly gay coach in the Super Bowl. Microsoft took advantage of multicultural marketing tactics and highlighted women in the football industry. It is something you don't see often, but it is the change you want to see. They left this inspiring message while still staying true to their message of promoting Microsoft Surface Pro 7 tablet, which she is using to help her coach.
#2. Amazon "#BeforeAlexa"
Amazon has been known for the Super Bowl commercials in the past, and this one was yet another hit. It featured the real-life couple, Ellen DeGeneres and Portia de Rossi, and what the world was like before Alexa. It was a humorous way to show how much Alexa could do; remember my article – Alexa can be your next marketing channel?
#3. Google "Loretta"
This one was an emotional commercial that probably left some of us reaching for the box of tissues. Google used creative storytelling strategies through its product. It showed a strong love story of a man who is sharing memories of his wife. The details are left for us to interpret as the man can be trying to keep his memories alive while fighting Alzheimer's or merely wanting to create a digital memory book.
#4. Hyundai Sonata "Smaht Pahk"
It's common for Super Bowl ads to feature dozens of celebrities. Hyundai Sonata's Super Bowl LIV ad did just that. It featured Boston-natives John Krasinski, Rachel Dratch, and Chris Evans, who had fun using Boston accents to show what the new Smart Park option on the Hyundai Sonata can do. A hilarious and entertaining ad.
Sports, in general, can teach us a lot about leadership, teamwork, and sportsmanship, which can be seen throughout the Super Bowl game. However, the intensity of the Super Bowl commercials and marketing strategies that are used can help any business learn how to have creative, funny, and well-targeted content while still keeping their messages clear.
You can leverage your creativity and build a long-lasting connection with your consumers while using content writing services so you can get Super Bowl ad-like material on your website.
Use these Super Bowl marketing strategies and see what you will come up with.