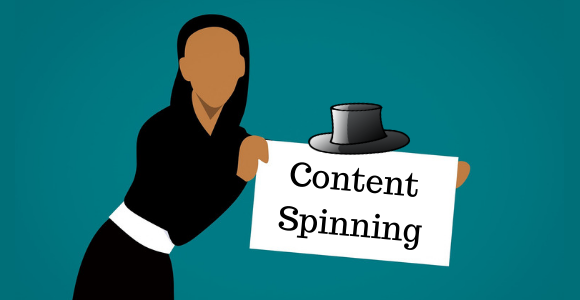 Have you ever watched a really informative video on a low-resolution? Or trying to enjoy this HD masterpiece on a cracked screen? You can get the point, yet the whole experience is just… not satisfying at all. The same happens when you are reading a content holding some valuable information but is just… bad writing.
One of the most common "bad content" causes is content spinning.
During my career as a website content writer, I have been involved in many experiments connected with content spinning and I can say that no matter that in specific cases it does the trick, this is just a bad SEO practice (in most of the cases). This is today's blog topic, and I'll cover the basics of what content spinning actually is and how it affects SEO.
Content Spinning – A Major Black Hat SEO practice
There are many aggressive SEO strategies and techniques that give temporary results and SEOs forget about their human visitors. I even dedicated a whole blog on the importance of good user experience. Anyway, the point is that focusing on search engines and not a human audience is generally a bad practice. Today, the spotlight goes to "content spinning" as a black hat SEO practice.
Yes, spinning content is necessary sometimes, we have all been there. Spinning content is mostly practiced in low-rent SEO marketers. It is just not profitable.
What exactly is content spinning?
And is it always a bad thing?
Basically, taking something that is written one way, and rewriting it so it sounds different is what defines content spinning. The main reason for this is… you guessed it – avoiding duplicate content.
But what if you take an old article with a still trending topic and rewrite it just because you know you can do better? This way you're not wasting much time and resources to tell the same news, just, let's say, restructure the article. If this is the case, nobody can ever blame you for content spinning.
Why professional content writers spin content?
And isn't their main job to produce new content?
When looking for a way to generate hundreds of related blog posts and pages as quickly as possible many website content writers just spin their old content that is related to their "new topic." Content spinning is the easiest way to avoid duplicating your content and getting your site penalized by Google. In other words, when webmasters are looking for quantity over quality, website content writers just spin content and hope for the best.
Actually, people do not get reproached for spinning content. There are even people on BlackHat forums who are bragging about how much articles they have spun and how beneficial and time-saving this was for them. There are even plenty of content spinning software programs out there. This is where it gets out of hand.
People should realize that black hat SEO can only be a temporary fix!
Yes, content spinning and other black hat SEO practices might work to some extent, but both content writers and marketers should always think of them as temporary fixes to be avoided if possible. While these practices seem good for SEO, they are bad for the Internet in general. There are billions of low-quality pages that were only created to give the illusion of another website's popularity.
Google is already taking precaution against duplicate content!
This is why the Panda and Penguin algorithms were originally designed. Google is actually doing a good job at detecting these sort of fraudulent, black hat SEO practices exemplified by content spinning. In other words, don't overdo spinning!
I hope this article was helpful, and I really advise you not to use these get-rich-quick SEO copywriting techniques. I'm thinking about starting a sequence on bad SEO practices, let me know what you think in the comments. I wish you good luck, and always choose quality over quantity!