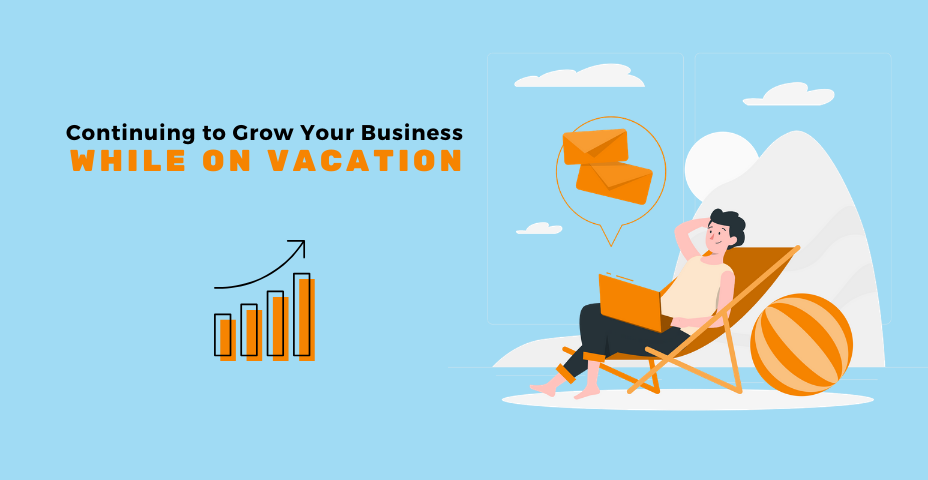 You've probably noticed that the weather has gotten warmer recently, which means that summer is right around the corner. What else? It's time to start planning your summer vacation.
Now, if you're a business owner, your thoughts are probably that you can't possibly take a vacation without fearing your business will go downhill.
However, you're wrong. Just because you're a business owner doesn't mean that you can't enjoy vacations or time off.
The good thing about content writing services is that you can use them to your advantage when going on vacation. This would be by planning content ahead of time and scheduling posts, so it will be like you're not gone!
Vacation anxiety is a real thing, especially for business owners. One thing to remember is that being proactive with your marketing techniques and business management can go a long way.
Here's what to think about before you head off for some much-needed relaxation.
Appoint Someone to Temporarily Take Your Place
Train them, teach them, trust them.
If you have a full staff that you supervise on a daily basis, going on vacation may not be too hard for you. However, most small business owners have tight control over many business operations and day-to-day tasks. This can often make it difficult to take even a single afternoon off.
Before you head off on your vacation, spend some time training a senior or well-trusted employee on managing tasks that you would typically do on your own.
Have some of your employees fly solo while you're still there to see how and if they can handle it while you assist them if necessary.
Ensure that your employees know that the appointed person taking your place is who they should go to for further instruction while you're away.
Keep the Blog Going
Posting blogs can show your clients that you're still active.
While you're away, you want to make sure that your website is still being updated. This shows clients that your business is active.
Posting blogs regularly and sticking to your posting schedule is crucial. Some clients can notice if you skip a posting day or if you are falling behind, which isn't necessarily a good look.
Even if you're not personally writing blogs, you can still post them. With content writing services, the blogs will be written and ready to post.
Nowadays, you can schedule posts for days and weeks in advance, so even if you want to perfect each blog post that the content writers have written, you can do so. Once you're done, you can schedule it so that it is posted while you're away.
Utilize Google Remarketing Ads
Remarketing and retargeting are your friends.
While you're soaking up the sun somewhere or touring some amazing city, people will likely visit your website.
It's possible for those website visitors to also leave before they purchase anything.
You can build Google Remarketing Ads to capture their attention once again and, hopefully, bring them back to make their purchase or convert based on your business goals.
I've talked about remarketing and retargeting before and how you can incorporate these tactics into your email marketing strategy.
Don't Forget About Emailing
These can also be scheduled.
Yes, e-mail marketing is alive and well. Most importantly, it's still an effective marketing tactic.
Just like writing blogs, you don't have to write and send out the emails on your own.
Who wants to spend their vacation writing work-related emails anyway?
Whether it's with Constant Contact, Mailchimp, or another one of your favorite email marketing platforms, your campaigns will not be paused.
These platforms can be used to send out emails to your entire contact list. For the emails themselves, you can always use content writing services to help you get ahead of the game.
Sending email campaigns to promote products, tell a story, or share news is possible, and you can also schedule them ahead of time so that you won't have to do it manually while you're traveling.
Most business owners will slip a couple of business cards into their beach bags or wallets while they're on vacation – if they haven't already. If you meet new friends or potential clients on your cruise, at the beach, or at a friendly get-together, don't miss out on growing your connections.
This is your chance to also add these new people to your mailing list and connect with them through social media.
Clear Your Head
This is your chance to do so.
After all, you ARE on vacation.
The daily stress or pressure that you may experience from owning a business can take a toll on you.
Use this opportunity to clear your head.
This can get some new ideas flowing and help you start brainstorming without even realizing it.
Take a second to reflect on what's worked for your business, what hasn't, and what you can do next.
Take That Vacation
And make sure that you enjoy it.
Just because you're a business owner, it doesn't mean that you should be stuck at work with little to no vacation time.
In fact, being a business owner should give you more freedom to do as you please.
Using content writing services can definitely make it easier to grow your business while you're on vacation, so why not take some time off?
Enjoy some free time this summer, and grab any chance that you get.
You deserve it!