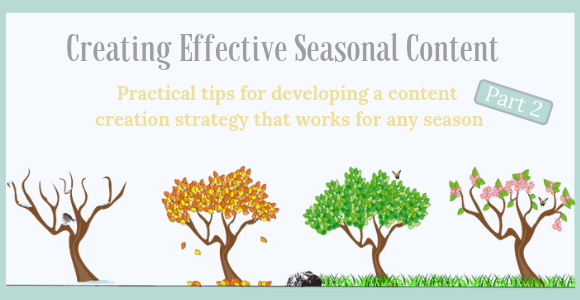 In Part 1, we started out with some of the most important things that need considering when starting out with seasonal content creation. We covered how to tackle the planning stages and the need to choose your focus. Now, that we have those key elements out of the way, there is still more to think about. But worry not, it is not difficult or complicated. Allow me to elaborate on some more aspects of what makes a seasonal campaign effective.
SEO & Seasonal Content
Choosing the right keywords is still relevant
Just like you would check for searches, queries & topic-related keywords for the rest of your content marketing strategy, you need to do that for the holiday or season in mind.
If you are thinking about an e-mail campaign with Black Friday deals, search "Black Friday" + "your business/field". Check out Google Trends tool to see the popularity of your search over time.
Is it a Christmas offer landing page? Have it done before the holiday and list it as soon as possible so it can start ranking on Google. Your SEO game is still important, just as the quality of your content.
Time to Check the Results
Congratulations, you've reached the evaluation stage
So, how successful was your holiday campaign? Did you manage to reach that level of popularity or brand mentions you were trying to get? Did people spend more time on your website because they could find your SEO-friendly content easily? Or maybe, you have spotted a few trends of behavior among your users that are worth exploring.
Whatever it is, keep track of the findings.
You will be able to build on them next year and then do the same with next year's findings. Until you reach a point where you really know your customers.
A Few Very Important Things to Keep In Mind
Some honorable mentions
This won't be an exhaustive list but I thought these are things that you should definitely consider.
Leave some room for on-the-spot thinking
Creativity is a very important ingredient in any content creation process. Different trends will be emerging during the year that you could incorporate in the pieces of seasonal content that you will traditionally issue. Don't forget to consider taking them on board. YouTube Rewind Videos are a great example (the recap of all hot social trends & viral content throughout the year). By the way, this is the 2018 edition.
Right when things are happening is already late for your seasonal campaign. You need to start "paving the way" before that. You can do that with a creatively crafted e-mail campaign that has subtle notes that bring the reader's attention to the season or the holiday, without going full-on about it. It should not be too early either, though. Pay attention to how the interest rate changes over time (again, Google Trends) & act accordingly.
As already covered by one of our fellow content writers, Teo, content distribution matters just as much as its creation sometimes. The rule of thumb is to focus on the ones that work best for your business. If social media isn't a place that helps you increase engagement, skip it. Also, if you are using more than one channel, devise a method of measuring the effectivity for each of them.
Making Your Content Jingle
Deck the words
Remember that 2019 resolutions list I mentioned in the beginning? If your contains "Take my business or brand to the next level" or something along the lines, then probably that's your reason for reading this article.
Content is going to help you do that.
Since the new calendar year is bringing you the chance for a new start, take control over your seasonal and evergreen content while you have time on your side.
That being said, you don't have to learn how to swim in the deep overnight.
You can always ask for help. Using the expertise of a professional team of content & SEO gurus might be what is going to set you on the right path towards your goals.
I hope next year will be fruitful for you in terms of both seasonal, evergreen, but above all, winning copy. And on that note, I'm leaving you to enjoy the contagious holiday spirit and the thought of lots of food coming our way 🙂