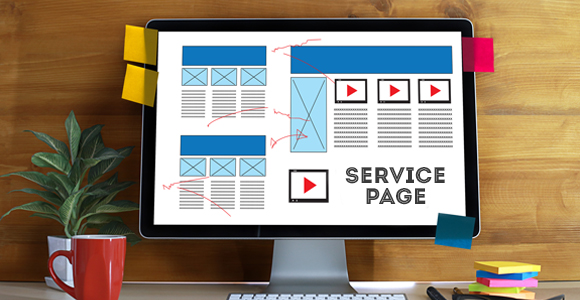 Are you running a service-based business? As the owner of the company, you know the quality and scope of the options that you can provide to your target market. However, your potential clients don't know about your services and that is when this type of website page comes in light. This is when you need a content creation strategy for converting Service Page!
The purpose of a "service page" is to introduce a particular service to your target group. If you have just hastily written something in the past or haven't even bothered to properly present the various options that you offer, it's time that you sit down and handle the task. Service pages are easily in the top 3 of the most important sections of a website, so writing quality SEO content for them will only be beneficial for your online presence and business.
A quality service page shouldn't be overwhelming because too much information, especially if it is a professional language may scare away potential customers instead of attracting them. If writing has never been your forte, you should delegate the drafting of your service pages to professionals who specialize in SEO copywriting services!
Aim for a Logical Page Structure
You should have a separate service page for each option that you offer. Stacking or grouping services in a single page will certainly save you time and energy but it won't affect your website's reputation if you save yourself the time to write separate service pages for each service you provide. After all, the goal of an online presence is to open new horizons for your company and to make you more accessible.
Having a page for each service will also make your website more user-friendly as not every visitor will be interested in all the options that you are ready to provide them. Some will be looking for a specific service and if they can easily find the information that they are looking for, it will certainly earn you some bonus points.
Properly structured pages are more efficient when it comes to SEO, which is why you must implement the following elements:
Intriguing tone
Appropriate keywords
Relevant images
It might sound complicated and unnecessary, but it will bring you more than you have hoped for in the long run.
The icing on the cake should be a well-structured call-to-action paragraph around the specific service that you are promoting. Some studies show that people like being invited into making a call!
Headings and Subheadings Are a Must
All the content on your website should be reader-friendly and digestible. Your potential client won't enjoy the confusion that they will get from reading complicated and professional terms. Try to keep things simple and understandable, so your customers can know that they can easily communicate with you and your employees should they choose to use your services.
Headings and subheadings are an easy way to achieve the above-mentioned goal since they will give hints to your clients about the overall content of the page and each paragraph that it holds. Furthermore, Google will reward you for your thoughtfulness and extra work, and let's be honest, we all love to be acknowledged by Google.
Adding bullet points and pictures will further flesh out what you do while icons are a great way to give a visual summary. After all, we do learn more through our eyes and the images that we see than through words.
You can weed out time wasters by being as unambiguous as possible. This way you will deal only with people who are truly interested in the services that you offer plus it will ease the writing process.
A Bit More About the Call to Action
Remember earlier when we said that a good structured call-to-action should be the icing on the cake? Let us tell you a little bit more about it. As you have already figured out it is a very important element of the page because it tells potential clients what to do next, and as the website's owners, it's your duty to guide them through your website and to where you want them to end up.
Ideally, a good "call to action" makes the rest of the content useless to your readers. Why? Because they will call you before reading the text. Professional SEO copywriting services are most effective when quality matches the quantity. Of course, you need the rest of the content, your users who didn't feel like talking right now need the rest of the content, and Google needs the content as well.
Anyway, back to "call to actions". Use boxes to point them in the right direction and to tell them what to do. If you accept emails or offer free estimates, send them to your contact page. On the other hand, if you rather be contacted via phone, help them understand from where they can acquire your number and how it will help them if they call you as soon as possible.
Pull up Your Sleeves and Do What Is Necessary!
You can spend the time and write a service page yourself or you can choose a professional content creation company do that for you instead. Whether you choose us, someone else, or you do it yourself, we would love to hear your feedback on this blog and possibly our services. Feel free to use the comment section below.