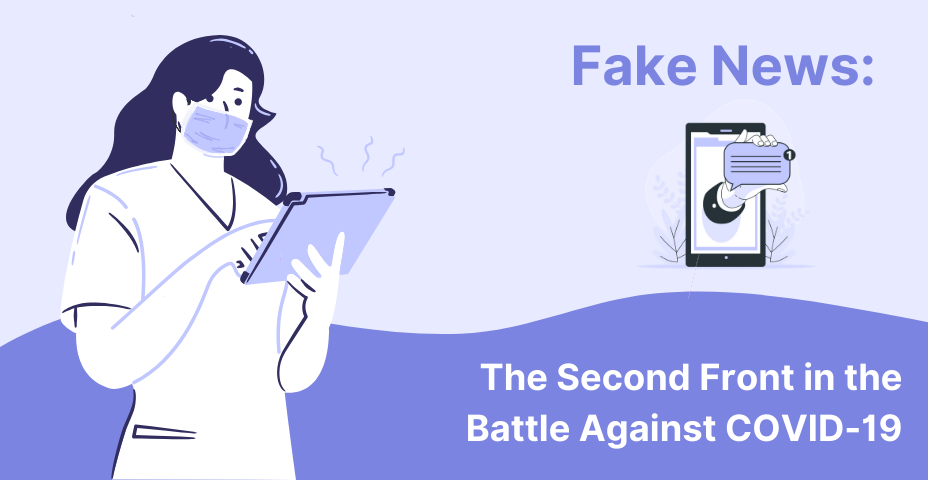 Let's be honest and admit it – the world is sick! Countries are locked, people are asked to stay indoors, and the global healthcare system is flooded.
To make things worse, misinformation is spreading like wildfire. Since the beginning of the crisis, countless conspiracy theories have emerged and unfortunately, there are no indicators they are about the stop anytime soon.
From the seemingly plausible to the obviously fake news, these theories are genuinely causing unnecessary havoc and chaos and I for one, am tired of them!
It seems that I am not the only one annoyed by the people who are releasing untrue statements about COVID-19. Many social media platforms are standing in the front line against the battle of misinformation. Their main weapons – the demonetization and limitation of misleading and unproven content.

Issues Caused by Misinformation
Not All Sources Are Trustworthy
As someone who is honest to a fault and an avid truth seeker, I don't mind the occasional thought-provoking theory. After all, I am not naive and I am fully aware that governments and different organizations never reveal the entire truth about anything.
However, I also understand the difference between disinformation and misinformation and as a copywriter for a content writing agency, I would never use the latter in my work. Misleading readers only to get a few more clicks and reposts is a bad practice, and it's ethically incorrect.
Misinformation causes people to set cell towers on fire as it makes them believe that 5G spreads COVID-19. It also makes parents gamble the health of children based on news posted on Facebook from the friend of a friend of a distant cousin's friend!
Do NOT believe everything you read on the Internet. Trust only reliable and renowned sources.
Why Did Social Media Step Up the Plate?
The 'Infodemic' Is Getting Out of Proportions
Social media platforms such as YouTube, Facebook, Whatsapp, Twitter, Instagram, and more have been trying to limit the spread of fake news for years. Since the beginning of the pandemic, they have doubled their effort to fight content creators who generate misleading information.
As platforms with millions of users, they understand their role in the spread of any kind of information. Whether it is news about a major technology breakthrough or information about the British Royal Family, you have most likely learned about it on one of your social media accounts. I know that, as I learn the most relevant news through mine!
Stopping the 'infodemic' that is infecting the Internet by blocking, limiting, or reducing the revenue made by fake news will save lives, as it will stop the false notion that the current quarantine is unnecessary and that life should go on as if nothing is happening.
In a Material World, Losing Money Is a Strong Motivator
Methods Used by Social Media
Different social media platforms use different methods to stop fake news.
YouTube
YouTube demonetization has been around for several years. The policy is called "The Adpocalypse" by numerous content creators. It denies paid advertisements to videos that are spreading unproven or fake information about sensitive events – one of which is the current COVID-19 pandemic.
While this practice can be seen as controversial and isn't always fair, especially towards content creators dedicated to highlighting the truth, it is necessary at this particular moment. Losing money from in-video ads is arguably the most effective way to stop conspiracy theorists from misleading people and giving them a false sense of security.
WhatsApp
The Facebook-owned messaging app has been limiting message forwarding for quite some time. However, since the breakout of the pandemic, it has tightened furthermore its forwarding restrictions. Up to February, users were able to forward viral texts to five chats at once. Now, they can only send it to one person at a time!
Since the app fully encrypts its messages, the company has no idea what is being shared. Limiting forwarding is their best chance to play their part in the ongoing battle against fake news and clamp down the spread of misinformation.
Facebook
Facebook updated its algorithm to find and remove false content about the pandemic. It also banned ads promoting products about COVID-19 and uses fact-checkers to track down posts with fake news and flag them as inappropriate
It launched a Coronavirus Information Center, which aims to provide people access to real and relevant information about the ongoing pandemic.
Twitter
Twitter executes daily quality assurance checks on content to enforce its policies and prevent the escalation of fake news. It also works in partnership with the CDC and offers information about COVID-19 from credible sources in 20 different languages.
Like Facebook, Twitter banned ads and commerce listings for masks, disinfectants, hand sanitizers, and other products. The objective is to prevent misinformation about their benefits, stop price inflation, and prevent predatory behavior from mass buyers.
How to Create Reliable Content
Be Honest and Use Credible Sources
Sure, fake news and clickbait generate traffic and bring more people to your blog or vlog. But this success will be short-lived, as your followers will stop trusting you as soon as you're caught with your hands in the cookie jar.
As an experienced copywriter, I have learned that blogging is a marathon rather than a sprint. Being honest and truthful with your content will give you a slow start but it will keep you in the race for a long time.
Use trustworthy sources and don't be afraid to write about the truth, even if that's not what people want. Base your articles on solid facts and sooner or later, your followers and others will realize that your intention is to help them during these challenging times.
"Alternative facts and fake news are just other names for propaganda" – Johnny Corn
Talk to you soon!
Koko