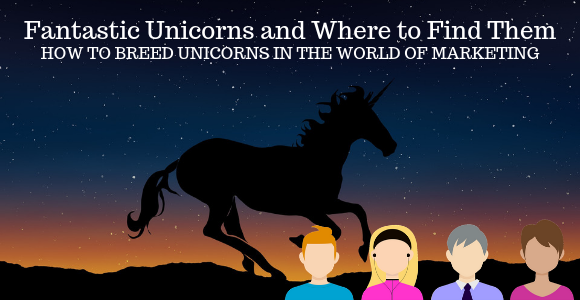 "Always be yourself. Unless you can be a unicorn….then always be a unicorn!"
Anyone who knows me, KNOWS my obsession with unicorns. Some don't understand it, others tolerate it. Marketers have started to respect it.
Why?
Because, as of recently, unicorns have entered the devious world of marketing and made it all the more magical. They have significantly changed services like content writing, social media management, and content marketing.
And now, a talk on Unicorn Marketing, Content & Breeding.
For Starters, What Is Unicorn Marketing?
It is the practice of leveraging your top-performing content, reusing and repurposing it to generate more leads and start conversations online that do the work for you — they build your brand and authority. They also make you look cool. Like unicorns are.
What is Unicorn Content Then?
Hint: It involves good ol' donkeys, too.
Much like unicorns, this type of content is hard to come by. It is that blog post, video, whitepaper, webinar, Q&A session, or any other piece of content that everyone is talking about, sharing, commenting, creating memes for, engaging in.
If you are wondering whether you have unicorns among your donkeys (the rest of your content), just look at the analytics of your website. Unicorns are usually the top 1 to 3% of your site that deliver around 80 to 85% of your traffic. They have higher CTRs (clickthrough rates), conversion rates, and social engagement.
Unicorns Beat Redefine Quality
All of us who get our high (or pay) through marketing, are like a record that keeps spinning and all it says is quality, quality, quality. We have developed metrics that define it — grammar, spelling, punctuation, structure, readability scores, length, SEO-friendliness, depth of knowledge, uniqueness percentage, you name it.
You know what?
People don't care about that.
Well, they do, but there's something more important than pretty, educational, inspirational words that tick the boxes in theory.
It's a matter of topic and timing.
Unicorns are the new quality content for however reason they resonate with people and make them obsess over it. The quantity of shares/conversations begets quality. BUT, that doesn't mean better quality content will not entice an even greater audience. So, services like content writing will never become obsolete.
The Unicorn Factory
How do you breed unicorns?
Unicorns are rare. You will find them up on the hill with hundreds of other donkeys.
There are several ways to breed unicorns:
1. Scour the top performing Facebook pages for your industry.
Facebook still is the golden goose of social media, and even if people turn to Instagram for aimless picture scrolling, they continue to be on Facebook for its other perks. Keep track of what videos get shared, how often, at what times, how many comments and likes do they collect, what is the demographic of those who share, what language they are using. Take that data and join the hot topic club with content pieces of your own.
2. Quora is an underrated goldmine for hidden content treasures
Check what questions people are asking related to your niche. You will be surprised how many ideas can come out of that and how much you can actually learn in the process.
3. TL;DR — Reddit for the win
Having an upvote system and based on UGC (user generated content), this platform makes it super easy to spot the unicorns in the room. Browse through relevant subreddits and keep tabs on top posts in that section.
4. Check what's trending on YouTube
Sometimes the weirdest (and by that I politely mean the dumbest) videos turn into the most profitable unicorns. Lose the stiff upper lip and find a way to incorporate that into your content strategy.
5. Hash-to-the-tags
Instagram and Twitter are pretty good in letting people tell unicorns from donkeys. Just check the popular hashtags for your niche and what type of posts go along with them.
Once You Have Them
Time to capitalize.
In Unicorn Land, the rule is simple: if you get one, turn it into many.
Take that top-performing blog, repurpose it into a cool infographic, SlideShare deck, video, followup post, anything relevant really. Promote it on all your social media channels and don't forget about the power of storytelling.
Since I already said most of what I planned on sharing, instead of a conclusion, I will conclude with one of my favorite unicorn quotes:
"The unicorn is a lonely, solitary creature that symbolizes hope." And leads. Many many leads.