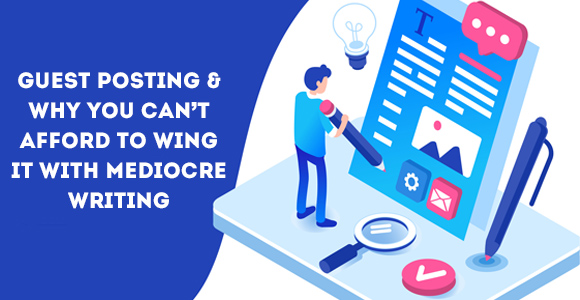 The topic of guest posting has been circling around bloggers, SEO copywriting service providers, and digital marketers in general for quite some time, but I still find it odd that many of those who stand to benefit the most from it, are still wary about giving it a try. Here is my answer to the "Why do guest posting" question.
But First, What Is Guest Posting?
Guest posting, also known as guest blogging, is the practice of contributing a post (a blog) to another person's platform. The goal here is to build and/or strengthen relationships, exposure, authority, engagement, and, well, links.
Why Is Guest Posting So Important All of a Sudden?
1. It Builds Relationships
If there is one thing that applies to all bloggers, it is they need good content. By being a good guest blogger, you will add value to someone else's platform/blog, and it will bring you the benefit of having made a friend in the blogging community. Or at least an affiliate, we can't all be friends. Since bloggers and social media gurus create the largest percentage of online buzz and talks, you simply must be a guest blogger. Of course, you should be picky, you can't write for just any blogger that would take you up on your offer. There needs to be a clear connection between what you do and what that other blogger does. You can't sell tomatoes in a blog that's all about cars. Or can you? (hmm)
Still, you need to do it, and it is crucially important you don't mess up. If you feel insecure about your own writing capabilities, or your schedule's too tight to fit in yet another task, it doesn't hurt to seek professional SEO copywriting services. Skilled and creative writers will have no trouble linking cars to tomatoes, by the way. Just sayin'.
In conclusion, to prosper in the readership race…
It helps to have friends. It also helps to search for affiliates.
2. Search Engines Love It
It is no secret that one of the easiest ways to get one of your links out there is through guest posting. It is also no secret that link building is a primary ranking factor in Google. One plus the other equals backlinks that will raise the value of your blog to search engines, getting your content on Google's "to rank better" list.
3. It Opens New Horizons
Maybe the part that is most attractive to anyone writing their own content is the fact that through guest posting, more people will have access to it. More eyes will read the words you crafted.
To those who make use of SEO copywriting services, this is still a major benefit. If we strip it down to all numbers, and no feelings, your traffic can potentially skyrocket if your content creation guru does a good job.
This is where my tree theory comes into play
If you imagine your content creation strategy is a tree, when you are first crafting it (planting your tree), you're starting from the roots, and you need to nurture it through fresh content to help it grow and thrive. Once you have the trunk, however, you need to work on the branches. The more nutrients, a.k.a. quality content, you feed your tree, the more healthy branches you will have. The more branches, the more birds and insects will nest in it, the greater ecosystem, readership, you will create. Don't bother investing in half-efforts, mediocre writing, because half branches won't last long and will be, therefore, a waste of resources.
How to Be a Good Guest Blogger, You Might Ask?
The best advice I can give you is this:
Link to the post from your personal blog/platform
Don't be shy to seek SEO copywriting services if you need help in creating a good quality post
Promote it on Twitter & Facebook (several times)
Don't forget to thank the other blogger
Stick around and respond to comments below the post
What About Mediocre Writing?
I know you probably already know this, but still — Posting a blog on another blogger's platform that is of mediocre quality will have an adverse effect on you. Forget all about the benefits already mentioned. People will look you up, sure, only to never make the same mistake again. Negative marketing is not your best friend.
I gave you the theory, it is up to you to practice it. Try it, and let me know how you liked guest posting!