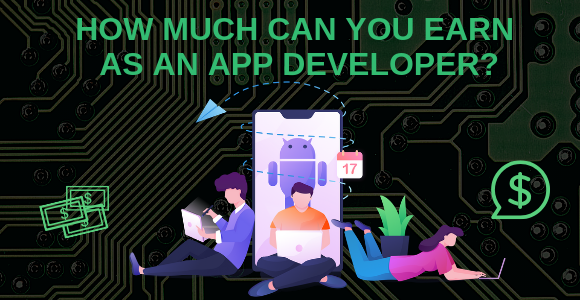 Remember my lost blog about surviving as an app developer? Let's say you made it and managed to make a living out of it. It's time to talk about how much you can actually make potentially. I'll go through past years' statistics and how the app development market changed in 2019.
Before I start, let's answer the most important question, and namely, will there be enough jobs in the future?
I am pretty optimistic about that, so fingers crossed, yep there will be. It is estimated that by 2022, there will be an increase of over 20% in jobs for app developers.
Statistics on Mobile App Developer Salary
Keep in mind that salaries depend on your location and the platform you're programming for. Having said that, I am mostly covering the US salaries for Android and iOS developers. Just to show how much of a difference it makes where you are based, you will see the average Indian salary of a mobile app developer as well. So, let's start.
Worldwide mobile app revenue in 2016: $88,5 billion
The highest salary for iOS app developer in the US: $139,000 / year
The highest salary for Android app developer in the US is $144,000 / year
The average salary for US mobile app developer: $107,000 / year
The average salary for Indian mobile app developer: $4,100 / year
As you can see, the average salary for a US developer is not drastically lower than the highest estimates for both iOS and Android developers. Speaking of standard differences, you can see that an average Indian developer's yearly earnings are equal to what a US developer earns in a week. That's a dramatic difference, and I would like to say a few words about that. For more detailed statistics, check out Business of Apps' research.
Factors Affecting Mobile App Developer Salaries
Nowadays, almost all businesses depend on digitization, and even government sectors are hiring mobile app developers. Here are the most important factors that contribute to the variation of developers' salaries:
#1. Location
It was quite clear that the location plays a crucial role in finalizing a salary. This doesn't just occur from country to country, but it happens on a state level. Why? The easiest answer is that some regions have better evolved into the digital era and can afford more job openings.
For example, in Ohio, there were 21,470 app developers in 2008. This resulted in median salaries in Ohio ($79,700), compared to states like Massachusets ($95,900 with 22,300 job positions) and New York ($91,200 with 26,280 job positions).
Let's take a look at how the other states are doing:
Texas – $90.700
Arizona- $86,500
Alabama- $82,800
Michigan- $77,600
Florida- $76,600
Indiana- $67,700
Arkansas- $65,400
Califonia- $100,800
Washinton- $92,900
#2. Requirements of App Developers
Mobile app developers need to fulfill some essential requirements in order to make themselves eligible for an appropriate job. One of these main requirements is having a bachelor's degree in the field of computer science or any other discipline related to software engineering, but in my experience, people nowadays are more interested in actual productivity rather than sheets of paper.
Of course, there will always be developer job positions that require a master's degree to be eligible for the selection process, but this is another story.
#3. Total Experience of App Development
To answer a question like "How much can app developers make per year?", we should take into consideration their total work experience in the field. For example, entry-level mobile app developer salaries range between $30,000 and $68,000 per year. Whereas, app developers with more than 5 years of experience on average earn up to $77,000.
What about developers with over a decade of experience you may ask? Well, their income can range anywhere between $50,000 and $133,000 in the USA.
#4. Role of Certifications
Certification acts as a key ingredient that can help app developers in giving a boost to their salaries, that's for sure. The good thing about this is that there are many online courses that are legit enough and one more certificate would certainly be in your favor.
Whether you are researching your future job or wonder if your boss is paying less than you deserve, my prediction is that these numbers will increase in the future. Also, if you are freelancing, don't forget the power of professionally written app descriptions, this is our specialty!