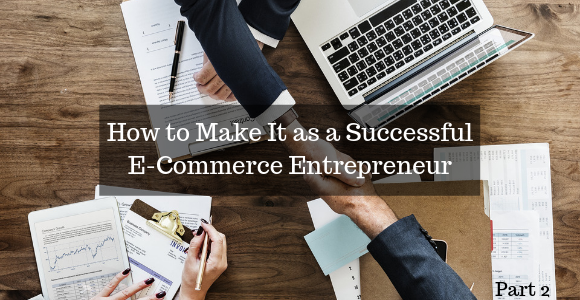 Did you check Part 1? Good. Let's continue.
Now that you have your e-commerce business model, buyer personas, and product selected, it is time to proceed with the next steps. Spoiler alert: it includes content writing.
Establish Your E-Commerce Business and Brand
You might be tempted to skip the basic steps of registering your company and start with the more exciting bits of building your brand but, by all means, resist that urge. If you are serious about this venture, you can't afford to postpone or skip.
Roll up your sleeves and:
#1 Register your business
Think about the structure of your company, will it be a sole proprietorship or you'd incorporate it? There are tax benefits and legal protections to choosing the latter, so make sure you research your options well. All that's left after is choosing a business name and filling out the paperwork.
#2 Pick a name for your store
The legal name of your business (which you chose in #1) and the one of your store don't have to be the same. Of course, keeping them consistent is good for your image. Whatever you come up with, it has to reflect your niche, stay away from generic names that can fit any kind of business.
#3 Get your business licenses and Employer Identification Number (EIN)
If only it were that easy to start an online store. At some point, it might get to that, but first, you will need to get all sales tax licenses and other business accreditation required on a city, county, and state level. After that, you have to get your EIN (sort of like the social security number of your business) so you can open a bank account and file your taxes.
#4 Look for vendors and strategic partnerships
Curiosity kills the cat, competition kills the business… unless you diversify.
That means, make sure the materials or products you are using are either of better quality or your price beats all the rest. If it's a matter of price over quality, however, I'd reconsider the venture unless you have really found a way to crack the system. Quality simply wins in the long run.
Here is also a good time to start looking for website and article writers. A long-term partnership with a copywriting agency has proven to be a much better solution than turning to dubious freelancers. You can skip that if you are an awesome writer yourself, but if you are not, convertible content and product descriptions will not just fall from the sky and end up on your website.
#5 Get visual — logo, brand colors, the fun part
My friendly advice is, don't fret over the logo too much. Of course, it has to be unique and reflect your niche, but your time is too precious to use it all on crafting a logo that doesn't have to be all that original.
Put more thought into the colors of your brand. If you are selling clipboards made from sustainable materials to women climbing the corporate ladder, you might want to stay away from girlie colors and images. Your brand must connect with your persona. Your persona must identify with your brand.
Create Your Online Store
I know, it's the exciting bit
You might get overwhelmed by the myriad of e-commerce shopping cart platforms out there, but stick to simplicity and what works for your product. Consider its features (are they SEO friendly?), loading speed, compatibility with your brand and structure, compatibility with different payment gateways, and more.
Much like with website and article writers, you can hire a company to do build your online store. The choice is yours.
Rush Hour Time: Attract Traffic to Your Store
Building a city doesn't automatically turn it into a tourist hub.
Rome was not built in a day. Rome was heavily marketed first through word of mouth and then the Empire fell, and the Internet was born (coincidence?), so things kind of ended up well for them in the end traffic-wise. The point is, everything has to be advertised, your store included.
The days of stuffing keywords are as dead as the empire, but SEO is alive and well. All content on your website has to be optimized for search engines and users which is a fragile balance to find and keep. Thank God, awesome copywriters exist. Product descriptions are crucial, you also need web copy that shows who you are, a blog section to educate your audience and stimulate it to convert, the list goes on. Turning to a professional content writing service is well worth it if you choose the agency well.
After your website, you have to decide what other advertising channels you will be using — will it be pay-per-click ads, social media, sponsored content, YouTube video tutorials/trends, or something else. It's a tough choice and your budget will determine which expenses are feasible and which are not.
Market Your Products Online
Your mission is to sell, not drive traffic alone.
Part of your ongoing effort should be providing clients with upcoming sales details, coupons, and relevant content through email. This will keep your brand and products on their mind, it will establish credibility and brand equity. Be genuine and interesting in your newsletter, ask for feedback and look for ways to engage your audience, especially return buyers. Don't be shy in approaching bloggers for partnerships and exhausting all collaborative ideas you may have to increase your outreach.
E-commerce is a dynamic game, nothing will happen if you're practicing stoicism.
Let's Wrap Up
Nicely in a bow
Speaking of exhausting, I think I managed to give you all my insights.
The bottom line is: you got a lot of work to do. So do I, by the way. Catch you next time!