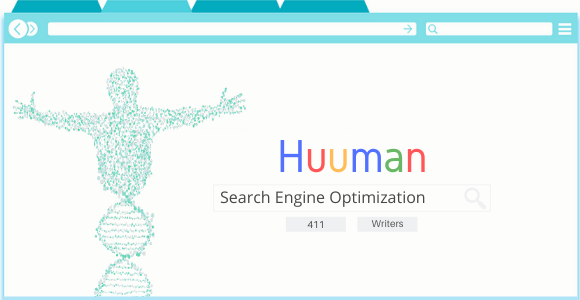 We often like to say this or that works like a well-oiled machine.
I've heard it from clients, too: "When we hire writers we trust, it's like we're hiring Scorsese to do a film for us. We expect them to deliver each time."
Machines don't fail, and even though we know they sometimes do, we still never expect them to fail us.
It's the same with search engine machines. We trust them to lead us to the information we want. We expect them to guess what we need, and give it to us. And they do.
Yet, that still isn't enough. We want more, and we want someone human to verify our choice is correct. We seek connection, and our ego likes knowing someone wants us as their client.
So, a while back, I came up with this notion of Human Search Engine Optimization (HSEO). However contradictive it may sound given it combines humans and engines in the same sentence, this little bugger of an expression kept, well, bugging me. What is it exactly, and do we need to make something out of it at all?
I concluded that we, in fact, do.
Sure, we need to optimize for people, but how can we make them believe in a customized process and not in incredibly smart AI? Are content writing services and killer SEO enough?
The short answer: ditch the machines (or leave them to the pros), take out a notebook and start taking notes.
Especially if you are in the advertising business, customization made by humans for humans is possibly the smartest way to stand out.
Yes, you will need smartly made SEO to appear high up in searches, but from then on, it's up to your team to truly engage people. How are you analyzing past consumer behavior? Do you even know how to do that? Are the writers you hire aware of your strategy? The questions are many, and I'll try and answer them with some suggestions.
#1. Incentivize past and Current Clients to Leave You Reviews
User-generated content has never been more popular and in-demand. So, do your very best to incentivize clients to leave you their feedback. That is essentially important for two reasons:
People with negative feedback and complaints will leave a review no matter if you motivate them or not. Therefore, you need positive ones to outweigh the bad ones;
Consumers rely heavily on online reviews. In fact, a study by Podium shows that 93% of consumers say online reviews influence their purchasing decisions.
The stakes are high. You need reviews, period.
So, how can you get them?
Make a questionnaire with no more than 3 key points (e.g., customer service, speed of delivery, satisfaction with the product, suggestion for service/product diversification, price/value ratio, etc.). After all, you don't want to take too much of their time. Keep it short, but meaningful. After you know the key metrics you want to track, ask clients to fill out the questionnaire.
Promise them a discount if they do or add a freebie to their order.
Get creative, but don't forget that it is all about the principle of reciprocity. You give, they give.
Keep in mind, even if it is short, the questionnaire still needs to look and sound good. Ask the agency you use for content writing services to do the copy, so it aligns with the company voice your clients are used to.
#2. Leave Physical Reminders
That's easier for product-based businesses. You can always send in a hand-written note together with a product shipment or add a branded freebie to return clients. The idea is that even if the client forgets the gesture, they will keep the item, and your brand/logo will stand to remind them of you and your business.
The Beauty Box Example
For example, I once experimented with those magic beauty boxes. I wasn't overly excited about buying a second box the following month, but I loved the personal touch in the whole package. There was a tiny hand-written note with my name on it, thanking me for believing in their idea (it was a sustainable cosmetics kind of a thing) and investing in a better tomorrow. The box itself was so chic and functional at the same time that I couldn't resist buying a second one.
True, I only made two purchases in total, but I never would have made the second one had they not put in the effort to make me feel appreciated. What is more, I use both of these boxes at home (I may have killed a couple of plants in one of them), and I've had some of my girlfriends see them and get a box just because of the branding.
#3. Keep Track of Your Social Media Following
It's the Internet's biggest freebie — Social Media.
Use it to find out:
How engaged are your followers with your page;
What language are they using;
What times of the day (and night) are they tuning in;
Do they prefer asking their questions to you in the comment section or as private messages;
All of these seemingly small things can help you craft a realistic image of your clients. Don't be stingy, and look for content writing services if you need help communicating with your audience. There's no shame in that. There's only shame in not trying everything you can.
But before that, you're probably wondering, what's the point in doing all this?
Truth is, your efforts may not pay off today or tomorrow, or even months from now. But the future of businesses is in brand recognition, in forming a personal connection with clients, and in making them feel like they all matter to you, even if they don't.
Remember, millennials are vigilant consumers, and basic SEO will not be enough to keep them loyal. Fake news won't work either. Stick to authenticity even if yours doesn't differ much from the next guy.
Being different ≠ Authenticity
You can be the most normal of online watch retailers, but it is your approach that changes everything.
Many SEO writing agencies are yet to realize that. It's not just a game of research and a set of keywords smartly incorporated in a piece of text. It is a matter of humans adding the final touches so other humans can buy.
That's my take on Human Search Engine Optimization. The irony? Even if we remove the human part, engines are still meant to serve people. Never forget that and be a smart business owner. Put in the extra work today because someone out there, in the same industry as you, already is.
Till next time,
T.