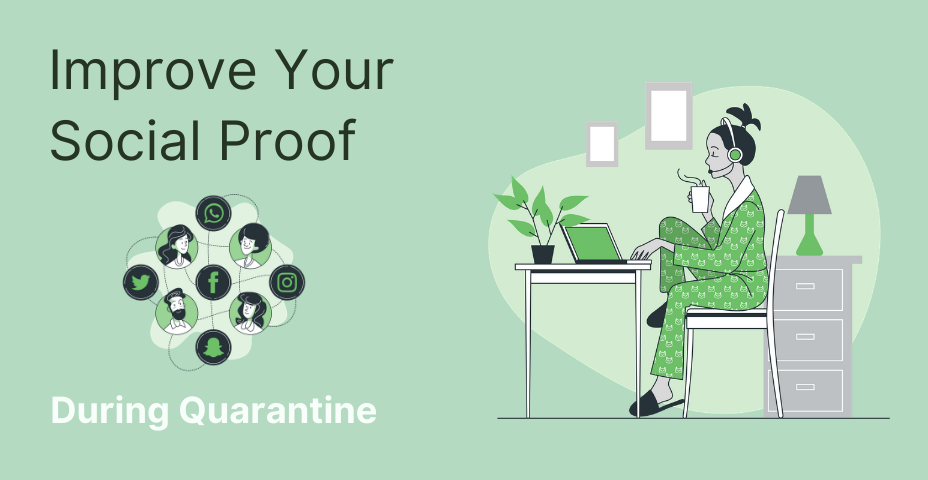 Stuck in quarantine? Given the current situation in the world with COVID-19, most people and businesses (our content writers included) are self-quarantined or have to comply under the mandatory lockdowns.
However, this quarantine is likely to provide you with some extra free time on your hands. This free time can be used as an opportunity to build your network.
By properly leveraging your social proof or your business' authority, your business will be able to thrive, even during the most unpredictable circumstances.
Before we jump into the tips and strategies that you can follow to help ease your quarantine blues, let's go over what social proof is. If you're already familiar with it, feel free to skip ahead!

What is Social Proof?
It's considered to be essential for building your brand
Social proof is known to be an informational social influence. It refers to people, but in your case, it can be related to potential clients or customers.
Your social proof is built using every interaction that you make with or on behalf of your business. This can be content from content writing services that you use, client testimonials, and/or media interviews.
No matter if you are a new business or one that is already established, you should have a main focus to maintain a high level of social proof as it is a way to maintain a relationship with those people that want to do business with you.
Now that you know what social proof is, let's move on with the tips on how to improve it.
Network Through Social Media
Reach current and potential clients
While stuck in quarantine, use it to get to all of those missed (or purposely ignored) messages in your inbox and comments under your posts on your social media platforms.
As a business, you will want to engage and influence others to connect with you and showing that you care by acknowledging them is key. You can do this by liking comments and responding to them.
You should never be too busy to connect with your clients as they are the ones that keep you in business. When you get tagged in a post on social media, thanking them can go a long way and even boost your likeability.
You can create loyal customers with one comment at a time.
During quarantine, you can even go big and have a virtual coffee session on Zoom or other platforms with someone who has been eager to talk to you. This can be a colleague, a fan, or a follower.
Boost Your Platform With Help from Others
Regardless of how big or small it is
Your platform is one of your biggest assets. You can have others help you boost your platform by getting them involved in something bigger.
You might have a blog that needs content. In this case, you can take advantage of content writing services to fill the void or look into guest contributors. If you are hosting a podcast, you might send out a message to your audience looking for potential guests.
When you share your platform, you can potentially tap into a new audience. Be sure to stay true to your brand's image and share it with those who have similar values.
Spread Positivity with Engaging Stories
No one wants to only focus on the negative
During mandatory quarantines and lockdowns, most people are focused on the negatives. Now is the time to step away from the norm.
Business comes first, but people are also looking for ways to escape the chaos going on around them. They are looking for a laugh, something new to learn, or even something fun.
Show how your business is getting through this tough time with inspiring messages or photos, share common struggles others might be experiencing like homeschooling your children while balancing working from home, or even share that funny story that you have.
You never know who you will reach with your content.
Social Proof Builds Trust
It can also convert prospects to clients
When your business or brand is easily found or shared, people start to notice. You and your business can be seen as credible now that you have the visibility and the social proof that people are looking for. With credibility and visibility, you are trusted.
Everyone is trying to make the best out of a bad situation, especially now during this quarantine for COVID-19.
Now is your chance to explore content writing services, maintain and improve your brand's presence online, and grow your business despite the minor setbacks you might be experiencing.