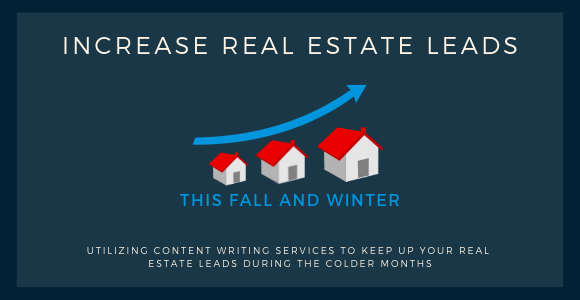 Many real estate agents can agree that there are slow months – those being the fall and winter seasons. This is because of a variety of different factors; however, that doesn't mean you can't make money or gain leads during this time period. The real estate market is still alive and sales are still being made – just not as much. Today, I am going to be talking about why it is like this during this time of the year and what you can do as an agent to dominate the market using content writing services. Let's get started!
The Fall and Winter Real Estate Market
Just because the weather is getting cooler, it doesn't mean your real estate business should too.
If you are an agent, you know that the prime time to list a home for sale is in the spring. This is when people start emerging from their current homes to look for their new investments. As the fall season approaches, you will find fewer and fewer homes being listed, and that is due to one big reason: the holidays are coming. Aside from the weather being cold, many potential home buyers and sellers have a lot going on between sending their kids off to school (we will touch back on this in a minute) and preparing for the holidays, which pushes back the sale of their current home or purchase of a new one.
One other point that I made a second ago was about kids being in school. This can be a bit of a roadblock for home buying and selling because most families don't want their kids to change schools in the middle of the year. While these are only a couple of factors that can affect the market, they surely are enough to do so. Now, you may be wondering what content writing services have to do with the real estate market – I will get to that next!
About 18% of properties listed in the spring were sold above asking price while only 17% of those listed in the winter got above asking price.
That 1% may not seem like a lot, but it definitely makes a difference. This is one of the reasons that the spring market is one that most people prefer. There is more competition, homes on the market, potential buyers, along with more people searching.
Increase Your Leads Despite the Market
That's right, even in this cold market, your leads can still be hot.
Your goal here is not just to get listings – you want buyers, showings, you want to sell the properties you list. This starts with repositioning your Internet marketing strategies so that you are easy to find online. Don't have a website? That's a problem. This is one major key when it comes to succeeding in the real estate industry. There are still people who are looking for new homes or are interested to sell theirs. Some of the most common situations include relocation clients – these are people who have to move, either way, no matter what season it is – most of these cases are work or family related.
Others include retirees who are looking to start a new chapter of their life. They do it all the time and look for something different. While some regions are colder than others, there is still a change in the market, and repositioning your strategy won't hurt. With content writing services, you can have professionals develop the content on your site in order to target these potential clients.
Keeping Your Clients Informed
Because more information never hurts.
Your potential clients want to see that you know what you are doing and that you can truly help them find the home of their dreams, sell their existing one, or both. By giving them the information that they need, you may just win over that client. Actively posting blogs about current market trends, interest rates, and other motivational factors can intrigue potential buyers and sellers. This a great way to get a lot of information out there to your past, existing, and potential clients, as well as a way in which content writers can help you relay the message, thus saving you time.
The cold weather should only be more motivation for you and your business. Truth is that not many agents are active during the fall and winter seasons, so it is your chance to dominate the market. Spread the word about your listings, open houses, and your real estate services overall, with the help of content writers. Well-written content goes a long way, and if your website has it, it can help you get leads.
Get out there and start preparing your website for the cold months with our SEO content writing services! Don't let the cold weather freeze up your real estate business!