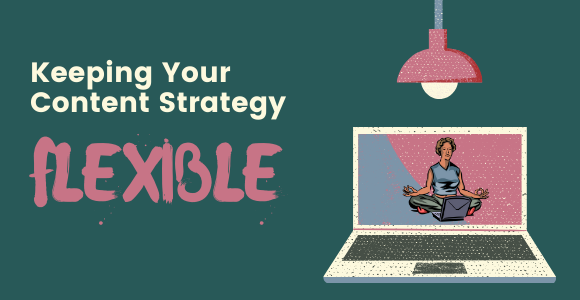 As content writers, we know how crucial it is to have a level of flexibility in your content to stay relevant. Fresh content is constantly evolving, and scraping content is something that should be part of your content strategy. It's also a reason to use content writing services to keep your website, business, and brand on top.
A flexible content strategy means that your business can adapt to changes you can't control or in times of crisis. Last week, my fellow writer talked about how your business can survive the current COVID-19 outbreak, which is an example of why you should keep your content flexible since you can use these situations to your advantage.

When it comes to content strategy, most businesses plan everything out in advance. What and when they will post on their social media platforms, blogs, e-mails, etc.
But, what if something unexpected and completely out of your control comes up that everyone is talking about?
Romaine lettuce is being recalled because of E.Coli contaminations. A helicopter crashes in the hills of Los Angeles killing 9, one being a basketball legend. A virus with no vaccine is spreading rapidly worldwide. The list goes on.
You still want your audience to be interested in what you have to say, so what do you do with your planned content?
Maybe the news doesn't directly affect your brand. You don't do business with lettuce, and you weren't in the helicopter. You're not in an area where the virus has reached (yet).
The first thing you may think is that this news might not have an impact on your brand, but it certainly does. Especially once search queries are bombarded by people trying to figure out where the contaminated lettuce came from and social media feeds start filling up with thoughts and prayers for the victims' families.
While the news might not affect your business or brand directly, it can affect your audience.
So is it time to pause your content? Keep things going as planned? Or adjust it to fit the current situation?
Here's what you should consider:
Does the News Relate to Your Business?
If so, how much?
The similarities between the latest news and your business might not be much.
The panic about contaminated romaine lettuce will probably not be an issue for someone who runs a hair salon. If that's the case, you can continue with your content and use content writing services as usual.
However, if you have a business that uses romaine lettuce or something similar, you might have to brainstorm. Here are some tips:
Have you published content that can be related to this news?
Republish old yet useful content or repurpose for new content.
Develop new content ideas that can work for your brand, are common, and necessary.
Take part in online conversations with helpful content.
Staying true to your business and your brand by maintaining the voice and tone of your content is crucial. Provide your audience with facts, address some of the safety concerns if any, and provide solutions or ideas.
How is the News Affecting Your Target Audience?
If your brand isn't affected, your audience might be.
You should know your audience by now. Using the information you have and know about your audience can help you determine if and how they may be affected by the news.
Even if the topic may not be part of your audience's buyer persona, it can be important to who they are as a real person.
After doing your research and finding out that your audience can be affected, you may discover that they are looking for information regarding the headline of the news topic. Their priorities have changed, so your planned content might go unnoticed.
However, you shouldn't disappear.
Keep your audience updated. If you are taking time off, let them know why. Working with providers of content writing services can help you get the message across in numerous ways. It can be through email, landing page, etc.
News can get old quickly, so it's important to reassess each day and see who's talking about it, how much it is being talked about, and if something new has emerged.
Also, think about newsjacking.
I've talked before about newsjacking in the real estate industry, but this technique can be applied to other businesses as well.
David Meerman Scott created a timeline of when the appropriate time for newsjacking is for both good and bad news.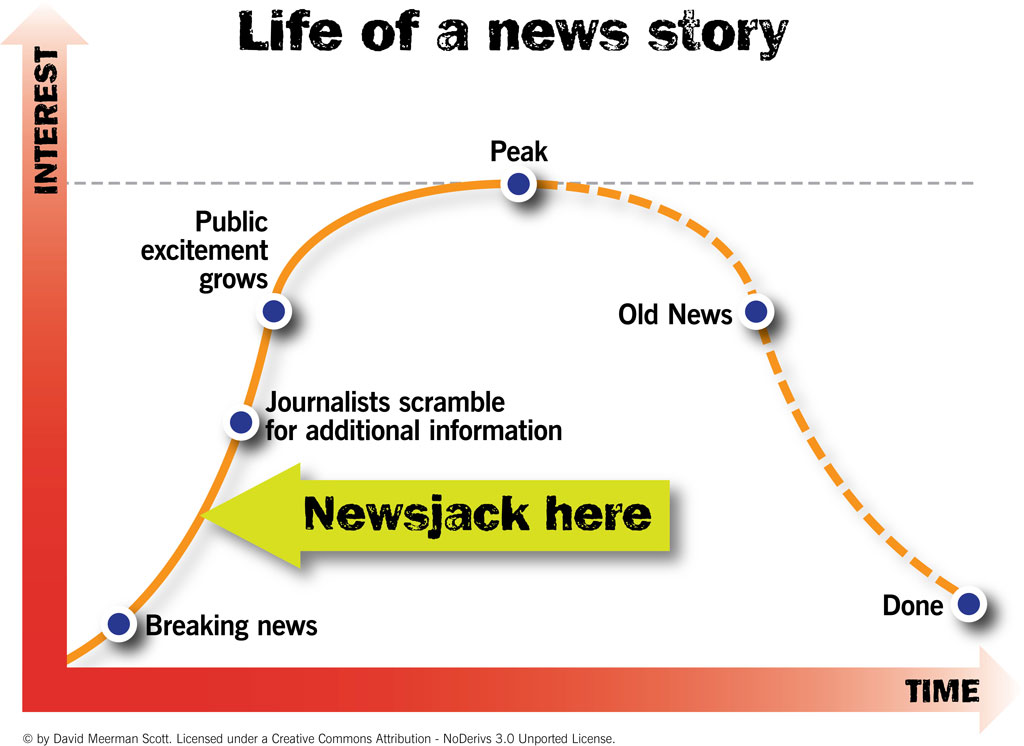 Keep Your Content Strategy Flexible
Being prepared is best.
Being prepared, flexible, and proactive is the best way to tackle instances out of your control. You and your team, like our content writers, should consistently stay on top of the news that is beyond your industry.
A flexible content strategy can go a long way and help you react to the news.