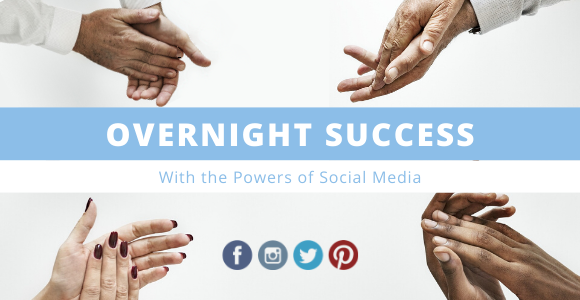 Let's talk about some of the latest news, shall we?
The nation's capital, the District of Columbia (D.C.) officially became known as the "District of Champions" after (the now) 4 D.C. sports teams who broke their curses and won championship titles.
That's right, the Washington Nationals won their first World Series title.
What else has been popular recently?
Apple released its new iPhone of the year, Trump still has that impeachment probe going on, and chicken sandwiches seem to be growing more and more popular.
Yes, you read that correctly. Chicken sandwiches are popular. We'll get more into this later.
What do all of these news topics have in common?
They all went viral in a short period of time.
What does it mean to go viral online?
Beware: I, unfortunately, don't have the "secret formula"
Going viral in the online world means that the content that you or your content writing agency created has been or is being shared exponentially. This allows hundreds of thousands of people to see and even interact with your content, making it a well-known sensation all over the world. To break it down even further, going viral stems from the spreading of a virus – it can spread fast.
As we know, social media is widely used around the world, which is what makes it easy for content to spread from one area to the next. This creates a great opportunity for brand awareness or referral traffic to your business from social media when your content goes viral.
We get a lot of our news from social media due to the fact that content goes viral.
How does going viral help businesses or entrepreneurs?
It creates buzz and helps with marketing
Creating a buzz about your brand, product, or business gives potential buyers a sense of anticipation. Having your content go viral can spark this buzz. To be quite honest, any kind of buzz can be better than no buzz at all. Louder buzz can spread farther and reach greater audiences.
Viral content is a marketing tactic that is (in most cases) free. Using a content writing agency is beneficial, but what business or entrepreneur doesn't like free marketing?
Let's take a look at some recent examples:
The Chicken Sandwich Fiasco
I mentioned chicken sandwiches earlier. Popeyes is the fast-food chain that started this fiasco and practically broke the Internet with a single tweet.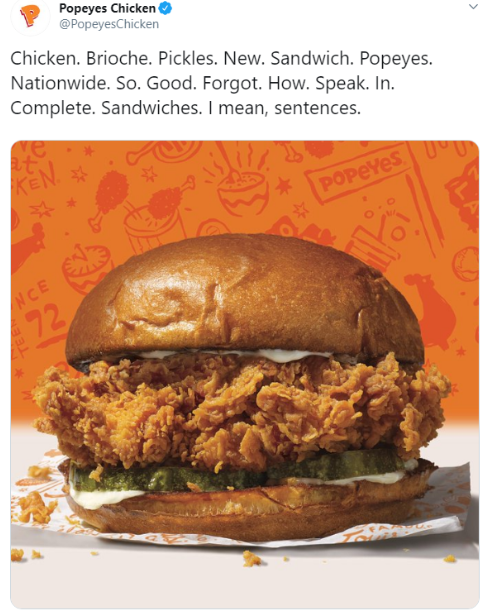 Popeyes ended up getting Chick-fil-a to defend themselves and their original chicken sandwich in a similar fashion by tweeting about their own menu item.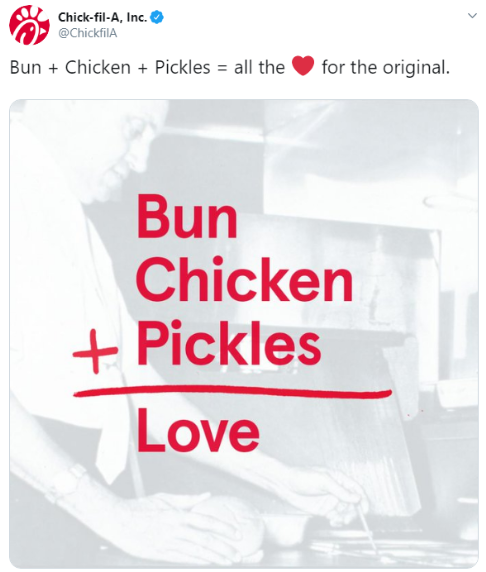 They got EVERYONE talking about their chicken sandwich, going around to other fast-food chains to compare with other sandwiches; people actually took this viral content to an extreme. Food delivery employees were eating other people's sandwiches and people were selling chicken sandwiches on eBay. That's right, there was a chicken sandwich, for sale on eBay. The retail price is $3.99 and after at least 75 bids, the price went up to $4,316. Again, for a single Popeyes chicken sandwich.
All in all, this chicken sandwich buzz on social media made tons of content go viral, all based on this new item from Popeyes. In fact, sources like the Apex Marketing Group estimated that Popeyes earned $23 million in equivalent ad value in an 11-day span across print, digital, social, TV, and radio outlets.
Through a single tweet, Popeyes scored big in revenue and saved on marketing.
Working with a content writing agency isn't the only way to go viral, but it can help.
Let's add some beer into the mix.
Bud Light
What's a World Series baseball game without a nice cold beer? Or in this case, 2 beers. A Washington Nationals fan attended one of the World Series baseball games and became a celebrity overnight thanks to content that went viral.
This time, it was thanks to television and social media to spread the news even further.
The fan was double-fisting two Bud Light beers and didn't dare to drop either one in order to catch the home run baseball that was hit by Yordan Alvarez from the Houston Astros. Instead, he decided to have it bounce off of his chest…yikes.
I mean…would you have dropped the $19 worth of beer to catch the baseball? Tough to say.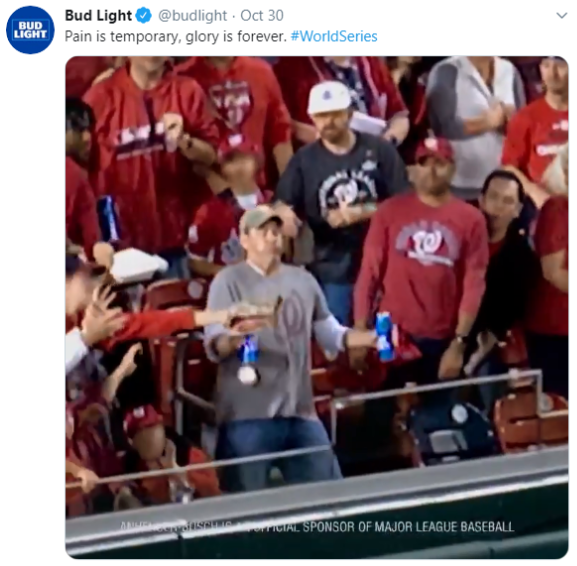 Bud Light helped start the fame of this fan by tweeting about it in a clever way. It got Bud Light beer drinkers, baseball fans, and people all over the world talking about it.
The Attempt to Go Viral
To be blunt, it's not as easy as it seems, but it can pay off
Going viral typically means that you will spend less on advertising because social media and other media outlets will do the job for you – free of charge. It can bring in remarkable growth for your business, brand, products, and more. Thus, helping you with your conversion. Viral content can also make you more credible since others are talking about you.
If you haven't already tried to work with a content writing agency to create viral content, you better get on it!