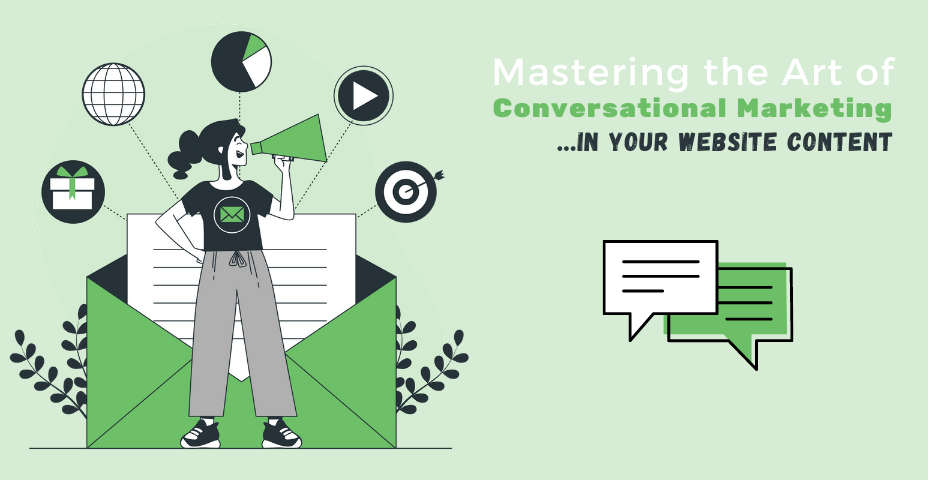 Emotional conversations – we've all had them.
Whether it was the goodbye you said to your parents when leaving for or getting dropped off at college, those stories your grandma told you about her life when she was young, or even dreaming of the future with the love of your life.
These conversations all seem like they're completely different, but they do share something common. That thing is human interaction.
When it comes to content writing services, it can seem like human interaction is often lost. This can be because much of the content out there today lacks human quality.
So, how does conversational marketing lead you to get more conversions?
Let's start by understanding exactly what conversational marketing really is.

What is Conversational Marketing?
Instant engagement, conversion, retention, and loyalty.
Conversational marketing is interacting with customers while also prioritizing quality feedback. It's a technique that is used to instantly engage with clients or leads, convert, and retain them as existing clients, and also grow a loyal customer base.
The idea behind conversational marketing is for businesses to build long-lasting relationships with their customers through quality conversations. For customers, feeling like they're being heard is likely going to result in them being loyal to that brand.
Regular content writing can come off to be more of a monologue with plain words whereas conversation marketing is more so two-sided.
While content writing services are most definitely important and needed by most businesses, talking points are also becoming more important for clients to see.
Should Businesses Be Using Conversational Marketing?
Wouldn't you wanna go back in time to buy Google Stock at under $100/share?
While you can't go back in time, you can make the necessary adjustments to your business in order to help it thrive now and in the future.
Technology is constantly growing, it's predicted to change the way businesses interact with their leads, and conversational marketing will be getting more and more popular for businesses that are B2B and B2C.
So what can you do? You can sit back and wait for your business to be swallowed up by the new wave of social media or you can act now to get ahead of the curve by using content writers to develop a content marketing strategy that includes conversational marketing.
Brands and businesses that can make authentic connections with their customers using conversation can lead to instant relationships between the two.
Copywriting and Customer Service
Executing conversational marketing in your business.
Where do you go for conversations when online?
It's likely that you answered messaging apps. These include social networking sites like What's App, Facebook, Twitter, Instagram, and more.
More and more brands and businesses are starting to use messaging apps to integrate their conversational marketing strategies. They do this by using chatbots and AI to interact with customers.
Brands like Sephora, ASOS, Pizza Hut, Whole Foods, Spotify, Staples, and more are giving out relevant information to clients based on what they're looking for. They also make it possible for a representative to join in on the conversation at a specific time if needed.
These messages were likely written using content writing services and experts who designed the content marketing plan for ASOS.
Conversational Blog Writing
Investing in blog writing can dramatically increase web traffic.
We all should know by now that having a blog on your business' website can help with traffic, in fact, it can increase traffic by more than 400%.
Conversational marketing can also be applied to blog posts; it just calls for a little bit more creativity.
When brainstorming for a blog topic, a brand can reach out to its readers using social media platforms, for example. They can ask questions and seek replies to formulate a blog post compiling the answers of their readers.
In the end, this makes for a very conversational blog post.
Choose Unconventional Approaches
Not everything has to be buttoned-up or analytical.
When businesses look into marketing, they often want to take the most buttoned-up and analytical marketing approach to make their brand look good. However, this isn't always the ideal choice.
It's no lie that numbers and data play a large role when it comes to effective marketing strategies, but numbers don't account for the people that you're targeting.
Your existing and potential customers aren't just demographics or quotas that you're trying to reach. They're humans with thoughts and actual feelings.
You'll be surprised how far you can get by having an actual and natural conversation with them on social media platforms.
To have an effective conversational marketing plan, you should be utilizing SEO content writing services and support the content with staff that can handle it.
Give conversational marketing a try for your business, and see how it works for you.