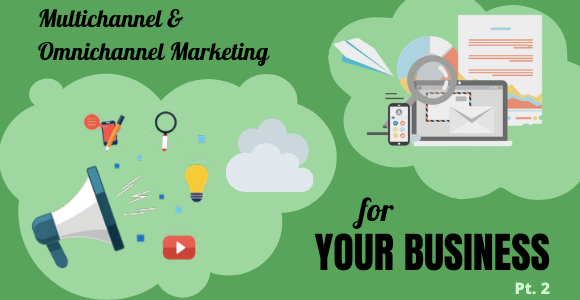 Welcome back!
Hopefully, you have had a chance to take in the plethora of information that I provided for you last time about the differences between multichannel marketing and omnichannel marketing.
If you haven't already discussed it with your content writing agency, then by the end of this blog, you will be even more inclined to do so.
I mentioned last time that we would go over how you can benefit more from omnichannel marketing than multichannel marketing.
So let's jump right in!
Online Purchases and Multiple Devices
Remember to keep in mind the consumer's experience
Most consumers these days will start their search or path to purchasing an item/service on one device and end it on a different one. They may browse online and then go in-store to complete their purchase or vice versa.
With modern-day technology and brick-and-mortar locations, products and services are just a few steps or clicks away. The consumers these days are comfortable when searching and buying through various channels. With that being said, giving them the opportunity to do so with a positive consumer experience can help your business or brand stand out.
A More Personalized Approach
Relevant and timely communication with your consumer
With omnichannel marketing, you have the ability to be personal with your consumers. Your strategy will likely include learning about your consumers, their preferences, and their interests. When you know what they are into, you can market to them in a proper fashion.
Sending spam emails can lead to a low open rate from your existing or potential consumers. In fact, the average open rate of an email is less than 23%. However, sending consumers targeted and personalized emails with the help of your content writing agency can entice them to purchase your products or services.
Companies Taking Advantage of Omnichannel Marketing
Examples and something your business can learn from
With these personalized experiences, companies can also create marketing material that appeals to each specific client based on their shopping needs or preferences.
An email letting you know that your favorite beauty products will be on sale next week will likely entice to you make another purchase. Perhaps your favorite beverage will be associated with a BOGO promotion and the shop wants to let you know by sending you a message through the app. These all tie into the consumer experience.
Here are some companies strategically utilizing omnichannel marketing:
Sephora:

This beauty giant of a company bridges the gap between consumers' online shopping and in-store visits. They do so through their in-store tablets which allow consumers to access their "Beauty Bag".

With this, they can look into details regarding items they are interested in as well as virtually try on products. They can add items to their wish lists and purchase them through the app. Using the beauty bag in-store can help consumers narrow down their options as well as help them keep track of the items they came in to purchase.

Starbucks:

Starbucks has a rewards app which helps with their omnichannel marketing strategy as they strive to create an integrated consumer experience. In the app, you get a rewards card that you can use each time you make a purchase.

However, unlike other customer loyalty programs, Starbucks allows you to check as well as reload the card through the mobile app, on their website, on your phone, and in-store. Any change that is made to your card or your profile will be updated across every channel in real time, allowing for smoother transactions and better consumer experience.

Walgreens Pharmacy:

The Walgreens Pharmacy app allows you to check and refill your prescriptions without having to call in or go in person until it is time to pick them up. You also have the option to set up reminders to alert you when you have a prescription that has to be renewed. With this, Walgreens eliminates the potential hold and waiting times that can come with in-store pickups creating an overall better consumer experience.
The Bottom Line of Multichannel vs Omnichannel
Spoiler: there are no real "cons" to either strategy
To be straightforward, omnichannel marketing is what you want to strive for. While multichannel marketing isn't going to affect your business in a negative way, it may not help you thrive to your fullest advantage. These two strategies are unique and aim to reach existing and potential consumers by utilizing multiple channels.
The bottom line is that in order to increase customer retention along with revenue, companies and their content writing agency of choice should focus on omnichannel marketing strategies.