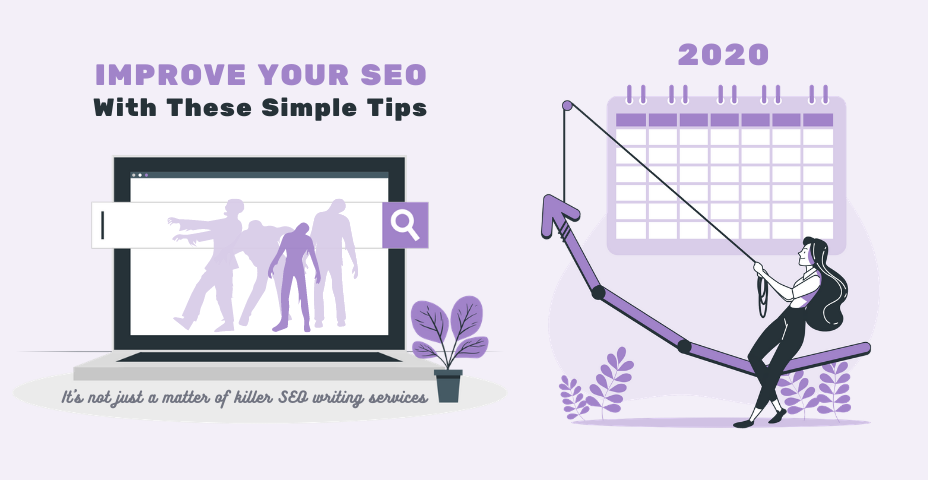 As a content writer, I'm often tempted to give advice that centers around our SEO writing services, but I'll expand that today. Also, keep in mind that 'simple' doesn't mean easy. Aside from writing, today's tips on improving your SEO performance in 2020 require visual content creation, in-depth research, and proactive communication with your audience.
Shall we get started?

It Starts With Engagement: Encourage Comments on Your Website
It's better to have comments on your site than on social media
As unlikely as it may sound, it seems that comments left on your website can improve your ranking in search engines. Google has said more than once that establishing a community through blog comments can boost SEO results. What is more, Gary Illyes, a webmaster trends analyst at Google, said that it's much better to have comments on-site as it sends stronger engagement signals rather than redirecting them to social media platforms.
Kill Your Zombie Pages
This always works, regardless of which year it is
Not all content is created equal. There are web pages that provide zero value, and every website has them. That's why they're called Zombie Pages. These can be:
Low-Quality and outdated blog posts
Old press releases
Boilerplate and thin content
Old services/products pages
Duplicate content
Archive pages
If you have a couple of them, it's not the end of the world, but if you have hundreds of Zombie Pages, then you should be alarmed. An experiment showed that killing 76 thin, low-quality pages on a website and reworking them into in-depth articles can result in close to a 17% increase in organic traffic in the first month alone. That number jumped to 30% several months later.
Create 'Research Content'
You'll need some good SEO content writing to pull this off
Everyone loves data-based content. And even if they don't necessarily love it, they link to it in their own content for extra credibility. Instead of being the lazy person who links to someone else's hard work, be the one who creates research content yourself.
Sure, it takes more time, but it can earn you backlinks, increased exposure, and a greater following. Once you have the hard data, you can turn to us and our SEO writing services. We'll take your findings and transform them into well-optimized guides and articles people will want to read and share.
Types of popular Research Content include:
Surveys
Industry study
Customer case studies
Data analysis
Publish Visual Content (Create 'Concept Visuals')
Not everything 'visual' is video
A whopping 87.5% of marketers today use visual content to enhance the efficiency of their content marketing strategies. Thanks to the likes of Instagram and Pinterest, there's no reason to believe the rise of visual content is going anywhere in 2020 and the years to come.
The best thing about that trend is that you can easily take advantage of it without having to invest in video creation equipment. You can start with Concept Visuals. As the name suggests, these are visuals used to describe concepts. These are images that can easily be embedded into other websites' content. When others use these images, they normally link back to you. Two birds, one stone. You diversify your content and earn backlinks in the process.
The best way to create these Concept Visuals is to use them to explain a process that is otherwise difficult to put into chunks of text alone.
The Extravagant Tip: Earn Backlinks as a Podcast Guest
This is often easier said than done
Millions of Americans and people from all around the globe listen to podcasts daily. If you're an authority in your niche or your Research Content has found some groundbreaking discoveries, people will be interested to know, and you'll likely be a good candidate to join a specialized podcast. The thing about podcasts? Not all guests get invited, some simply invite themselves.
If you believe there is a podcast host who'd be interested to have you over, reach out to them. There's nothing wrong about being proactive.
The Evergreen SEO Tip
No surprises here
Us SEO people can sometimes get carried away working on pleasing search engines, and we forget about the human factor. If there's anything that Google has heavily hinted in the last few years, it has been that it's all about meeting people's needs and answering their questions. Semantics (using LSI keywords), understanding user intent, and creating original content that answers specific questions will always be a good SEO strategy, both in 2020 and beyond.
I hope this helps.
Till next time,
T.