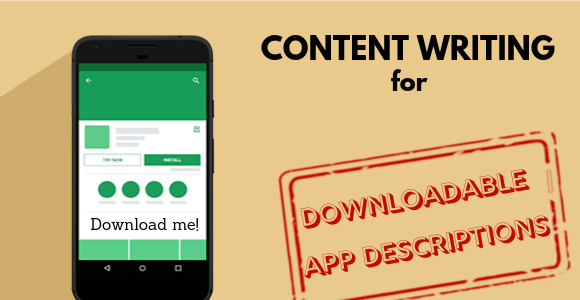 2018 is nearing its end, and SEO keeps getting more and more awareness. I can't say the same thing about ASO and product description writing… And what I mean is that ASO as a service is not getting enough recognition among app developers. Of course, content writing specialists and other online marketers know about ASO, but what is the point if the users don't know that they can't even pay for such services?
This is what I'll be covering today, and I will mostly talk about app store descriptions and the benefits of using a professional SEO content writing service.
If you are an app developer and you are reading this blog post, please leave a comment below or fill up our Contact form and tell me – did you know about ASO before reading this post?
Having Professionally Written, SEO Optimized App Descriptions is Important
And people are still not used to the idea that they can purchase such services online
I'm not whining (well maybe a little bit), but I really hope this blog brings more awareness to the topic. I'm waiting for the day when people can call themselves ASO writers officially. Not that being a professional ASO writer is my dream job, but it's definitely a field that requires certain knowledge and skill.
The question is
Can an SEO content writer do the job?
Yes, yes, and yes! If you hire ASO writers, chances are that they have SEO content writing experience. This is the best thing that can happen to you. Writing SEO-friendly app descriptions is not just great for boosting your app's visibility in the App Store but over the Internet in general!
Professionally Written Descriptions Lead to More Downloads
Period.
Every time I write an app description, I don't just aim for a higher App Store/Google Play ranking, I research for keywords that have a high search volume on Google. When I first thought about that, people actually input search queries in the app stores without looking for a particular app, I was a bit surprised, but then it made sense. However, knowing that I always do my Google research, I am pretty sure that there are thousands of people that will ask Google whenever they need information about an app that they don't know about.
Here's an example of my search query.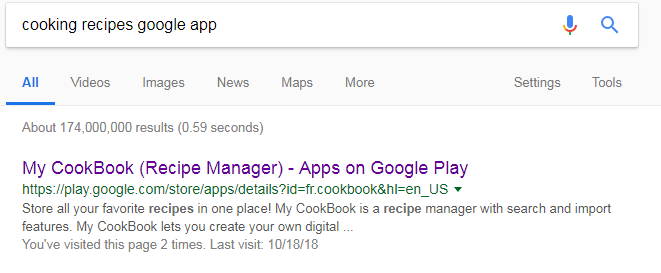 As you can see, the first result is a direct link to Google Play and probably the app that I'm looking for. Probably. Most of the recipe apps I've seen on Google Play are actually "recipe manager" apps. They are simply a catalog to store your favorite recipes, and I never said I needed a recipe manager in my search query.
So, what if you have the most amazing app that lets you browse through hundreds and even thousands of great recipes? How do you outrank the recipe manager apps (they shouldn't be competition normally, but here they are)? You guessed it. You need professional SEO content writing services!
Whether you are gathering more information about App Store Optimization or looking to hire an actual ASO writer, I will appreciate it if you tell me about it. Even if you are a competitor offering the same services, bringing more awareness on app description writing is what we all need!