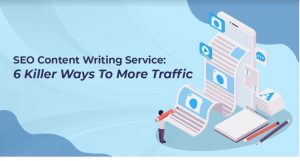 Every business needs SEO content service for its website to boost organic traffic and improve visibility on search engines. This is because 68% of online activities start with a search engine. Moreover, search engines generate 300% more traffic for websites as compared to social media.
However, SEO can be effective only when your SEO copywriting agency nails it right. Here are six proven ways to drive more traffic to your website:
1. Perform Keyword Research
Keywords are the driving force of SEO. You need to identify primary and secondary keywords that are relevant to your website and based on visitors' search intent. A few factors you need to bear in mind while performing keyword research are:
Plan keywords for text, images, videos, and all other content formats.
Do not stuff content with excessive keywords.
Use long-tail keywords.
Search for keywords with some local or country-specific search intent.
Optimize keywords for mobile user experience.
2. Create Original and Unique Content
Google's algorithms are becoming more sophisticated at detecting the quality of content. So, even if the SEO copywriter incorporates relevant keywords in the content, it may rank low in the search engines due to poor quality or duplicate content. Even if the SEO brings traffic to your website, the visitors may not return if they don't like the content. Hence, remember that you should create content for the target audience, not for search engines.
2. 3. Focus on Metadata
Metadata in SEO refers to a set of data that describes or provides information about the content on the webpage. It improves the website's functionality across all devices and software platforms. There are primarily two types of metadata:
Meta Title: It describes the topic of the webpage. It helps visitors understand what they can expect from the webpage if they open it.
The length of the meta title should be ideally 60 characters.
Meta Description: It further describes the content of the webpage in brief. The length of the meta description should be ideally 150-150 characters. Make sure to include keywords in metadata for better SEO results.
4. Build Backlinks
Backlinks are incoming links to a webpage to improve the search engine ranking of content and gain domain authority. Usually, the more backlinks the webpage has, more the probability it has in higher ranking. However, did you know that 91% of webpages never get
any organic traffic from Google because they do not have backlinks? Having said this, the general rule is that backlinks should be high-quality and relevant to your webpages.
You can build backlinks in several ways:
Create engaging content
Do guest blogging
Replicate competitors' backlinks
Answer questions on Quora and similar sites.
5. Format Content for Featured Snippets
Featured snippets are brief, highlighted excerpts that appear at the top of Google's search results in an area known as 'Position Zero'. They are known as one of the SERP features.They answer the users' questions without requiring them to leave the webpage. They give
instant visibility to your brand.
A good SEO copywriting service provider would know how to utilize this SERP feature to the brand's advantage.
6. Use SEO-Friendly URLs
An SEO-friendly URL structure enhances the user experience. A URL is considered effective when it has the following elements:
It has a relevant primary keyword.
It uses HTTPS protocol.
It is short and simple for easy readability.
It should not include stop words such as 'a, an, the, and, to, or, of, for, etc.'
SEO is a technical and specialized element of content writing. Hence, it is advisable to outsource it to a reputed and reliable SEO content writing company like 411Writers. Its SEO content writing service has empowered several brands to create SEO-driven engaging content and increase website traffic.