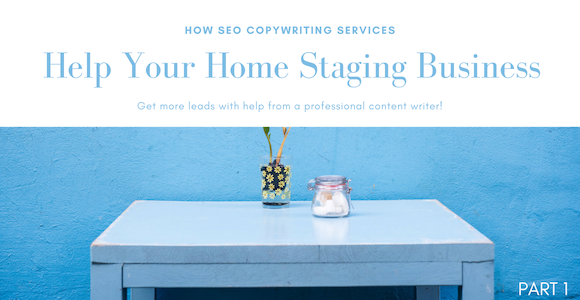 In today's time, using professional SEO copywriting services can help you improve your business so that you can get more leads and traffic to your website. The process of home buying is very exciting, yet nerve-wracking at the same time, for both the buyers and the sellers. However, as a professional home stager, you have the ability to help make this process easier for all parties involved. No one likes waiting day after day for someone to fall in love with their home – the same way they once did when they first purchased it. By showing the potential home buyers how they can furnish it and turn the house into a home will incline them to finally make that step to purchase the property faster.
Home staging is a savvy marketing tool that is used by sellers in order to get the attention of the potential home buyers. This process gives the sellers an edge when they are selling their property in order to enhance the look of their home. Usually, properties that are staged sell faster and for more money because it is assumed they are well-maintained. For instance, if you were to come across a home with dull looking furniture – or no furniture at all – it can result in lower offers from potential homebuyers as opposed to properties that have elegant and new furniture.
81% of home buyers say that staging the homes makes it easier for them to visualize the property as their future home.
Owning a Home Staging Business
The home staging business goes hand-in-hand with the real estate realm. These two businesses can often work together in order to gain clients. When a realtor has a client who is selling their property, the agent may recommend the use of a professional home stager in order to get their home off of the market sooner. While working alongside realtors can be a big help in getting leads as a home stager, it is not the only way – or even a way that you should solely rely on.
Even with a steady line of customers rolling in, it is crucial to keep your portfolio updated for your new potential clients. These days, most people use and rely on the Internet for a vast range of different searches in order to get the information they need. Whether it is a realtor or a homeowner that is looking for a stager to design the interior of their home, they should be easily found online, and our SEO copywriting services at 411Writers can help them with that. The first step of getting leads is to build an online presence in order to start building your brand.
Fact: Once the property is staged, it spends about 73% less time on the market.
Building Your Online Presence
Creating a website can help you score big when it comes to leads because most potential clients start their hunt for a home stager with an online search. You want to make sure that your website is one of the first ones they come across within that search, so it is important the content you have to be real, updated, relatable, and unique. If you are inexperienced in this category, it can be difficult for you to come up with this content on your own, which is why we have writers that can do it all for you. From creating the initial website content to keeping your clients engaged as time goes on by updating blogs and more.
The website for your home staging business can feature not only an online portfolio of the work you have done in the past but also tips, tricks, as well as other information that your clients can read and find useful. Coming up with these new blogs or articles to upload can definitely be time-consuming, especially considering that maintaining your website is not your main task as a home stager. However, your website is one of the ways that you get your clients so, with the help of our SEO copywriting services, we can help you keep fresh content on your site so that you can continue to get new leads within your business.
Businesses that have an active blog generate an average of 67% more leads each month than those without.
Now, that may have been a lot to take in at once, but there is definitely more to learn about how content writing can generate more leads for your home staging business. Check out Part 2 where we can wrap it all up nicely.