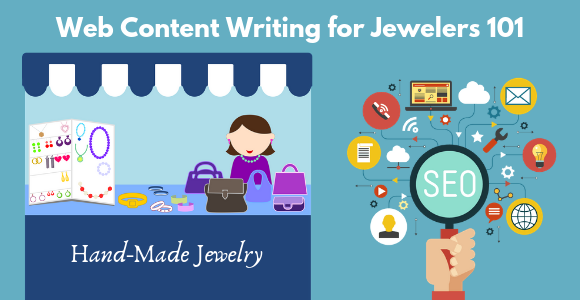 Just around Christmas time and any other holiday in general, one (me) can't help but dream about getting a beautiful new pair of earrings, a neckless, or a bracelet. Yet, another year has come and gone without me getting one. So, naturally, the next thing I do will be Googling jewelry instead of waiting for Santa.
Would I end up on your website? And if I did, will it turn me into a client? Well, my friends, sometimes it all depends on the type of content writing services you use. So, is your copy the gem of your marketing efforts? Let's peek in the jewelry content box and see how to:
Climb the Online Retail Ladder
The importance of digital marketing for this trade
Even though this industry is not always location-independent, it's always a good thing to have a strong reputation and brand representation online. An official website is a must obviously, but social media and content strategy are also a great opportunity for jewelers to exploit.
Why?
Because we live in an age where most things happen online. This one is already a given. However, it's also way better for your business in the long run. You get noticed, you get sales, and you get brand awareness.
SEO (Search Engine Optimization) is also a very important part of the mix. You can have an awesome website with all those cool features, but if it won't rank high on Google, what's the point? The longer it takes the user to get to it, the lesser the chance of that actually happening. For that reason, there are agencies that specialize in the optimization of jewelry websites and brands' online presence.
Put Product Descriptions In the Spotlight
Maximizing sales through compelling & SEO-tuned copy
Jewelry on its own is a type of product that easily creates an emotional impact. However, a strong product description hitting all the right spots will result in a spike in sales and visibility.
A compelling product description should:
Cover the physical features and characteristics of the item
Focus on the unique selling point
Highlight its visual appeal
All these are essentials. If you can, try to spice up your description by finding a unique selling point of your product. Something that makes it stand out. Is it a piece of hand-made jewelry? Is it boutique, vintage, or just very hard to find? Know your product. Know its competitive advantages.
And just like that, half of the job is done.
The other half is actually writing it. Diamonds are a girl's best friend, we all know that. Let's say you've chosen to craft your copy in a way that will engage females predominantly. What about all the men that will be reading it, then? They might be buying the jewelry piece as a present.
Be sure to consider your clients' point of view and craft the product descriptions accordingly.
Work On the Visuals: Enchant at First Sight
We buy with our eyes first
When it comes to online shopping, customers lack the full purchasing experience. They're not able to try on different options and interact with a sales assistant face-to-face. Which means something else needs to catch their attention. Have you been on the ASOS website? Probably. Its videos and images represent in a fantastic way how photography and visuals help get people down the sales funnel.
You can even go a step ahead of your competitors and use interactive content.
It comes in many shapes and forms and it's here to take 2019 by storm. You can use in the ordering process, in your shopping app if you have one, or on your social media channels. The possibilities are endless and in any case, it means more brand points. The downside of it? It might be a bit costly to introduce into your business model.
Get Industry Influencers On Board
Okay, that's not exactly what we mean by content writing services, but if you keep track of the digital marketing trend predictions for 2019, you know influencers are part of the mix.
However, choose the people you wish to collaborate with wisely. Apart from aiming to make an impact on their audience, make sure they align with your brand's values. If you are building your image, you don't want just anybody associated with your brand.
Time for a Sparkling Finish
A summary and final thoughts
Whether you are creating a jewelry brand from the ground up or put all your efforts into growing your business, the quickest way to getting more sales and brand recognition is through content. Whether you decide to take advantage of professional content writing services or you are just looking for ways to improve your digital marketing strategy on your own, I hope that this article presented you with a handful of useful tips on how to do it.
Let me know if you have tried any of them and what the results were in the comments below!