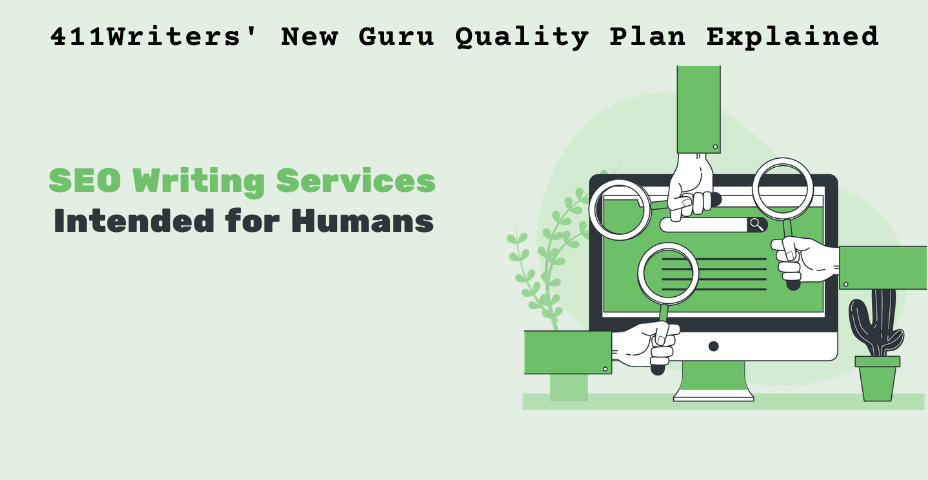 If you're one of our regular customers, you may have noticed the new Guru Quality plan added to our order form. While we added a few "selling points" right into the form, I decided that you, as a customer, may need more information. So, here it is.

What's New About This Guru SEO Writing Service?
And Do You Really Need It?
Let's start with the easy part. I'll just guide you to our work process when it comes to Guru orders. Here's how it goes:
Your order information is being forwarded to our Guru writing team.
The first available writer that specializes in your industry takes the order.
The writer researches any specifics involving your particular order.
Keyword research is conducted.
Our team checks the websites ranking for the top keywords from the research.
We list three of your top competitors and create a report with the keywords they're ranking for.
The writer brainstorms ideas about the topic and content structure.
As soon as your writer finishes writing, your order (with all the research conducted) is forwarded to a Quality Assurance Agent for proofreading.
During the QA's revision, our graphic designers will create a featured image for your content.
If the writer has left comments about any in-between text images, our designers will get on that.
This is when we send the content with all the images and other files to you. Does it sound familiar? Maybe you've already ordered Guru content. What's different now is the writing process.
What We Changed in Our Writing Process
The short answer is that we have a more human approach.
Writing has always been about the reader. Or it used to be before SEO. With the rise of search engines, content writing became a thing.
You have a website, you need the text content for it, target a bunch of keywords, and as long as you're writing in your mother tongue, you shouldn't have a problem.
In a way, anyone could do it.
This type of writing has nothing to do with best-selling authors, fiction thrillers, fantasy stories, mysterious noirs, or even romantic comedies. The following are known to keep the reader engaged, interested, and wanting to read more. This was the author's only intention.
However, in the SEO world, web content author's intention was for the search engine to rank their website higher. A keyword-rich text written for the search engines isn't the perfect read.
This is where we step in.
Our goal at 411Writers is to target human readers. We just happen also to have the knowledge and experience to produce SEO-friendly content.
We decided to stop targeting the same 2-3 keywords we're really after in our blog section. We gave our bloggers freedom, they loved it, and guess what:
We ranked for keywords we never expected to rank for. Getting that extra traffic was nice, but as soon as this happened, our originally targeted keywords started going up as well.
We made some more experiments and different posts so we could figure out how much from both worlds – SEO writing strictly and real engaging content would be needed. Some of our regular clients agreed to change the approach, and it worked great for them. This was when we were sure that we needed to launch this new SEO writing service officially.
More About the Research We Do
Okay, now that it's clear that we're aiming for engaging and intriguing content and target the human readers, let's talk more about the research we do and why it's essential.
Even though our customers can fill out the field with keywords themselves, we'll still research more beneficial keywords. We would never include them without your permission, as we know that you might have a particular content strategy in mind.
Researching for keywords that you might want to rank for is one thing, but we also research your competitors. How do we do that?
Some of our clients are giving us direct links to their competitors. That's the easy way. We just run their websites through the tools we're using, and we can see all the keywords their domains are ranking for.
If we're not provided with direct links, we just go back to the keyword research and take the most traffic-worthy keyword and see the top websites. Then, we run them through our tools, and we can see all the other keywords they're ranking for.
So, Do You Really Need It?
If you're using SEO tools yourself and make your content strategy, you probably won't need our keyword research. However, we're still getting the benefit of our top, industry-specialist writers, Quality Assurance Editors (native British or American speakers), and customized graphics.
Let's Wrap Up
Our SEO Writing Services are mostly suitable for webmasters that don't have their internal SEO team and lack of clear content strategy. Suppose you have the resources and the people to conduct the SEO research and content strategy. In that case, the plan is also suitable for you as it comes with other benefits and namely, human-oriented writing services and visual content. Besides, you can always try out and see if you like the services.