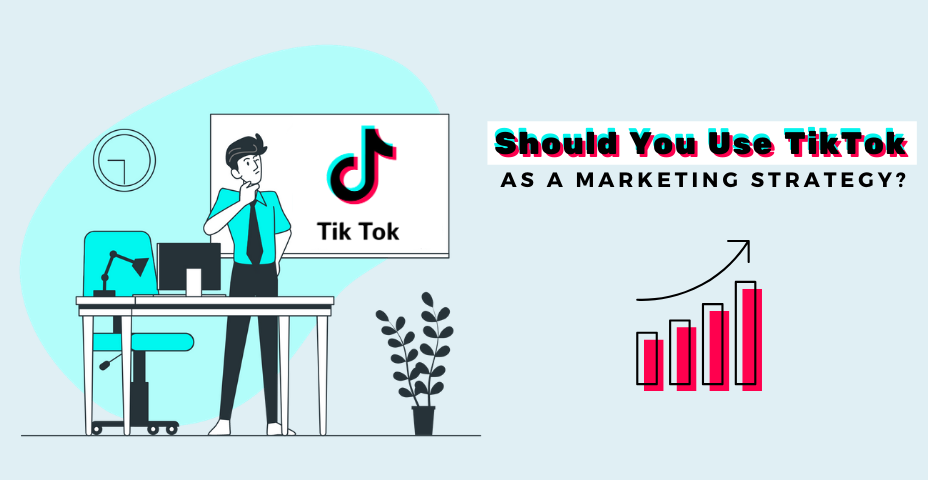 Social media challenges, 15-second dances, celebrity impersonations, and even drawing with your nose. What's all this? It's what's going on on TikTok. You've probably heard of TikTok if you know anyone under the age of 20.
TikTok is said to be the defining social media app for Generation Z. As a pleasant surprise, it's also a place for small businesses to market to their audience.
Launching in 2017, TikTok has grown to be a larger platform than Facebook, Instagram, Twitter, and Snapchat. So, you might be asking if you need to hire writers to target potential leads on this platform or what it has to do with your marketing strategy. Since TikTok has millions of users, it is a platform that can easily be used to reach large audiences; therefore, it's a business opportunity you might not want to overlook.

What is TikTok?
The latest social media sensation
TikTok is a social networking platform, also known as Douyin in China, where the platform originated. It is where users can share short videos that are set to play with their choice of music or recorded voiceovers. Dance and lip-syncing videos are some of the most popular on the platform.
It is where users can let loose and reveal a more playful and joyful side to them. While Instagram is where people can hide behind idealistic personas, TikTok is where you showcase your creativity, silliness, and more.
In 2019, TikTok had more than a billion downloads and an average of 800 million monthly users worldwide. 40% of these users were between the ages of 16 and 24.
However, few businesses and entrepreneurs are adding this booming social media platform to their content marketing strategy – which can be a mistake.
*ahem* Read until the end to see a surprising detail about businesses using TikTok.
How to Use it Effectively for Marketing Your Business
This will help you thrive on the platform.
Not every social media platform is right for your business. The first thing you have to do is determine if it's right for you. Companies hire writers for the website content, email marketing, and even social media posts.
However, TikTok is a bit more "free."
You have the power to make your posts your own and being creative in your own way can help you thrive on the platform.
Upgrade to a Pro Account
Like other social media platforms, TikTok allows users to change their accounts to business accounts. This will enable them to view a lot of valuable analytics regarding the content they post and how it has performed.
Answer the Following Questions
Once you're ready to post some TikTok-worthy content, ask yourself these questions:
Who is your target audience?
How can you incorporate TikTok into your existing marketing strategy?
What are your goals when it comes to TikTok, and how can you achieve them?
What are you trying to promote?
How are you going to have people find your content?
Use Hashtags for Maximum Reach
At the moment, TikTok has not made it possible for people to pay for ads that require users to work hard in order to have their content shown. Using hashtags, especially those that are trending, can help organically boost your posts.
The more people see and interact with your posts, the more they will be shown to others. However, be sure that the hashtags you use are relevant to the content you are posting.
Share Your TikToks
This is the most important way to get reach for your TikTok videos. Share them across your other social media platforms. Send them to your friends, coworkers, EVERYONE.
Even if someone doesn't have a TikTok account or the app downloaded, they can still click the link to view your videos.
Understand Your Metrics
Tracking your TikTok performance
As I mentioned earlier, upgrading to a business account on TikTok gives users access to detailed analytics.
Upgrading is free and extremely beneficial, so why not do it?
The metrics you have to understand and keep track of are the monthly views on your videos, trending videos, traffic source, audience territories, follower growth, average video watch time, and more.
Don't Write It Off Just Yet.
The thing you have been waiting for
While TikTok is big with Gen-Zers, they aren't the only users. With quarantine, people have been online more than ever. Millennials, Generation Xers, and even some Baby Boomers have downloaded the app to take part in the fun.
Even The Washington Post – a 142-year old newspaper, has a TikTok account (and it's a successful one).
Let's be real, what Gen-Zer is reading the newspaper?
Don't just think to hire writers for your website content. Take the time to think outside the box and add to your marketing strategy by trying a new social media platform for your business like TikTok.