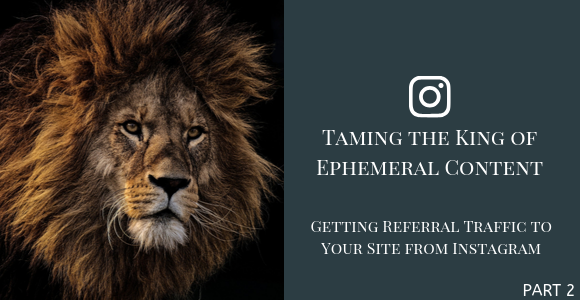 For those of you just catching up, we already started taming the king last time.
If you're too lazy to read the whole thing, here's the TL;DR of Part 1:
Instagram is a great source to get referral traffic from
The precious Swipe Up feature for instant linking in Instagram Stories requires you to get 10K followers before it unlocks
Posting daily results in 56% faster follower generation
Understanding the VALUE Framework
It's not just "value" written in Caps Lock
VALUE is an Instagram content strategy that helps you plan your posts for five weeks at a time. It also ensures your feed is diversified yet orderly, and it delivers something of worth to your followers.
VALUE stands for:
Valuable — content that brings new information, is educational or helps solve a problem
Aspirational — those are usually inspirational quotes; it is content that motivates your audience
Lifecycle — content that builds awareness or encourages action; it could be promotion reminders, event announcements, you get the idea
Unique — branded content that is focused entirely on your business
Evergreen — content that is relevant and will remain so for years to come; those can be tips and how-to posts
Now, let's look at each type so you know what to expect in case you decide to hire writers to do it, or if you are going to DIY it.
Teach and educate with Valuable posts
Instead of thinking about creating entirely new video material, you can always use what you already have. If you have a relevant webinar or Facebook Live content, why not edit it into smaller chunks and add them to your feed?
The goal of these posts is to educate your audience. Showcase content that introduces new topics, definitions, or other types of information that your followers may not know yet but would be interested in knowing.
Inspire and help with Aspirational posts
Think about your own product or service. What is the problem they solve or the value they add from the perspective of the client?
For example, a sushi restaurant offers a place to socialize with friends and family, satiate a foodie's craving, and experiment with different flavors.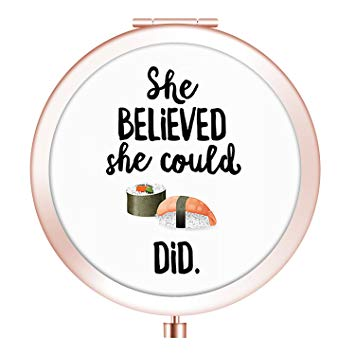 Or, as it is in our case with 411Writers, our goal is to help people who want to hire writers for super-duper, beneficial content. Here is an example of a post where we outlined the benefit of our ASO services: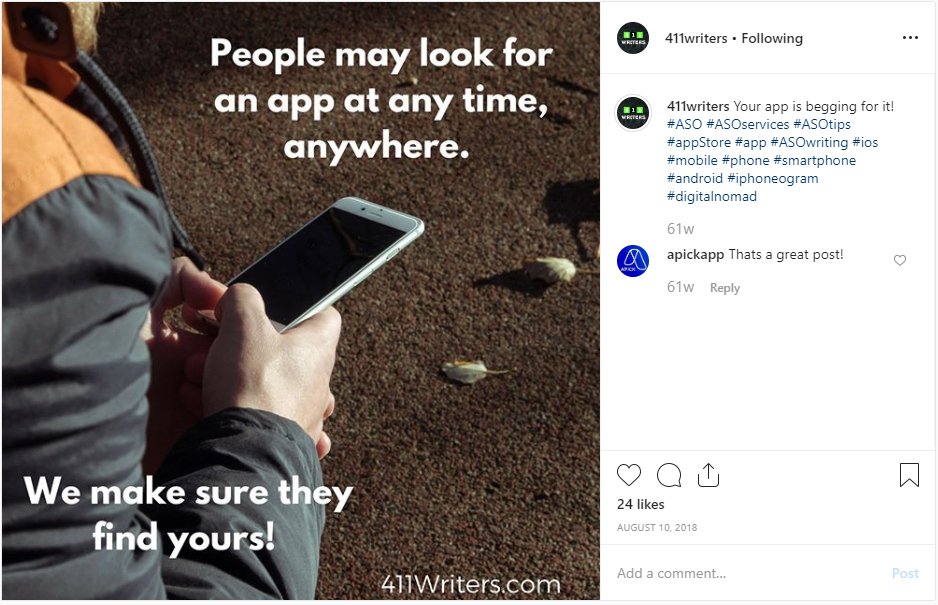 Increase brand awareness and keep your audience up to date with Lifecycle posts
Any announcement you may have: tour dates, sales, promotions, product launches, reminders, giveaways, collaborations, anything really, falls under the lifestyle section of VALUE.
Although the end game for brands ultimately is to promote their lifestyle content, it should only represent ⅕th of their entire feed.
You see, it's a barter thing – you can't only want people to give you their attention, you need to give them something in return.
Shine bright like a diamond with Unique content
Short and sweet: Any type of branded and unique content that you own or have, here is the time for it to shine. Prime examples of unique posts are case studies, customer testimonials, and internal company/brand research.
Bear in mind, your audience can easily get bored looking at a feed full of people praising your every attribute. Change things up, go the extra 6,7,8 miles and use this opportunity to let your brand's character show through these posts.
Revisit the classics with Evergreen posts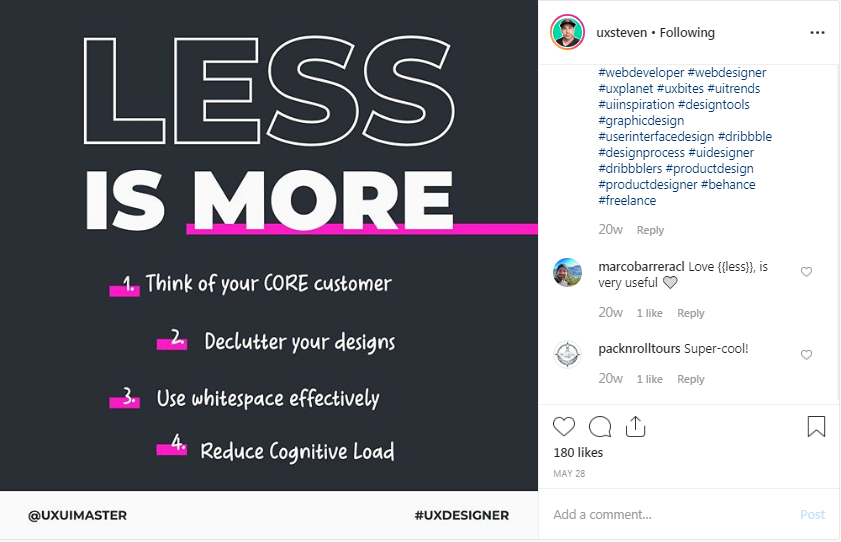 Guides, cheat sheets, methods, procedures, all of these can be ideal for evergreen posts. They are your hidden golden geese because they keep generating traffic long after the peak of the moment has died. They do so slowly but steadily, because there are things that people will always want to know and, unlike my current pants, they won't go out of fashion.
Utilizing the VALUE Framework
It will take time
Suppose you want to use your Instagram profile to generate traffic to your blog. Go through your existing blog content and assign each article to one of the 5 types of content within the VALUE framework. Then, repurpose them on Instagram as well as other social networks you may be using.
How do you repurpose a blog post and turn it into an Instagram post?
Basically, you need to distill words into visuals.
For starters, your entire feed needs to dazzle. Think about your brand colors and your voice. Start by rotating the colors of your brand in your Instagram posts. Use different lead colors for each 5-week cycle.
You can use tools like Paletton to choose a palette you like. If the images of a blog post don't suit the color palette you have picked, a second option is to select a quote from the article and make it an image quote. Canva is an easy-to-use tool with loads of templates to help you with that.
There are, however, many blogs detailing the steps to shrinking blogs into cool posts, so I won't get into too much detail about it.
Sort of a Conclusion
Don't opt for buying fake followers
Yes, there are shady folks out there who will promise you "high quality" following for a tempting price, but fake followers won't like, share or comment your content, and that will keep your engagement score low.
Instagram has a special algorithm for determining that score by collecting data from your likes, shares, tags, and direct messages. Resolving to buying fake audiences gets you in a sort of a vicious circle:
Fake followers equal low/zero exposure to your actual target audience → your engagement score decreases → you buy more followers → engagement continues to be at the bottom…
Don't be a mouse running in circles not really going anywhere. Sure, it's a good exercise, but nothing more. If you're struggling, hire writers with experience and don't go through this alone.
Till next time,
T.