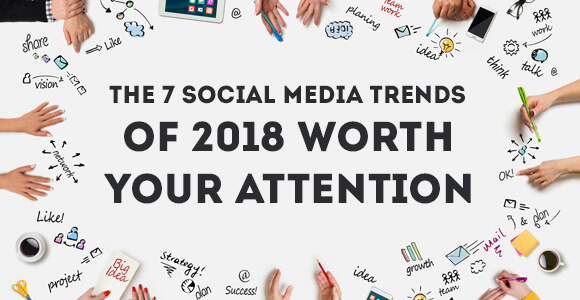 It seems that by now everyone knows what social media is. Yet, there are some who still can't see the benefits of incorporating it into their marketing strategy. Some business owners don't have the desire or skills to lead a successful, ongoing social media marketing strategy and that honestly saddens me. Yes, it takes time, and it takes resources, but…
You Need Social Media, Period.
In the most simple of terms, you need social media to bridge the gap between what your customers think of you and what you want them to think of you. In other words, you take the elevator down from your 50-story office building in San Francisco, and you get to chill on the sofa right next to your followers in Wichita with the click of a single "Share/Publish" button.
The Trends
Video
In a mobile-first culture, it is no surprise that video is a prime consumer option. In 2017, a little over 90% of all content shared by users active on social media was video. The biggest challenge so far is figuring out how to can capture the audience's attention in the first 3 seconds. But the topic of challenges is one for another time. I recommend using Instagram Live and Facebook Live to create new and enticing content which can really help generate engagement and build following.
Chatbots
The latest invaders of customer service. They are no longer robotic, clunky machines. After significant and constant improvement, chatbots are widely used to provide an instant connection with customers from every inch of the planet. They are great at solving customer issues and even ordering pizza. The best part? Bots are getting smarter and more human-like every year, imagine the customization opportunities that lie ahead!
Influencer Marketing
We all have someone we admire, someone we follow on social media, someone who inspires and motivates us. Bloggers, vloggers, celebrities, public speakers, even politicians — in other words, influencers.
This kind of marketing is not news anymore, but it is still going strong in 2018. The downside here is that as more and more marketers try to tap into the influencer market, it gets overflooded which makes it difficult for users to know who to trust. If you are going to adopt it into your strategy, make sure you do it in moderation and with the right influencer.
And the creepiest of all…
Social Listening
Have you ever had that creepy moment of chatting about something with a friend and then seeing an advertisement for it on social media? It instantly gives you the chills. Creepy or not, it's true. That's the reality of the world we live in today. Social platforms are "listening" to our conversations and simply connecting the dots.
User-Generated Content
Like I once said, the best way to have convincing content is to not write it yourself at all but let your clients do it for you. Get them to talk about your company, create a buzz and let them do the rest.
Encourage the use of hashtags and start conversations people actually want to have.
Ephemeral Content
That is one of my most recent favorite topics. Yes, I have favorites, and I'm not afraid to admit it.
Anyway, to sum it all up, this is a kind of content that disappears within the next 24 hours of posting it. Instagram and Snapchat were among the first platforms to adopt it, and it is one of the rare gems businesses can leverage to strengthen and increase their following.
The Rise of Augmented Reality
What's not to love about AR (Augmented Reality)? It is quick, easy, and very interactive. It can be enticing to toddlers, busy moms, and grandpas trying to be "trendy." To this day, one of the best worldwide examples was the Pokemon Go gaming app. Another one is something most of you have already seen up close. Yes, I'm talking about Snapchat's face filters.
So, are there other social media trends in 2018 I missed? Let me know in the comment section below!