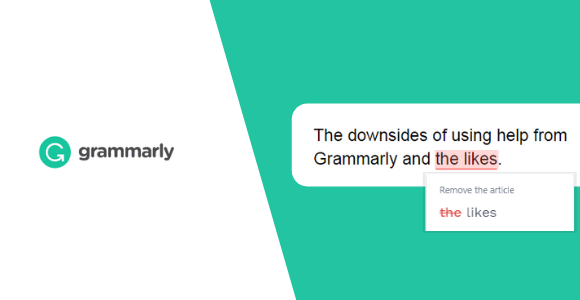 If you have anything to do with buying or providing content writing services, you have surely come across writing aid programs like Grammarly. Their goal is to make our writing lives easier by spotting mistakes and offering quick solutions to grammar inaccuracies. Seeing Grammarly's green circle is the seal of approval that says, "your text is good to go." So far, so good. What can possibly go wrong, right?

The immediate downsides are that Grammarly and the likes gradually make us:
Less vigilant
Lazy in doing our own revisions
Doubt our judgment
Well, that's unfortunate. But is there more to it?
Some Fake News That May Contain Certain Truths
Is Grammarly stealing our work?
Although I've been mad at Grammarly for a while now, it wasn't until I came across this article that I actually thought about writing down my own two cents about it.
So, I use the free version of Grammarly, which is more than enough to provide a basic grammar and punctuation check. The premium option gives access to extra features like writing style tips and wording suggestions. Personally, paying anywhere between $11.66 and $29.95 a month (based on how it's billed) for such writing aid seems redundant to me. That is partly because I've been writing for a long time, which brings a certain level of confidence, and secondly because whatever I am yet to learn shouldn't come from a basic AI algorithm.
Still, upon signing up for Grammarly, as with everything else that aims to be politically correct, there are Terms of Service.
At first, it may sound like they're stealing your work from you. As if you're a ghostwriter (I hope you don't need Grammarly to tell you it's not spelled ghost wrighting!) and you lose the ownership of your own copy. In a way you do, but only as far as Grammarly needs your consent to study your content so it can improve its algorithm. To do that, it has to upload it to its cloud system for processing. It's a standard procedure, and that is all there is to it. You're agreeing to that transfer of data. So far, there hasn't been a recorded occasion of Grammarly stealing someone's work, so no need to panic.
The Question of "Is It Really Worth It"
The answer: it depends
Well, that largely depends on how you are using it. It's certainly not worth it for novels and other works of fiction, educational/scientific texts, contracts, etc. In any case, Grammarly isn't a substitute for professional proofreading services, so don't think of it as a way to cut post-writing costs. It comes in handy for everyday use, blogs, posts, and other shorter forms of copy, and only when you don't follow it blindly.
During my research, I found many people who say the premium version is not worth the price, so make sure to do your research before upgrading to it.
Grammarly Ain't Perfect
Then again, who is?
I'll just leave some examples here for situations when Grammarly might trick you if you aren't paying attention.
This is from my HSEO blog draft: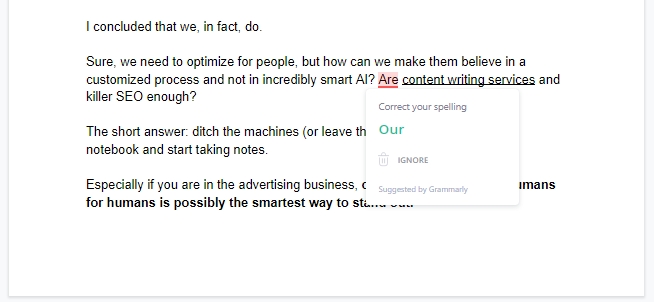 Grammarly doesn't speak many other languages (yet):

Then again, English alone can be tough for it:

After a long day, it can often repeat itself like my grandpa used to:

The Verdict
Inspired by Abba
Apparently some folks don't use writing aids, otherwise, this featured snippet of Abba's timeless The Winner Takes It All song lyrics would have been mistake-free.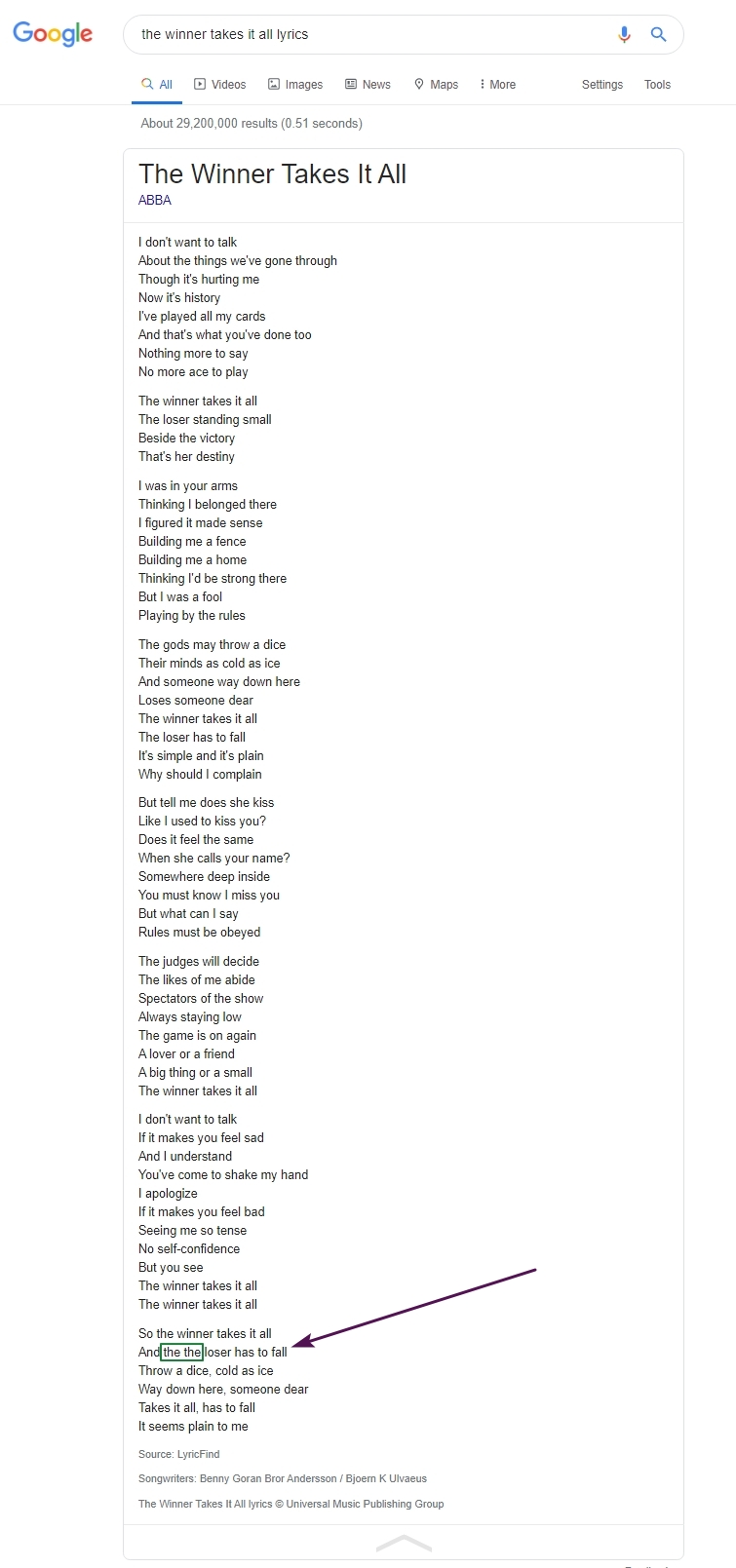 To me, Grammarly and the likes are the necessary evil if used in moderation and with active thought. If you are hiring an agency for content writing services, you can always run it through a writing aid program to check for typos and how well they did.
Treat Grammarly like you treat your own self-criticism in writing. Don't trust it blindly, question its suggestions, and when in doubt, trust your own version of the copy. Remember, Grammarly is just AI after all. It follows specific, traditional grammar/writing structures which modern copywriting often defies. And since the program takes your copy to store it up in the clouds so it can learn from it, make sure it learns something from you, too.
Till next time,
T.