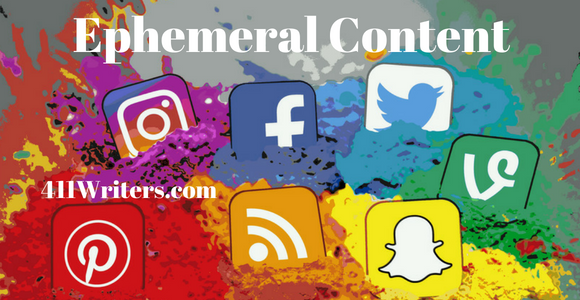 The Definition
Ephemeral content is a piece of content that is short-lived, lasting no more than 24 hours before disappearing forever. Therefore, much like your favorite luxury chocolate, you keep for special occasions and guests in your "sacred goodies" drawer, ephemeral content has…
An Expiration Date
And while that beloved chocolate will not change drastically a day after it expires, ephemeral content will just cease to exist. It's kind of sad, isn't it? It's kind of exciting as well.
I often like to think that ephemeral content goes in the land of unicorns after it expires in our world, but before it does, it carries along with a number of opportunities.
The Opportunities
When talking about this kind of content, of course, I am talking about Snapchat, Facebook, and Instagram stories — the usual social media suspects, so to speak. Adopting ephemeral content in your social media marketing strategy helps you stay relevant and more authentic. For Instagram, for example, you can use your profile for high-quality content, and Instagram stories for real-time content. Due to the fact that your content will be gone within hours, this will prompt your followers to take action and actively search your social media profile online.
Utilizing ephemeral content is also the perfect opportunity for you to post several times a day without spamming your followers' timelines. You don't want to put them off with your daily posts, you want them to anticipate your stories.
It Creates The FOMO Effect
These types of Instagram, Snapchat, and Facebook stories create the so-called FOMO effect which is the fear of missing out. If your business starts to regularly share ephemeral content on its social media platforms, users will make sure to check frequently what's happening on your channels, so they aren't missing out on anything.
Keep In Mind
With stories that appear at the top of your followers' feed, your brand will stay at the top of their minds.
There are over 250 million stories every day, make yours count!
Pro Tip
Have a plan in place to reach different target audiences with a meticulously crafted ephemeral content marketing strategy. Take your time making it. Try to be more authentic and offer real-time content that is engaging and meaningful. Real-time content does not mean meaningless content!
Well, what do you think? Have you tried using ephemeral content in your social media marketing strategies? Let me know!