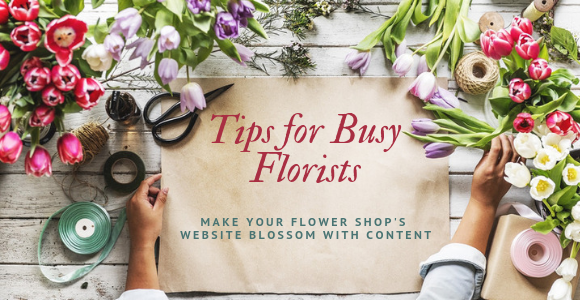 You are gifted with an ability to create beautiful flower arrangements and a sharp eye for winning floral designs. Yet, you struggle to get noticed by clients and you wish you could increase your sales. Since you're here, reading this article, I take it you have a website that needs more visibility online, or that at least you have recognized the need of quality website content services for your SEO (Search Engine Optimization) strategy.
Either way, this article will give florists some practical tips for using content creation's powers to their advantage.
Do You Really Need Content?
Is it important to be SEO-friendly?
Let's go over some questions that probably helped you end up here. Perhaps you started an online quest that sounded something like: "How do I make my flower shop rank higher on Google?" or "SEO tips for florists". You may have heard of the use of keywords to rank high on Google and that might be just about it. Well, if you are not aware of the SEO basics, maybe this article won't make much sense to you.
If so, read this first.
Now that we got that out of the way, it should seem pretty clear that good content is one of the supporting pillars of your ranking strategy. Google loves it and so should you.
Every Flower Needs Water to Grow
Just as your website needs content to prosper
Okay, here is the tips part you've been waiting for. Below are three suggestions that will increase your chance to place your floral business on Google's first page.
#1. Create a blog (if you haven't already)
My colleagues here, at 411Writers, have spared no effort in explaining just how important having a blog section on your website is. If you want to go in depth, I recommend this article.
Writing engaging blog articles is not an easy task for most people. Especially when you are busy running a flower shop. The best way to go about it might be to focus on those topics that offer an answer to a specific query.
How do you know what people are asking? Research and test! You can also dig into your own experience of dealing with customers. Take a note of the questions they ask you on a daily basis and
turn this into a useful FAQ page or the topic of a blog article.
You are an expert in your field and you surely know a lot about it, but putting it into words might not be your forte. However, if you work with a professional content writer, you can always give them specific topics and questions to write about. Your clients will start spending more time on your website if they keep finding the information they are looking for within a few short seconds.
#2. Lure customers with images (but be careful)
Content is not just text. Images are considered content as well and they can be optimized too. Vivid imagery of your creations will help get your visitors' attention quicker than a block of text.
However, there is a thin line that should not be crossed here.
Sometimes, the use of images can make it hard for people to navigate around. You don't want the visitors in a hurry to be discouraged by that. Another thing to consider is on-page speed. Heavy images (in terms of file size) can slow down the loading of your website.
Here are some examples of flower shops that have put imagery as their focal point.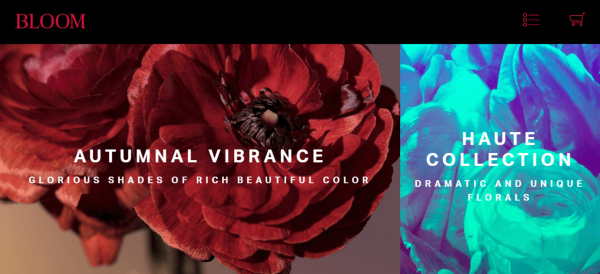 Yes, it looks pretty, but in terms of ease of navigation, how would you rate it? For me, it's 6/10.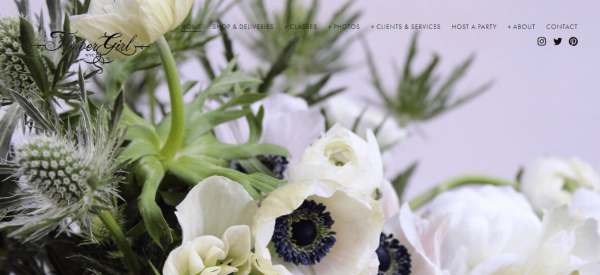 Imagine you're looking for a same-day flower delivery service and you've got no time to lose. Exactly. Chances are your potential clients won't find what they are looking for as quickly as they'd like. Which leads to my next point:
#3. Make 'sure your website is user-friendly
Do you have a booking form on your flower shop's website? How easy it is to use?
I'm going to use this as a reminder of just how important UX writing and nailing that microcopy (those directing words that make your website easy to interact with) are. Be it to drop you a line in the Contact Us section or to order their fresh flowers to be delivered to an address.
And it should be adapted for all devices.
As consumption of online-based content is shifting from web to mobile, thinking about how your website is experienced on smartphones and other portable devices is important.
Don't Exclude Social Media
It's a powerful weapon
Last but not least, a great way to target local audiences is making the most of your Facebook, Instagram and other social media platforms relevant to the florist industry.
It might be just a photo of your latest flower arrangement to spark the interest of a person just flicking through their feed. It still has value.
Using social media builds brand awareness
and even if someone doesn't order a bouquet straightaway, a piece of quality content created or shared by you might leave a lasting impression.
If mastering digital content marketing still sounds close to alchemy, don't worry – you don't have to be a jack of all trades. You can always leave it in the hands of people who provide SEO-friendly content writing services. Just do what you do best, and the rest will follow.