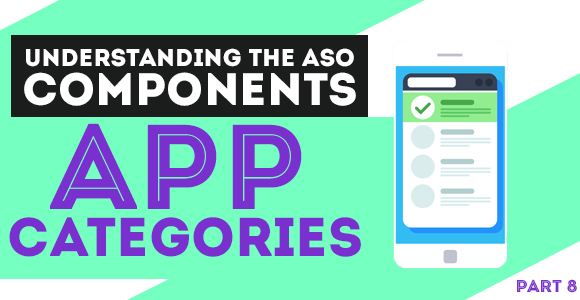 With app categories, I finish this 8-blog ASO component sequence. Picking an app category is a double danger as you should pick two – a primary and secondary category. This is a huge decision and should be treated like one.
What to expect from this blog…
Okay, choosing a category for a game app shouldn't be a hard thing to do and doesn't need much explanation. So, what am I trying to achieve with this blog? Before anything, I really want to make the point that
Choosing the right category is essential, and this is, without any doubt, an important ASO component.
Secondly, I'll talk about the most popular app categories in 2018. I'll give you the top 10 iOS and Android app categories and will talk about them. Whether you are an experienced app developer or are just starting, reading this might help you with choosing an app category to develop your next app for.
Most popular Apple App Store Categories
Games – 24.93%
Business – 9.78%
Education – 8.49%
Lifestyle – 8.32%
Entertainment – 6.04%
Utilities – 5.01%
Health & Fitness – 3.01%
Book – 2.94%
Food & Drink – 2.89%
Productivity – 2.65%
The statistics are taken from Statista.com, and they show the most popular categories in May 2018. There are 24 different categories to choose from. As you see games are leading with quite the difference. This is why I have to mention that game apps are special cases when choosing app categories.
You can choose up to two game subcategories
Also, if you are targeting kids ages 11 and under, you should select the "Made for Kids" checkbox. Of course, you will be able to choose another primary category and two secondary categories. In the ideal case, you'll have a game app made for kids, which means you'll be ranking for 4 different categories.
Most popular Google Play app categories
Out of 33 categories, here's the top 10 for 2018.
Education – 8.29%
Entertainment – 7.43%
Business – 6.96%
Lifestyle – 6.73%
Tools – 5.45%
Personalization – 5.41%
Music & Audio – 5.05%
Books & Reference – 4.79%
Travel & Local – 3.2%
Shopping – 2.94%
As you can see, the Android users have similar preferences but not quite the same. This means you cannot expect to do equally well if your app runs on both operating systems. This being said, let's talk about how you should choose the most appropriate category for an app.
Choosing a category for your app
Let's say you have a photo sharing app on social media and wondering which categories you should choose for primary and secondary? Is it better to choose the Photo & Video in the App Store or the Entertainment on Google Play Store? Maybe it's better to choose the Lifestyle instead of the Entertainment…
Questions like this will definitely arise, and this is normal. Here's what you should consider before making your final choices.
Think as your audience – where would you search for your app? Would your ideal user classify your app as a social network or a photography app?
Focus on the one, main function of your app.
Research your competitors, and see which categories they have chosen for similar apps.
I hope this blog makes the obvious even more obvious, and namely that choosing the right app category is an essential part of an ASO strategy. I'm also hoping that it helps those who struggle to choose the most suitable main and secondary category for their apps.
Well, that's it for the ASO component apps. I'll keep writing about ASO, so if you found this article interesting, keep checking out our blog section. Till next time!