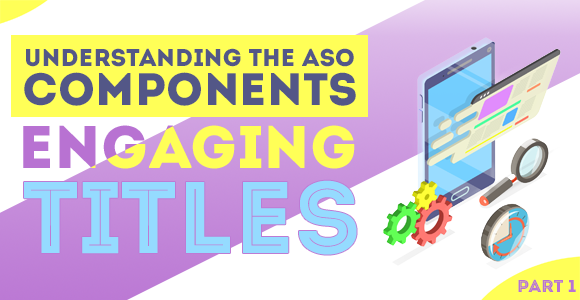 App Store Optimization (ASO) is the best user acquisition channel. I hope that everyone reading this has at least some knowledge of what ASO is because, in this article, I will dive deep into App Store Optimization. It's part of the 8-part sequence, explaining every ASO factor that makes a huge difference. Today's topic:
App Title – the most important piece of ASO
Whether you're launching your first app or looking for a way to improve your rankings, you can learn a lot from this blog. If you are wondering where to start, I'll give you the hint one more time:
The Title
It is true that your entire On-Page content is a key factor in your ASO success, but the title, in my opinion, is the most important factor of them all.
Whenever I'm not looking for a particular app but just something that I need, I search it and scroll down the results. If a title is not engaging and informative, I will most likely skip the entire description. This means that even if you made it to the first result thanks to the other factors, I wouldn't tap on your app.
Tell users about your app
Your app title should tell the users in just a few seconds what the app does. You have 255 characters to do it, and that's a lot. However, be careful, a long title can easily become a boring one. I've seen many developers who just stuff keywords in titles that don't make any sense.
Spammy titles are worse than uninformative titles
Honestly, it's not that easy to come up with a title that gives all the information needed and has aso keywords in it, without making it too spammy or just long enough to turn off customers. This is why I recommend benefiting from professional ASO writing services if you are not feeling confident enough.
ASO is not getting enough attention
Do you know any ASO companies? I don't want to sound too self-assured, but 411Writers is one of the few that really focus on ASO services and give results. Now that we offer such ASO services, we still don't see many competitors out there in the field.
Many developers don't even know such services exist, and they can hire a professional ASO company to help them with rankings. The same way ASO needs more attention, titles deserve some more recognition. Those who understand the importance of ASO rarely understand the importance of a good title.
And good titles are not always about ASO. You can check one of my older blogs where I talk about engaging titles in general. The tips and tricks are applicable for every type of writing, whether it is ASO writing, SEO writing or you are just looking for a way to improve your personal blog's style.
I hope this blog drew your attention to titles and the importance of titles when it comes to ASO at least. Like I already said, if you don't feel confident in your own writing skills and experience, feel free to use a reliable ASO writing service. Just one more hint: 411Writers provides ASO services!