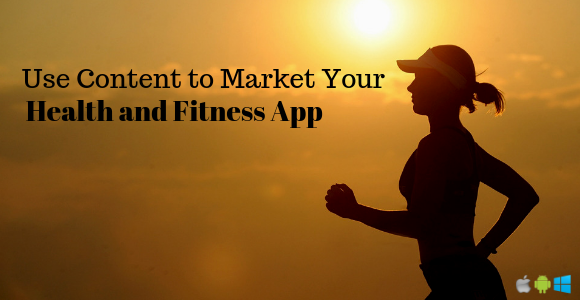 January, 1st. I know I've said it a thousand times in the past, but new year equals new me. No more junk food. Definitely more exercise. Yes, I need to get out there and change my meal plan and habits.
If I had a penny every time I promised myself that at the start of a new calendar year…well, I'd have a lot of pennies. Instead, I have an Instagram feed flooded by paid fitness ads created by the next big Internet coach with a magic formula. And dozens and dozens of app suggestion.
With an astonishing growth of over 300% in popularity over just 3 years, the market for health and fitness apps is competitive, to say the least. Wondering how to make your app's visibility, ratings, and downloads peak in 2019? The answer might have something to do with content creation and ASO. Keep reading, it burns calories!
Concentrate On Store Popularity
By and large, this should be your focal point
The App Store & Google Play are essentially a search engine of their own. As such, similar rules apply when it comes to optimization. Keywords are still important (sorry to disappoint you, if you are not a fan), but there are some other things in the mix. For example, customer reviews and ratings are a major one. Here, at the 411Writers's blog, Nick has covered each ASO component in depth so I won't reiterate.
Instead, let's explore what's beyond the app store and see how content can help in many other ways.
Or… Use the Other Ace Up Your Sleeve
Yes, I'm talking about content creation
1) Reviews (not just the in-store ones)
We live in a culture where reviews strongly influence buyer behavior. But you just launched your new fitness app, you still haven't got a large crowd leaving your reviews in the store. Yet, you want to demonstrate its benefits. That's an ideal opportunity to have your app review written by a third, independent party. You will have a piece of well-structured, in-depth overview that looks and sounds credible.
You can publish it on your app's website or as a guest post somewhere. Check out these examples on our App Corner to get a better idea of what I'm talking about.
2) Blog posts
But, you can go a step further. You can start creating blog posts that offer helpful and effective tips to stay fit. This way you will position your brand as more than just an app as a post-holiday gorging antidote. In fact, the good thing about fitness is that you can go both educational and visual. For instance, you can create an online guide that complements the exercise shown in the app. You can try with meal plans.
Want to go a step further? Get in touch with influencers and ask them to tell people about your app. This one might be out of your budget but it's definitely a content opportunity worth exploring.
3) A Landing Page
It's much easier to get in the public eye if you create some supporting content, instead of just putting the whole focus on your app description. Here are some examples of great-looking landing pages. You can write it for the pre-launching stage or later on. Whatever you choose, it will bring its benefits. If it's good, it will either spark that excitement and grow your potential user numbers. Alternatively, if post-launch, a well-written landing page will be able to showcase the best to your audience.
And do it so well that they click that download button right away.
4) Other ways
With health, wellbeing, and fitness, a success story could also be very effective. Most people would be downloading your app to get in shape. Thus, they might find it motivational to read about someone's Before & After, especially if there are photos (we're visual creatures), which will spark interest right away.
The bigger the competition and the higher the price (if it's not free), the more content creation and marketing will be of importance.
What do I mean by that? Pretty much to try to popularize your app by using other channels. ASO efforts are crucial and important. But you can make your life way easier by just going beyond it. Take for example Instagram. A big one for app marketers out there. On that note, do not underestimate or neglect social media. It's an ever-growing marketing channel. Use it.
Most importantly…
Know your audience. Know who uses your app. Know what type of search queries they enter into Google. Know how they consume information. If you are aware of all these points individually, it will become clear what type of content you need and which channels to use.
Once you've figured that out, it's time to actually be creative about it. Copywriting doesn't come in smoothly to you and your team? That's the easy-to-solve part because content creation is something you can outsource to a pro.
So what's your take on app marketing in the fitness and health industry in particular? Use the comment section to let me know!