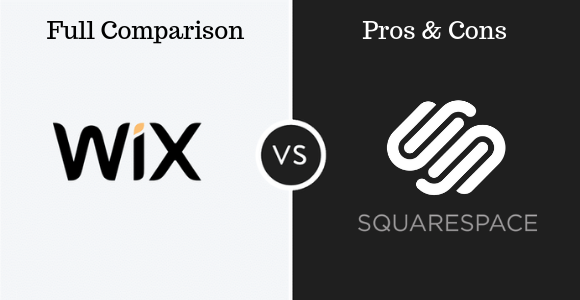 Both Wix and Squarespace belong to the so-called "drag-and-drop" site building platforms. Both of them are powerful, successful, and target non-coders, allowing them to make impressive websites in a snap. But you probably already know this, and you are just trying to find out which of the platforms is better. Stay with me for this head-to-head comparison and see for yourself.
Platform Overview
Yes, we know that Wix and Squarespace are known for their ease of use, rich feature set, and beautiful end results. Let's dive into some more details…
Squarespace was launched in 2003, years before Wix, and has had a loyal following of users ever since. The platform emphasizes mobile responsiveness, speed, and look. It does offer a 14-day free trial, but you have to purchase a plan if you want to keep using it.
It seems like Wix decided to step up the templates game with hundreds of templates (500+) giving you more customization options than Squarespace. This is a double-edged sword, and I will talk about it in a while. You can also get started for free, and you can use most apps with limited functionality without purchasing the Premium plans.
Ease of Use
Squarespace is simple to use but more section-based
Over the years, Squarespace has improved the builder interface to be more intuitive. Most of the elements will easily allow you to edit content and style. On the left side of the interface, you'll see a panel from which you can add extra blocks.
However, you can't just drag anything anywhere. It definitely takes more time to master, but this is not necessarily a bad thing. In my opinion, "the limitation" is intentional here due to the fact that an inexperienced user can easily break the website design.
Wix has over 500+ built-in industry templates
All of the built-in templates are 100% customizable, and it's the industry-leading drag-and-drop website builder. It even gets better for all you non-coders as you can use the Wix Artificial Design Intelligence (ADI). You only need to answer a few questions, and the Wix ADI creates a custom website. All you have to do is complete it with the right images and text content.
The downside to all the variety Wix offers is that you cannot change templates once your site goes live, which makes choosing a template a harder process.
Features
The Slogan of Wix – "Creation without limits" – says it all
There are over 200 apps you can use in your Wix site. Here's a list of some of the most useful ones:
Email Marketing – If you are new to website building, you're probably new to email marketing campaigns as well. Well, this app allows you to collect contact details of users and communicate with them easily.
Wix Stores – If you are selling products/providing online services for a price, you would probably want to have the option of generating coupon codes, managing your orders, offering your customers a catalog, and basically allowing your website to act as a virtual storefront.
Wix Events – Perfect for music events, bars, art centers, etc., this app allows you to create invitations and sell tickets online.
Wix Video – It's all about visuals nowadays, and creating videos should be part of every modern marketing campaign. With this tool, you can easily upload videos and choose layouts
Again, these are just some of the apps and features Wix offers, which have only one downside – variety can become a little overwhelming and time-consuming.
Wix has an instant-indexing partnership with Google. Another great automatic tool is the SEO Wiz which personalizes an SEO plan for your specific needs. Again, all you need to do is answer a few questions. More advanced SEO/Analytics features are available as well (Site Booster, Visitor Analytics).
On the downside, the E-commerce functions allow you to sell pretty much anything but cannot match platforms like Shopify. Probably the worst thing is that the option to get help via live chat is missing, and it is offered by Squarespace.
Squarespace tends to keep things simple (or does it…?)
This is a "less is more" strategy. With fewer options to mess things up, the platform offers really functional and aesthetically pleasing designs. Here are some key features:
Responsive Image Loader
Gallery Blocks
Custom CSS
Automatic Image Scaling
Template Switching
Some of the features may take more time to master, and if you have at least some website knowledge, this is a good thing!
Squarespace will always use the blog headline or product name, respectively, for the SEO title. Also, a general SEO site title will be displayed on all pages, which isn't SEO-friendly.
On the plus side, there are many automatic tools included in both of the e-commerce plans. Easy online-shop builder, PayPal and G Suite integration. A free SSL certificate is part of every plan (also non-e-commerce packages)
Support
Wix used to have a poor customer service reputation in the past but has upped its game nowadays. More than 200,000 topics and posts on their official website, hundreds of video tutorials and walkthroughs. Phone support available, which is not offered by Squarespace.
However, Squarespace offers 24/7 live chat Monday to Friday. 24/7 email support, and has tons of video tutorials as well.
To Sum Up
Wix and Squarespace are evolving fast. Both are visually-led platforms perfect for users who need professionally-looking websites and want modern functionality without the headaches that come with custom-developed sites. It appears that Wix has an advantage in terms of user experience and customizable options, but this variety of options has its downsides as well.
Wix Pros:
Easy-to-use
Money/value
Highest public recommendation on any website builder (20% more than Squarespace)
Squarespace Pros
Greatest design and flexibility
Full customization control
Wix Cons:
Can't switch templates after you go live
Need to buy premium apps to scale the website
Too many customization options (it makes the experience overwhelming)
Squarespace Pros:
More expensive plans (not so much)
Not beginner-friendly
I hope this overview helped you make up your mind. If you are still confused or have any questions, I'll be happy to answer them in the comment section below.