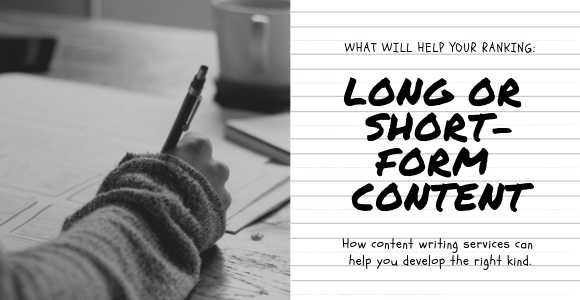 Have you ever wondered why it takes you so long to create a piece of content? For many of us, it takes us a long time to express ourselves or get a message across. Especially when it comes to the content of our site. Now, even though the knowledge may already be there, it is the way we want to deliver the message that takes so long for us to formulate the content. But, it is worth it? Does it actually help with ranking? Can SEO content writing services actually help me with this? Hold your horses, we'll find all this out and more soon.
Long vs. Short-Form Content
Let's rewind a bit and focus on what exactly these are.
Before we dive into what works and what doesn't, let's take a swim in the waters of long-form content to find out what it is. Most people define long-form content to consist of about 2,000 words. It is content filled with useful and interesting information (most of the time). Your target audience for long-form content is those who are truly invested in what you have to offer and want to learn more from your expertise.
Short-form content, on the other hand, is a little bit more straightforward for readers. The word count is usually under 1,000. It is obviously a quicker read for people, and it surely gets the point across faster. Even though it is shorter, it does have its advantages over long-form content for many different reasons. Now, let's move forward.
So, Which One Works and Why?
I'll save you the anticipation and cut right to the chase – they both work, but for different reasons and in various ways. With the help of professional content writing services, you can easily mix these two techniques in order to get a good variety of both. Let's take a look at both again, separately:
Long-form Content: Since it is longer, it is more informative. It takes more time to read, thus increasing the engagement of your readers since they are staying on your site for longer. You can really dive in deep with long-form content and give people a better understanding of certain topics. Your audience is now deeply invested in your content and will find you more credible. With more content, you will have a greater opportunity to get backlinks to your site.
Short-form Content: In some cases, you may need to use shorter content to reach a certain audience. More specifically speaking, the audience that has a shorter attention span or doesn't have the time. This type of content is more fun, mobile-friendly, and more likely to be shared. However, some readers may want more because you can't go in depth.
From a Google ranking standpoint – think about your website, your business, what you are offering, and the type of content you are creating. Marcus Sheridan shared an interesting point: if Google had to choose between 2 websites with the same keyword where one had the average reader spend 45 seconds on the site and the other page the average was 4.5 minutes – which would they prefer to rank?
Important Things to Consider
These points are key to developing which form to use.
At this point, we have come to the conclusion that you can mix both long and short-form content. However, for some businesses, one might favor the other. Whether you are using our content writing services or developing it on your own, keep these important points in mind in order to have a good user experience for your site:
Where does your business stand: newer or start-up businesses can benefit from long-form content because of in-depth information and greater opportunity for ranking.
What is the goal of your content: do you want it to be a discussion topic, engaging, shareable, have high traffic, rank higher, etc. Don't worry, these can change as your business develops.
Make the decision between desktop and mobile: do you want your audience to view your content on their mobile device or on a desktop? This can be important because it can affect the way the content is displayed. There are ways around this with proper site optimization.
Your audience: think about your audience and what kind of content they might enjoy reading. They may be mainly interested in short-form content but can dig reading some longer texts too from time to time.
Conclusion
Let's wrap it up.
I hope this gave you a bit to think about for your website and the different options you have for content. In short, your ranking can improve either way, and there can be a right or wrong way but it is up to your business, your audience, as well as your topics. With content writing services, you can leave it up to the professionals to create greatness for your website. Your website content should correlate with the goals of your business.