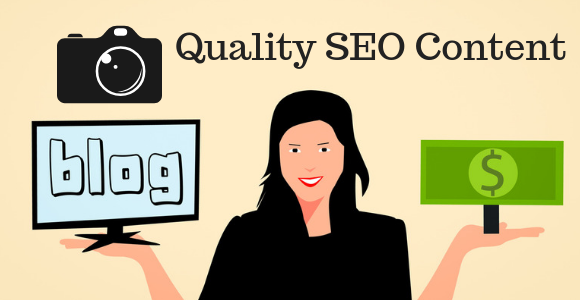 Photography is a way of feeling, of touching, of loving… That's what Google suggested when I asked it to give me some inspirational quotes about photography. That and loads of other quotes. And then it hit me. What do they all have in common? Content. We may need photography to move us, but we turn to content to educate us. After reading this blog, you will know why SEO needs content, why content needs quality copywriting, and why you will probably need professional help to get them both right. But before there were SEO copywriting services, there was the question of why. Let's answer it.
As a professional photographer, you are most probably wondering why on earth you need content on your website since your photographs say it all. In theory that's true, but in (the search engine) practice — it's not. To keep this blog to the point, I will not go on repeating my colleagues at 411Writers who have already explained all there is about SEO. I'm moving on to the good part instead — the why-s.
Content Gives Your Photography a Chance to Be Seen
People don't look for you through images, they look for you through keywords.
If you are a photographer based in Dallas, TX, where competition is really high, you can't just assume that people will start looking for you through your photos. No, they will get online and ask Google instead. They will type in something like "event photographers in Dallas, wedding photographer Dallas," etc. Even if you are the best photographer of the millennium, without SEO copywriting services, unless you have a knack for SEO-friendly writing, no one will find you in the ocean of photography websites out there. Sad, isn't it?
Images Are Not Enough
Don't hate me for saying this, but images alone are not enough for good SEO, a.k.a. for good ranking, a.k.a. for people being able to find you. Yes, you may be optimizing the images on your website, but Google bots primarily feed on content. In your case,
Content is the connective tissue that brings your art and interested clients together.
Content also helps your audience connect with you and understand your photography better. You may be the most creative photographer with spectacular images in your portfolio that speak volumes without even a single word, but your photography masterpieces will never see the light of day if your website is not properly optimized. The services of SEO copywriting experts are, therefore, a good investment to make.
Content Builds Rapport
Since photography is not like any other craft, it is no secret people take their time in choosing the right professional when they need them. Having a compelling background story, an enticing homepage that answers the main questions your prospective clients have, well-selected and professionally optimized collection of images (a gallery page), and user-generated content (client reviews) will make for a killer combo. Why?
Because it will help prospective clients understand the person behind the camera,
what their professional path has been so far, what their style is, what previous clients have to say about you, all of it. That's important for future newlyweds, for parents planning their kid's birthday party, for spouses celebrating their anniversary. It's important for people to know that on their special day they will not just have quality photographs taken, but they will also have a person they can rely on and someone who will celebrate alongside them.
To guarantee the digital marketing success of your photography business and website, it's really important to assemble something of a digital marketing dream team. With our content professionals and the SEO copywriting services we provide, you will be at the top of your game — something we all want.