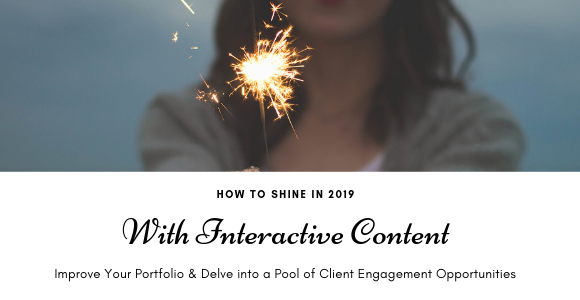 To this day, many people still believe interacting with clients is done only face-to-face or over the phone. To all of them, I say "Think again." If your content creation team crafted, planned, and continues to implement your strategy, you are virtually interacting with your clients every time they open your website and social media platforms. 2018 set the start of many new and embellished forms of interactive content that make things even more engaging for your audience.
So, hang up the phone, and let's visit and revisit the types of interactive content your clients are looking for that might still be missing from your content.
Without further ado, let me start with the list of interactive content types you can incorporate in your strategy. Of course, I will start with my favorite one which you already know about from another blog.
1. 360-degree Video
Widen your horizon, literally.
The best thing about 360-degree videos is that they can apply to virtually any kind of industry. From showing a full display of your real estate offers, all the way to making your travels a lot more vivid for your readers on your blog, you can absolutely rock with this seemingly simple tweak of the standard video. However, you will probably need professional help for the creation of this kind of interactive content.
Bear in mind, 360-degree videos are not the same as VR (Virtual Reality) ones although they can be and often are combined for additional effect.
2. VR Videos/Virtual Tours
Turn people from viewers to participants
VR makes things so much better, always. It is a lot more than simply better visuals. It is actually really useful for a lot of products and services. It allows you to show people exactly what to expect when they buy your product or visit your cafe, corporate headquarters, or hotel.
For example, I love how Best Western allows visitors to preview rooms, amenities, and lobbies through VR in more than 2200 locations worldwide! Of course, before people have a chance to look at your super-duper VR videos, they need to find you first, which is where the efforts of your SEO content writers come in.
3. Augmented Reality — Mobile Apps
The Followup of 2.
Aside from videos, VR can be implemented in mobile apps. Just think about it, allowing people to try out your top-selling clothing accessories, see the most suitable piece of furniture for a particular room in their home, the list of examples goes on and on.
4. The Interactives
Immersive and fun for all ages.
Interactive Maps — I will just let one of my favorite examples speak on my behalf. Inside Asia Tours are incorporating everything interactive. Just have a look around their website and you will see what I am talking about.
Interactive Timeline — it is great for your About us page if you want to display your company's history as well as to let users move up and down the timeline to see where you have been and where you are headed. As you can see, a lot more than visuals is involved in the process. Your content creation team needs to conceptualize and write it all down first.
Interactive Graphs — To me, this is the future of infographics where users can comprehend data in a more dynamic, visually appealing, and, well, interactive way.
5. Live Streaming
Facebook Live, for example.
It is all about being authentic and true to yourself today, and that is what brands need to be in order to attract a massive following. Aside from Facebook Live, you have webinars, ephemeral content, Instagram stories, and many other options to spark that FOMO effect.
Instead of a Conclusion
Some of these indeed are on the rise, others have already risen, but they will all make for a much more interactive, engaging, and overall fun user experience if you make them a part of your content creation strategy. Our SEO content writers have been using them for quite some time now, and all our clients are seeing the difference.
Are you using any of them already? Let me know!