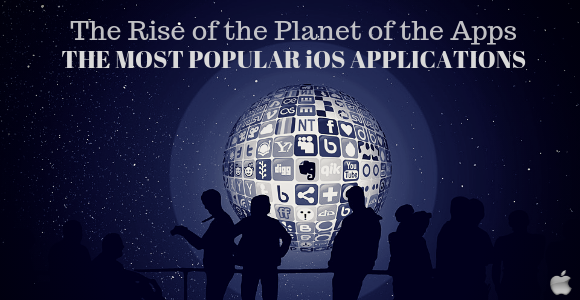 In July of what is now last year, 2018, one of the biggest industries on the planet, the mobile app ecosystem, turned 10. Its proud parents Apple, Google, Microsoft, and Amazon continue to thrive because of their talented child. Today, we will go over the topics of app popularity in numbers, the most popular iOS apps for last year, and we will see how our SEO copywriting service fits in the equation.
The Rise of the Planet of the A̶p̶e̶s̶ Apps — the Numbers
Thank you, Statista.
Since day one of their creation, mobile apps have drawn attention and download numbers have spiked. In fact, mobile app downloads are reaching new heights by the minute, and if that trend continues, Statista foresees the shocking number of 258.2 billion annual downloads for 2022. Just for comparison, the world population is 7.7 billion out of which around 2.53 have smartphones. That's 19,5% of the world population making 102.05 downloads per person on average per year. I'll let that sink in for a sec.
As an app developer, this is more than good news for you.
You have an ever-growing pool of potential app users. But you are not the only shark swimming in that pool, and you will need a lot more than a small piece of bait to lure fish. This is where our SEO copywriting service comes into the equation. If you are not familiar with ASO (App Store Optimization) in the first place, you need to cover the basics before we continue.
In a nutshell, aside from having a super-duper app, you need to make that app visible. That happens through optimizing your app components to make them search and user-friendly. This requires a lot more than ASO knowledge alone, it calls for creativity, knowing your niche, and having the content writing skills to dress it all up with words. We know a certain team of ASO writers that can help with that, khm.
The Top 20 Free iOS Apps for 2018
They may come as no surprise…
YouTube
Instagram
Snapchat
Messenger
Facebook
Bitmoji
Netflix
Google Maps
Gmail
Spotify Music
Amazon
Uber
WhatsApp
Pandora
Wish
TikTok
Cash App
Google Photos
Google Chrome
Twitter
There have been some fluctuations among the top performers, but there are still the same players on the list as last year. YouTube is the new king and despite the turbulent year Facebook had, it's still deeply rooted in people's daily lives, so it keeps the cozy 5th place.
A lot has happened in the app world in the last year, and yet not much has changed if we are strictly looking at the list. Why is that? Well, this brings me to…
The Key Takeaway
Brand recognition has never been more impactful.
I bet none of you were surprised, looking at the top performing apps. They are all recognizable, you know their logos, their features, you use them every day, or at least you've tried them once. Yes, it is about brand recognition and about Facebook encouraging its following to give Instagram a chance. It's about establishing a brand and a following first and branching out into the app world later on. But not every app's predecessor is a huge corporation. Sometimes, apps are just ideas that came to you in science class, true story. And the best part?
You don't need a corporation to make a killer app that is well-optimized and just as amazing as one whose father is Apple. All you need is app development and a good SEO copywriting service to get things going.