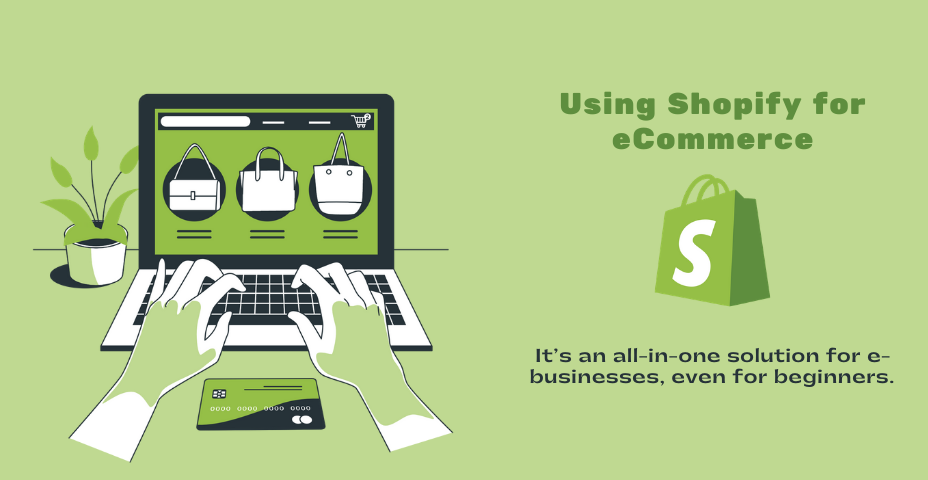 eCommerce is all the rage these days, especially with many businesses going online due to the pandemic. However, eCommerce isn't necessarily new.
Ever since the well-known companies Amazon and eBay got started, the online retail business has boomed.
While these two eCommerce giants will always have a more substantial chunk of the pie, it doesn't mean that others can't move their businesses online. But it's crucial to know where to start.
What platform will you use? How will you incorporate the right content writing services into your eCommerce site to still generate organic traffic? And how will you make your eCommerce site user-friendly?
The answer is simple, and Shopify surely makes it as simple as it gets.

What is Shopify?
It's just what you need for your eCommerce business.
Shopify is an eCommerce platform that makes it simple for anyone with an online store to sell their products.
It all started more than ten years ago when the founder of the platform, Tobi, decided to sell snowboards online only to find out how tough it was to do without an eCommerce platform that was easy to use.
Shopify makes it easy to set up your website, include your products, add descriptions, payment functions, and more. You can sell practically anything on the platform from physician items to online classes, and more.
What Makes Shopify So Great?
Running an eCommerce business doesn't have to come with stress.
We've talked a little about Shopify and other site builder platforms before and noted that nothing could compare to Shopify.
In most cases, Shopify will do the heavy lifting for you. This leaves you with the chance to sit back and collect your money, but don't think you won't have to do some work to get your website started. You're still the key ingredient to having an excellent e-business.
It is, however, an eCommerce platform that allows users to focus on their marketing, administration, customer relationships, and more without having to worry about the technicalities of having an online business.
Why You'll Love Using Shopify
For starters, it's insanely easy to use
Shopify has everything you need for your website in one. You'll probably have to outsource content writing services, but the online store building and managing are made easy.
To help make your online store stand out from the rest and your competitors, Shopify offers inventory management, various payment gateway support services, SEO effectiveness, and more.
Here are five reasons why you'll love using Shopify:
#1 Simple to Use and Easy to Set Up
You won't have to worry about development costs with self-hosted platforms or deal with servers. Shopify is user-friendly and intuitive since all the features on the site are logically structured. If you do have trouble setting up your site, you can find tons of documentation as well as video guides on Shopify's website.
#2 It's Secure
For any kind of eCommerce business, you'll want to make sure the site you're using is secure for both you and your clients. You'll likely be dealing with sensitive client information like credit card information, emails, and more.
Your site will have to be fast, secure, and always available online. Shopify is reliable, and they'll take care of the server maintenance and upgrades that will be required to keep your store and your shopping cart, available round the clock. They'll even make sure that the pages are loading quickly.
Shopify users can also enable SSL certificates for their stores for all data to be encrypted and to pass through a secure connection.
#3 It's Customizable
There are more than 150 themes that users can choose from in the Shopify Theme Store, with both free and paid options available. The themes chosen here can be customized by editing the code on your own.
Each theme from Shopify is mobile-responsive, which is essential for an eCommerce business and user experience.
#4 SEO and Marketing Tools
What's a good-looking online store without any visitors? Another one of the benefits and things you'll love about Shopify is their SEO or Search Engine Optimization features. This will help your site rank higher in SERPs so that clients can find you. Detailed analytics are also available so that users can know where their customers are coming from.
The easy-to-use platform makes it easy to outsource content writing services and include your own content that is SEO-friendly.
Marketing tools like social media integration, email marketing, and product review are also available within the platform.
#5 24/7 Customer Support
One of the main things people love about Shopify is that they have 24/7 customer support. With almost instant response time, you'll never be on your own. Users can use webchat, phone, or email to get in contact with someone. There are also dozens of community forums, video guides, and other documentation available on their Help Center.
Shopify is affordable and easy-to-use for beginners and advanced users. If you've got something to sell, Shopify is the online platform to do it if you're looking for a simple, secure, customizable, and all-in-one platform.