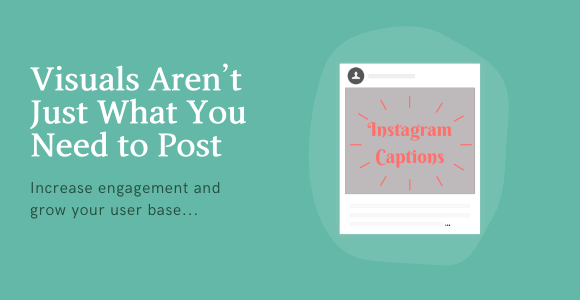 A picture is worth a thousand words. Wrong. Well, kind of. When it comes to the visuals you are posting on Instagram, you are going to need more than just a beautiful photo and some relevant hashtags. At least if you want to increase your engagement and grow your user base.
We, as writers, don't just provide content writing services. We also keep up with social media, trends, algorithms, and of course, the dos and don'ts of the online world.
It is essential to point out that the captions on your Instagram posts ARE necessary to pay attention to.
"But, Instagram is a visual platform; why should I worry about my captions?"
Because that sentence or two under your post can not only provide content for your audience about your image, but it can also portray the personality of your brand.

Captions – Why They Matter
Because the image doesn't always say it all
Your brand's personality is what defines you, and it can be portrayed through your social media posts. More specifically, your captions. You can tell jokes with your captions, represent your business by addressing your followers directly, and even share stories.
Captions provide users the ability to engage with their audience by asking questions, hosting debates, doing giveaways, or contests if people follow your account and like your posts.
This is crucial for your engagement.
Engagement is critical for Instagram. Since a user's Instagram feed is no longer in chronological order, it can be tougher to see posts with little engagement. The content is prioritized based on both interest and engagement. Time also has a factor.
More engagement on your posts means that it is more likely for your current and future posts to show up for your followers.
With numerous brands utilizing Instagram as their go-to social media platform, your company or brand needs to stand out. Aside from standing on with content writing services on your website, it would help if you also personalized your brand by posting engaging captions, relevant content, and interesting photos on your Instagram.
Instagram's Algorithm
Cue the frustration
The algorithm was first introduced in 2016, and that was a big change for a lot of celebrities and influencers. However, what many fail to realize is that the algorithm is actually a GOOD thing for your account. It helps create a positive user experience because it shows relevant content.
Its main goal is to make users stay on their platform for longer.
Instagram created their algorithm to allow users to see posts from accounts that they often engage with.
Like I mentioned earlier, engagement is critical, and this is an example of why.
Writing Better Instagram Captions
It's not as hard as it sounds
Remember, think about engaging your audience.
Take the most liked photo on Instagram.
Believe it or not…it's an….EGG.
Yup, the most-liked photo on Instagram, with more than 54 MILLION likes, is an egg.
But, it's not the plain photo of an egg that made users like it. It was the caption. The caption gave people a reason to like, share, and comment! It is the reason the post went viral.
Are you ready to start writing better Instagram captions? Follow the tips below!
#1 Keep What's Most Important at the Top
It's what will grab attention, quickly. You can also use this to your advantage if you share your post to your stories (which you should because it can increase your engagement), and it is likely to entice viewers to click on your post.
It's also important not to bore your viewers. Not everyone will want to read through something they are not interested in, so keeping vital information at the top will keep more users intrigued by what you have to say.
#2 Consider the Format of Your Instagram Captions
A few weeks back, I talked about attracting and holding onto users' attention online, and one of the ways to do that is by properly formatting your content. Whether you are using content writing services or doing it on your own, the format of your website, e-mail, and even your Instagram caption, is important.
Don't format your caption like the content on your website. You may have to break the first rule with this strategy because some of your posts may require more than just one sentence of information. For example, recipes.
In this case, break up the information in an appealing and eye-catching manner that keeps things simple to read.
#3 Ask Questions
This encourages engagement! Users will know exactly how to respond to you and your posts when you ask a question. It's best if these questions stay relevant and true to your brand. Ask for feedback. Go for an open-ended or closed-ended question. Even try asking questions that can help you get to know your audience.
#4 Use Relevant Hashtags
You can attract and reach new followers using relevant hashtags in your Instagram photo captions. Hashtags can dramatically increase your reach since users can follow a single hashtag. However, be sure to use relevant ones and not only the hashtags that are trending at the moment.
Focusing on what content writing services you need for your website is important, and so is your Instagram captions. Put effort into posting, and you'll likely see a positive return.
Keep in mind, a picture isn't always worth a thousand words.