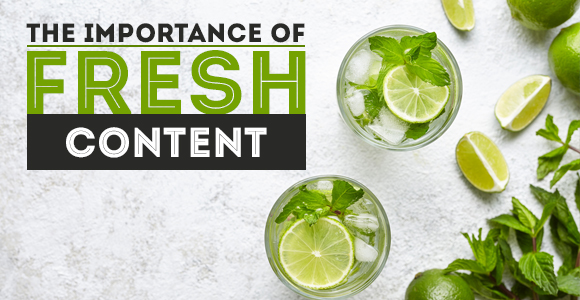 Think of your website as a living creature that needs love and care. Once the technical part is finished and the website is launched online, you need to maintain it with fresh and up-to-date content. You can't feed your pet just once. Even if you don't do it personally, somebody else has to give food to your animal friend every day. It's the same with websites.
Just like there are many different diets suitable for the different species, different websites need different content creation strategies. In today's post, we'll discuss what fresh content is and why it's the most important marketing strategy for your website.
What is fresh content?
And why you need it
Every new or updated content categorizes as fresh. When you don't have something new to post, go through your older content, and there will always be something to update. However, the more content on your website, the more keywords to include. If coming up with new ideas seems hard, just contact a professional copywriting company (such as ours) and ask for both ideas and content writing services.
The benefits of fresh content creation:
Better ranking – the more content you have, the more keywords you can rank for, and your placement will improve.
Keeping up with the trends – Not only will your readers benefit from finding useful information, but you, yourself, will be familiar with everything new going on in the industry.
Authority potential – If you are selling products or services, don't just aim for better sales. Make your website the reliable source that people go to for either benefiting from your products/services or just finding valuable information on your blog section.
Of course, Google and other search engines are not like your human visitors and they have a slightly different process of determining which content is fresh. I'll talk more about this below on this page.
Query Deserves Freshness
Or how Google checks for content
The Google algorithm has a component named Query Deserves Freshness (QDF) that checks the freshness of the content based on search phrases and relevancy. Different search queries can become more popular at a certain given point of time compared to their normal activity. Google applies a "freshness score" to those queries and brings the most recent topics to the readers.
In other words, websites with trending content are likely to rank better. But… Once the World Wide Web is oversaturated with other low-quality websites publishing the same topics, staying highly-ranked might be harder. And remember, rather than focusing only on time-sensitive fresh content, it is also essential to have frequently updated good quality content that always remains relevant.
Blogs are your topic getaway
There's always something to write about
However, many webmasters are struggling with coming up with new ideas and just stop posting new articles at one point. It is true that a page overloaded with unnecessary information can be a bit annoying, but there are always ways to keep up with regular posts and not annoy your readers. Blog sections are the perfect solution, and posting 2-3 blogs per month should keep your website visible to both readers and search engines.
I hope this makes sense and you have a better understanding of what fresh content is and why it is one of the most important marketing strategies for an online business. If you have any questions, I'll be glad to answer them in the comment section.